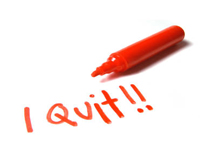 We realize many of you may have found yourself considering bankruptcy because of a scarcity of employment options in your neck of the woods. But in our current economic environment, more and more people are seeking solace from an array of miserable jobs they were forced to retain in the post-recessionary uptick, full of less-than-stellar positions, emboldened bosses and income gaps the size of the Grand Canyon.
But before you quit your job to escape your current office space in the hopes of landing a better and more financially-fulfilling career, it's worth following some age-old advice that especially important for younger workers [2].
(1) Put Away Some Paychecks
While banking several paychecks can cut into your basic needs and create an uncomfortable environment (even as you try to escape one at work), it can also help you develop the financial discipline you'll need to keep your cash flow going and to carry on as you search for work.
(2) Cut Your Expenses in Half
As you considering quitting your job, it's never been a better time to delay instant gratification for luxury expenditures and create a disciplined personal budget that will allow you to live on half of your current pay for the tough times ahead. While you may be struggling now, learning to live with less than the income you currently have will pay dividends as you seek new opportunities in an uncertain job market.
(3) Inform Your Friends
While Yes Magazine encourages you to "Get New Friends" altogether when considering a job change that demands at least temporary financial cutbacks, we advice you let your friends know what you're considering so they can help you with your search. Not only will networking for new jobs pay dividends when seeking new employment, but having friends around who will champion your new values—financial austerity, budgetary discipline and economic restraint—will help them understand why you're eating out less and trying to saving more.
(4) Don't Get Boxed In
You went to school, trained hard, and started a job that was less than your dream. But as you try to exit your current career, don't be afraid to try other pursuits in your pursuit of a more fulfilling field. Taking a more multi-disciplinary approach, and broadening your "field of dream jobs" could be all it takes to tackle this rough and tumble job market with a bit more success than those stuck in the same old employment track.
(5) Consider the Benefits of Bankruptcy
Nothing keeps people in a job they hate more than the mounting bills and creditors clamoring to take everything you have. If you're like so many average Americans experiencing financial woes and searching for a way out of the throes of debt and financial despair, knowing a qualified bankruptcy attorney is the first best step to help you or any underemployed and/or overworked person—regardless of age, education or experience—conquer their creditors and face their financial fears, yielding the right kinds of support, information and insights—at a low cost— for a viable and secure future. 
The bankruptcy professionals at the Law Offices of John T. Orcutt [3] offer a totally FREE debt consultation and now, more than ever, it's time to take them up on their offer. Just call toll free to +1-919-646-2654, or make your own appointment right online at www.billsbills.com [4].
http://yfsentrepreneur.com/2012/09/20/before-you-quit-your-job-to-start-... [2]