If you're facing financial hardship or considering post-bankruptcy career plans, working in a field with great earning potential [3] is a top priority. Given the news of impending economic doom, a core question people are asking: are there recession proof industries [4]? Can I get a job in a field that will help me rebuild my credit and my life, or more effectively manage my debts [5]? The short answer to this question is YES!
But why is it important to even ask the question in the first place? Over the last few decades we've seen how different bubbles can grow, like the dot-com wave [6] in the 1990s and the more recent housing and credit market bubbles. When those bubbles eventually burst (and they do always eventually burst), the consequences can be far-reaching and devastating for millions of people around the country. If your business or job has been the victim of a major recession, it is worthwhile to figure out what industries are immune to the vicissitudes of the global economy [7]. Here are a few industries that are recession resistant and worth considering as you move forward with rebuilding your financial footing.
First up on the list is Healthcare. It is a recession-proof industry because there is a current shortage of healthcare workers [8] (especially nurses), while at the same time the population continues to age. People are living longer, which means there is more demand for various kinds of healthcare. That's why the numbers look so appealing for job growth and average wages.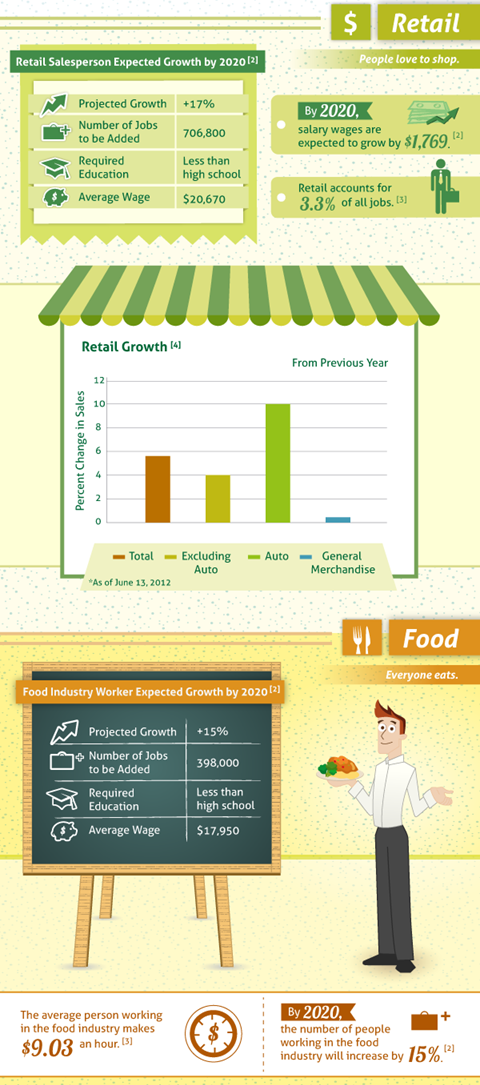 Image source: visual.ly
Since most people can't make a sudden or quick decision to become a doctor, tremendous opportunity exists for registered nurses (RNs) because you only need an Associate's Degree to get your career started. The reality check for this one, however, is that more and more hospitals and healthcare centers want their nurses to have more than an Associate's Degree, which is why there has been a sharp increase in the number of programs that fast-track RNs to the Bachelor of Science in Nursing [9] (BSN). If you do decide to jump into the nursing field, plan on getting that next degree level soon after you get started. It will boost your earning power and make you much more marketable in the healthcare industry. Many of the programs can be completed in 12-18 months.
Another field to focus on is Retail. It is recession-proof because people will always need (and want) to buy more stuff. But there's a lot left out of this infographic's numbers on retail. As you can see from the "growth from previous year" area, you wouldn't necessarily want to jump into general merchandise retailing. Auto retailing looks pretty good, but is very sensitive to ups and downs in the economy. As the most recent recession begins to correct itself, people are starting to buy cars again, but think carefully about how long that growth will last.
Food is a naturally recession-proof industry because people have to eat to stay alive. But notice that wages in the food industry are extremely low compared to the other entries we've examined so far. It may be recession proof, but you won't get rich jumping into an entry-level food industry position. Yet creative and entrepreneurial solutions to problems in the food field, as well as anything in the sustainable and organic markets could be an interesting choice.
The construction industry is poised for decent growth as the economy recovers, and although the average wages are not as dismal as retail or the food industry, they still can't hold a candle to the healthcare industry. It's pretty easy to get started, however, as educational requirements are low.

Image source: visual.ly
Education is another industry that often weathers recessions very well, and the growth and wage numbers for both elementary and college professors look good. There's a pretty big education investment required, however, in pursuing a career in education. For primary schools teachers, you need a four-year degree and state certification. College and university positions typically require a doctoral degree, which is huge investment in terms of both time and money. Other opportunities exist in education, such as teaching English as a Second Language and working for private training and development companies.
These are just a few industries that are set to rebound as the economy grows stronger. If you're struggling to manage debt payments and looking for new earning potential, think creatively. At the same time, if you're rebuilding your financial life after bankruptcy considering career earning potential is a great move. Keep moving forward and looking at these important issues, and you'll be on the road to recovery in no time.
Dedicated to helping residents of North Carolina find the best solutions to their debt problems. Don't waste another day worrying about your debt. Call +1-919-646-2654 today to schedule a free initial consultation to discuss your bankruptcy options.