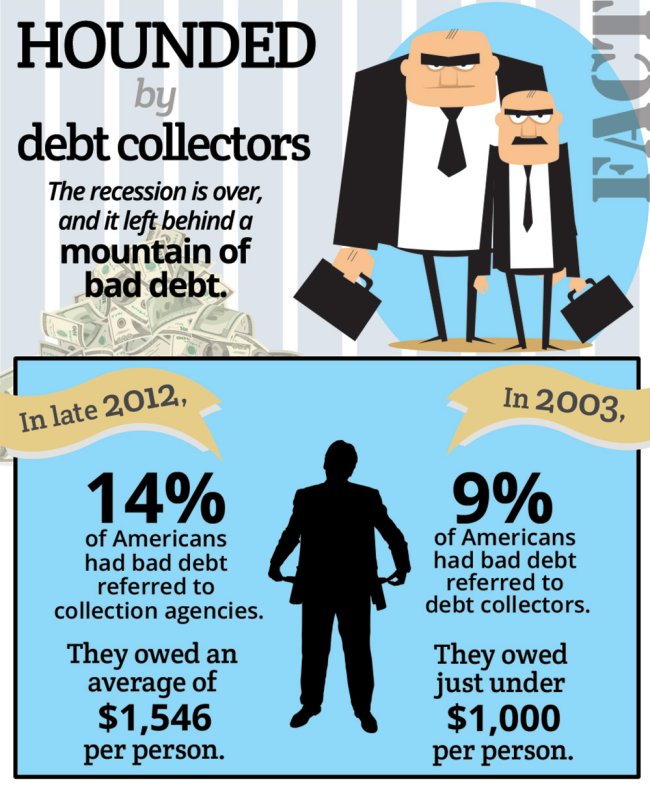 [2]
Image source: FacetheFactsUSA.org
If you're behind on your credit card, mortgage or car loan payments or have unpaid medical bills, you may be dealing with irritating – and possibly harassing [3] – phone calls from debt collectors. No one ever intends to get behind on their obligations, but sometimes it just happens. If you lose your job, or have some other financial hiccup in your life, it's easy to get behind and hard to get caught up.
But as stressful as dealing with past due bills is, what's worse is if you're scammed by a phony debt collector. This can take your precarious financial situation from bad to worse in a hurry. Because by and large we're an obedient lot, if someone calls and says we owe money, we tend to believe them. In the case of these collections scams, though, you likely don't owe a penny.
How the Phone Debt Collection Scam Works
So if you don't really owe the debt, how is the scam successfully duping tens of millions of dollars from unwitting consumers? Simple: fear! Callers threaten consumers [4] with legal action, arrest and employment termination. The scam firms have somehow gained access to enough of your personal information to talk a good game – whether it's from a data breach, stolen mail, medical records or phishing.
With personal information in hand, the collectors call and say they are from a court or criminal investigation branch of the government. They often refer to themselves as "investigators" and say you owe a debt and then threaten arrest [5] if you don't pay up. Many say they will contact your employers to let them know you are a criminal so you will be terminated.
In some cases, people who have had payday loans that they've paid off are called by collection agencies saying they represent the payday loan firm. The caller says they're a police officer and will arrest you if you don't pay up! If you've ever applied for a payday loan online [6] – even if you didn't complete the loan – you may be targeted. They demand immediate payment via electronic transfer or cash – which legitimate debt collectors will never do.
Who the Callers Say They Represent
Phony debt collectors often choose very official sounding names for the "firms" they say they're calling from. Below is a list of some of the firm names that have been identified by North Carolina's Better Business Bureau as being tied to the phony debt scam [7]. If you are contacted by any of these firms, you should gather as much information as possible and then contact the BBB and your local police to report the fraud:
Federal State Bureau of North Carolina
U.S. National Bank
Federal Investigation Bureau
United Legal Processing
Global Litigation Group
Allied Litigation Group
Pinnacle Payment Services
Credit Source Plus
American Credit Crunchers
EBeeze
How to Protect Yourself
Here are some steps to take to protect yourself from phony debt collectors:
#1 Ask for written proof of the debt – if they refuse to provide it, let them know you are reporting them to the BBB and law enforcement – legit collectors will always provide written proof.
#2 Verify the firm is legitimate [9] – ask for their name, the name of their firm and contact information. End the call and research the firm online and on the BBB website.
#3 Don't pay – if you doubt you owe the bill, don't pay. They can't jail you or get you fired – that's illegal. Tell them you can't pay without written proof and if they do provide it, check to be sure you weren't the victim of identity theft.
#4 Check your credit report – pull your credit report online to check and see if the debt appears there. If it doesn't, request that they quit calling and report them to the BBB. If it does and it seems legitimate, you should make payment arrangements. You can also contact the original creditor to verify that the firm is authorized to collect on their behalf.
#5 Report abusive callers – If you are harassed or threatened by a debt collector, report them to the Federal Trade Commission and the Better Business Bureau. If they threaten arrest or call from one of the firms listed above, contact your local police department to report the scam.
Always be wary of any debt collectors [10] who threaten arrest or imprisonment – even if the debt owed is legitimate – these collection practices are clearly not. And if you do have debts piled up that you can no longer manage, consider consulting a bankruptcy lawyer. Raleigh, Durham and Greensboro consumers have all reported scam calls from phony debt collectors! A reputable North Carolina bankruptcy attorney [11] can help you with a Chapter 7 filing or Chapter 13 bankruptcy to get a fresh financial start today!
Dedicated to helping residents of North Carolina find the best solutions to their debt problems. Don't waste another day worrying about your debt. Call +1-919-646-2654 today to schedule a free initial consultation to discuss your bankruptcy options.