[2]
Image source: TotalBankruptcy.com
If you're in debt and struggling, relief can't come soon enough. And if you're considering filing a Chapter 7, you'll want to consult a bankruptcy attorney to get the ball rolling. The good news is that once you talk to your lawyer and get your documents together for filing bankruptcy, you can be free of debt collections calls and all the stress that comes with owing tons of money in rapid fashion!
Chapel Hill attorneys specializing in bankruptcy [3] can look at your documents and give you a more specific timeline for debt relief under Chapter 7 filing, but here is a general timeline of what you can expect…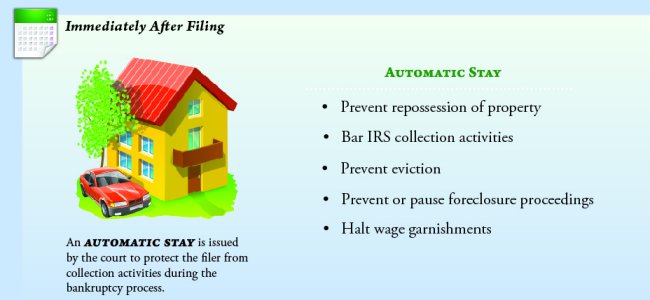 Image source: TotalBankruotcy.com
Day 1 – The clock starts ticking the day your case is filed – usually by your North Carolina bankruptcy lawyers (unless you are self-filing, which we don't recommend). This sets several things in motion.
Automatic Stay [4] – usually as soon as your case is filed, the court issues an automatic stay which blocks creditors from taking any further steps to collect on debts up to and including any legal actions they may have been planning (or threatening).
Debt Collection Stops – you may still receive calls from collectors who have yet to receive notification, but you can simply tell them you've filed and provide your case number or attorney information and they can't call again, lest they face the wrath of the court!
Day 2 – Realistically, in this day and age of electronic case filing, some of these actions occur near instantaneously after your North Carolina bankruptcy attorneys file your Chapter 7 case. But in case your filing goes in at the end of the day or late on a Friday, we'll call it day two for simplification.
Notification Sent [5] – within minutes or up to a full business day after of your filing, the court sends out notification to all creditors that you have filed and that they were named in the bankruptcy proceeding. It's important that you include all creditors – no matter how small – so your debt relief can be complete.
Trustee Assigned – as soon as your bankruptcy is filed, or at the latest on the next business day, a Trustee will be assigned to your case. This is the court official who administers your case, evaluates your submissions and may request additional documentation.
Day 15 – Within 15 days of the initial filing of your Chapter 7 bankruptcy, your Chapel Hill lawyer will have to file any supporting schedules required by the court that were not included with the petition.
Notification to Creditors – At this time, with all of the information in hand, the court will send formal written (i.e. form letter with your name and case number listed) notification of your filing to all of your listed creditors with a copy mailed to you as well. It tells your creditors how long they have to object to your case and when the meeting of the creditors is scheduled

Image source: TotalBankruptcy.com
Day 30 – On or near 30 days after your filing, the court will schedule your 341 Meeting – otherwise known as the meeting of creditors. You and your attorney must attend the meeting and you may be asked a few questions. Often, none of your creditors will bother to show up and the meeting will be quite short.
Statement of Intention [6] – this additional document must be filed on or before day 30 of your bankruptcy filing and declares your intent to try to keep or release any collateral securing your debt (i.e. car in a car loan or a home in a mortgage). If you want to and can afford to keep it, you will need to reaffirm your debt or pay off the debt.
Day 45 – Your attorney has to file a statement at this point (called the Statement of Available Chapters) saying they told you about the different types of bankruptcy available to you. Usually it is filed with the original petition and this day passes unremarked.
Objection of creditors [7] – within 30 days of your 341 Meeting (which is roughly 45 days post-filing), any creditors who wish to object to any exemptions in your Schedule C must do so or lose the right to object – this is the "speak now or forever hold your peace" date.
Day 75 – By now, you are required to have completed a financial management course that can be done online or over the phone and takes roughly two hours to complete. Failing to take care of this can delay your discharge or prevent it from happening – you don't want that!

Image source: TotalBankruptcy.com
Objection of creditors (part II) – within 60 days of your 341 Meeting (roughly 75 days post-filing), creditors must file an objection to any specific debt they want to try to block the discharge of based on your fraud or deceit in obtaining the debt; debt that was obtained under criminal or fraudulent circumstances; debts caused by you injuring someone else intentionally or any debts that were part of a divorce or legal separation [8].
Objection of creditors (part III) – within this same 60 day period, any creditor can object to the discharge of all of your debts under your Chapter 7 filing if you engaged in any misconduct including concealing or destroying property or assets; hiding, destroying or failing to maintain financial records; lying; withholding information or failure to answer questions.
Official discharge – if there are no objections by creditors within 60 days of the 341 Meeting, you'll receive your official discharge of debts by the court!
Day 90-105 – Within this time period, (75-90 days after your 341 Meeting), you'll receive formal written notification that the bankruptcy court has formally discharged all of your debt – this is officially called your "discharge in bankruptcy [9]" – and will sent by registered snail mail and you're officially on your way to your financial fresh start!
If you are drowning in debt and considering a Chapter 7 bankruptcy for debt relief, contact a reputable North Carolina bankruptcy attorney [10] for help today. You deserve a fresh start!
Dedicated to helping residents of North Carolina find the best solutions to their debt problems. Don't waste another day worrying about your debt. Call +1-919-646-2654 today to schedule a free initial consultation to discuss your bankruptcy options.