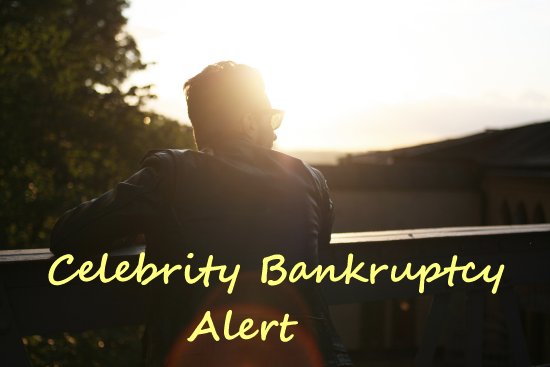 Even celebrities struggle with finances
Image Source: Unsplash.com
We like to do occasional celebrity bankruptcy news updates here, not to call attention to the misfortune of those struggling financially but, to show that debt can get the best of anyone. You likely won't go from millionaire to bust like these singing stars have done, but the lessons are the same no matter the level of wealth of the consumer. Here's a look at seven famous singers who went bankrupt...
#1 50 Cent
The most recent celebrity bankruptcy filer, we wrote about Curtis Jackson [2] aka 50 Cent recently. He's had some struggles with investments in a boxing promotion business and also has two multi-million dollar civil court judgments issued against him that he's hoping to avoid as part of the bankruptcy. In Jackson's case, the bankruptcy seems to be more strategic than a sign that he's gone completely broke.
The lesson here is that bankruptcy can be used strategically to meet certain goals.
#2 Aaron Carter
Former teen dream singer Aaron Carter owed more than $2 million and over half of this was down to unpaid federal income tax. Carter blamed bad financial advice by his handlers when he was just a kid and an addiction to Xanax that developed while he was on Dancing with the Stars back in 2009. Carter turned himself around with a stint in rehab and a bankruptcy that cleared his financial slate for good.
The lesson here is that bankruptcy can offer you a fresh start to get back on your feet.
#3 Toni Braxton
Skilled songstress Toni Braxton filed not one, but two bankruptcies. The first bankruptcy she blames on getting a bum deal from her first record deal which resulted in $170 million in sales of which she saw little. Braxton also admits she had a spending problem that her income didn't support which led to a 1998 Chapter 7. Her second bankruptcy was driven by her lupus diagnosis and inability to perform.
The lesson here is that major life events like illness can wreck your finances and bankruptcy can help.
#4 Cyndi Lauper
80s pop icon Cyndi Lauper may have known that Girls Just Want to Have Fun, but she didn't know a ton about finances back when she was just getting started. Prior to Lauper's worldwide smash album She's So Unusual, she was with a group called Blue Angel that flopped and took her finances down with it. But she launched a solo career that improved her finances and has never looked back.
The lesson here is that a personal bankruptcy can help you put a bad business deal behind you.
#5 Dionne Warwick
Looks like her Psychic Friends Network didn't warn crooner Dionne Warwick that she had financial trouble heading her way. Though she's been a top recording artist for decades, "gross financial mismanagement" was to blame for Warwick's 2013 bankruptcy including more than $10 million in unpaid taxes. Luckily, the bankruptcy judge discharged those fat tax debts and she was sitting pretty.
The lesson here is that bankruptcy can clear up a financial mess – even one involving income taxes.
#6 Meat Loaf
You may not know the name Marvin Lee Aday, but you've likely heard of Meat Loaf, the big-voiced singer best known for his 80s album Bat Out of Hell. That album alone sold more than 30 million copies, but a bad deal meant that most of the cash went to the label, not the artist. His voice crashed then he went on a drinking bender and when he came out of it, Meat Loaf turned to bankruptcy.
The lesson here is that you can use bankruptcy to come back from even a major financial mess.
#7 MC Hammer
Rapper MC Hammer remains a recognizable name in music, long past his 90s heyday. Who can't sing along with U Can't Touch This? He raked in $30 million but blew it on lavish spending, an entourage, a house that cost as much as his earnings and a stable of thoroughbred horses. When all was done, he had $13 million in debt and had to sell off all his stuff. Hammer now embraces his fresh start as a minister.
The lesson here is that overspending can take anyone down no matter how much or little they earn.
You may not be a celebrity, but your financial problems can feel larger than life. Don't let unmanageable debt keep you down – in North Carolina, contact the Law Offices of John T. Orcutt [3] to talk about how bankruptcy can help. Call +1-919-646-2654 for a free consultation in Greensboro, Raleigh, Garner, Wilson, Durham, or Fayetteville.