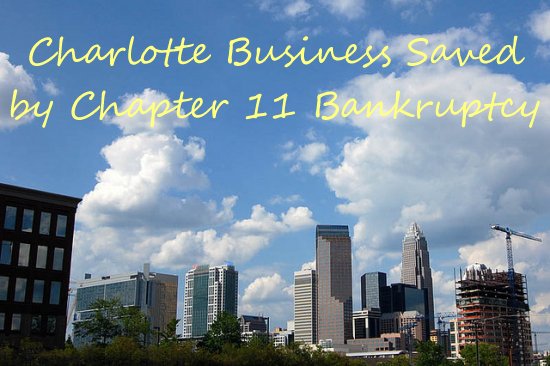 A Charlotte Business Saved by Bankruptcy
Image Source: Flickr user James Williamor
The recent recession damaged consumers and businesses alike. We know real estate firms, mortgage companies and builders were hurt by the recent economic flop. But there were many other companies affected you might not consider – Charlotte, North Carolina's Queen City Appliances, for instance. One of Charlotte's staple companies was nearly crushed by the recession but used Chapter 11 to come out stronger than ever. Today we'll take a look at how Queen City was able to recover thanks to Chapter 11 [2].
What is Chapter 11?
For consumers, Chapter 7 and Chapter 13 are the two common bankruptcy options. Chapter 7 seeks to discharge your debts and get a clean slate. Chapter 13 allows you time to catch up on past due debts while still discharging a portion of debts. Chapter 11 is the business version of Chapter 13. Businesses can also file Chapter 7 liquidation if they're ready to throw in the towel and close their doors.
As with Chapter 13, a business in Chapter 11 has to pay their current bills plus part of their back bills. But it's even more rigorous because you have to get permission to pay your utilities and other operating costs. But if you can make it through, Chapter 11 can save your business. And that's just what happened for Queen City Appliances after Rodney Player decide to file Chapter 11.
How Queen City Appliances Got Into Trouble
Founded in 1952, Queen City Appliances was a family run business that grew to 17 stores by 2009. Rodney Player's parents started the business, and he grew up there, sweeping floors, then working the sales floor, then Player took over the appliance business after his dad passed away. Business was so good that Rodney expanded – and borrowed to set up new stores – and it was all going well until the housing market crashed.
Once that happened, sales of stoves, dishwashers, washers and dryers slacked off significantly. Rodney tried to keep things going hoping that things would get better, but they didn't, and he knew something had to change. Rodney and his mother Frances Player (83) made the tough decision to file Chapter 11 to try and save the family business. Player was embarrassed when the news of the bankruptcy hit the papers but pressed on – and part of the plan included scaling back to just four stores.
How Chapter 11 Saved Queen City Appliances
The list of creditors in Queen City Appliances' Chapter 11 case was 133 pages long and the family business owed millions of dollars they couldn't afford to pay. Player's attorney helped them develop a plan to get back on their feet and then they had to convince their creditors and the bankruptcy judge that everyone was better off if they stayed open than shuttered the business. They got buy in and started to streamline the way Queen City Appliances did business.
They had to lay off 130 employees and tighten their belts all around, but after 18 months in Chapter 11, Queen City Appliances was out of bankruptcy and back to business as usual. Chapter 11 is tough – most smaller businesses have just a 20% success rate of making it work. But for those that do, it's a game changer. Both Player and his mother admitted in a recent interview that although they were upset at the time, it was the only option that could have saved the family business.
How Bankruptcy Can Help You
The wisdom of Rodney Player's decision to pursue bankruptcy saved his business. He acknowledged that he couldn't find a way out of the financial mess his company was in and needed an outside intervention. Queen City Appliances struggled during and after the recession. With personal bankruptcy, similarly, the causes are usually forces outside your control like job loss, divorce or illness. Bankruptcy can allow you a reset on your small business or personal finances and offers a fresh start.
To find out more about how North Carolina bankruptcy can benefit you, contact the Law Offices of John T. Orcutt [3] for assistance. Call +1-919-646-2654 today for a free personal or business bankruptcy consultation in Raleigh, Greensboro, Garner, Wilson, Durham or Fayetteville. Be sure to ask about our zero down bankruptcy specials and get the financial peace of mind you deserve.