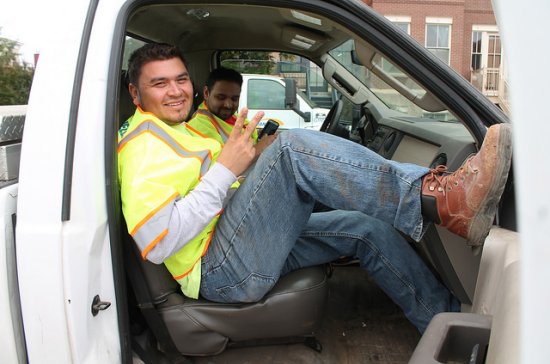 Construction worker shortage in Greensboro
Image Source: Flickr User Elvert Barnes
A recent survey by the Associated General Contractors of America and released last month showed that nearly 90% of North Carolina contractors are struggling to fill hourly construction worker positions. And roughly 40% of companies have difficulty filling full-time salaried positions as well. On the list of positions hardest to fill in Greensboro, the Triad and across NC, include painters, carpenters, electricians, and general laborers. This seems at odds with the steady unemployment rate [2] in the region. Today we'll take a look at the causes of this critical job shortage.
Why is Greensboro experiencing a construction worker shortage?
Low wages are part of the issue. US Bureau of Labor Statistics data indicates that Greensboro-High Point and Winston-Salem pay lower wages for the needed positions than most other parts of the US. In the Greensboro area, laborers average annual earnings of $25,420 - this ranks the region 102 out of 106 metro areas studied. The contractor study said that 36% of construction firms are losing laborers to other careers, and 11% said workers are moving out of the area for better pay.
Worker shortages driving up costs, slowing work
To address the worker shortage, many firms are paying higher wages or are turning to subcontractor and temp firms that may pay higher wages to those with desired construction skills. The higher wages are, in turn, driving up project costs and slowing completion of projects. Some firms are not bidding on new projects at all because they can't staff the projects. Many firms have also opted not to bid on government projects because there is a lower profit margin.
The recession worsened the worker shortage
What makes the worker shortage more critical is that, during the recession, construction projects dried up as the real estate market crashed. This put more than two million construction workers out of a job and forced many to pursue other lines of work. Now that the construction field is rebounding, though, those workers aren't returning to their former jobs. Plus, many workers close to retirement ago took the dip in the market as a sign to embrace the end of their careers and are not returning to the workforce.
Skills gap by age is also a factor
According to the Associated General Contractors of America, in 2013, roughly 40% of construction workers were age 45 and older and approaching retirement in the next decade or so. The contractor association recommends investment in career and technical academies to combat the current and future construction worker shortage. They also propose:
Establishing construction academy charter schools
Programs to allow non-union contractors to fund training programs
Encouraging apprenticeship programs and community college partnerships
Are you looking for a trade job that pays well?
While it's true that some basic construction positions do not pay the most favorable wages, some pay remarkably well. Consider these jobs and average pay:
Carpenters earn close to $46k annually
Sheet metal installers average $49k annually
Cement masons and concrete finishers earn $41k on average
Construction managers rake in close to $95k annually
This is a growing industry, and these jobs are ones you may be able to train into if you know someone in the field, find an apprenticeship or learn from an affordable community college course. The construction worker shortage is predicted to continue for at least the next 12 months and likely beyond as older workers retire. This can be a great career to transition to if your current field is flagging, or you haven't yet settled on a career to pursue.
Bankruptcy can help get a fresh start at a new job
If you have debts piled up from the recession, a long stint of unemployment, or any other life event that has left you in a bad financial circumstance, bankruptcy can help. Whether you're in Greensboro, elsewhere in the Triad or anywhere in North Carolina, we can help. Contact the Law Offices of John T. Orcutt [3] for a free North Carolina bankruptcy consultation today. Call +1-919-646-2654 for a free consultation at one of our offices in Raleigh, Durham, Fayetteville, Wilson, Greensboro, Garner or Wilmington. Be sure to ask about our zero down bankruptcy special.
Sources: