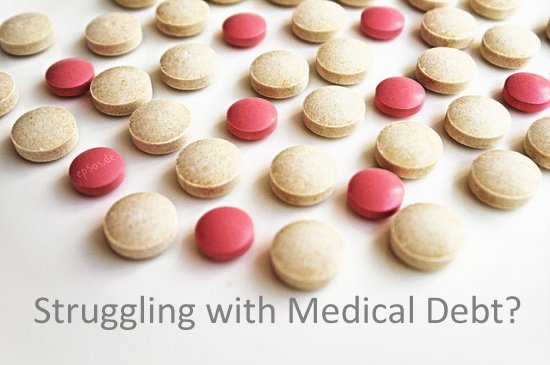 Hit with medical bills you can't pay? There is hope!
Image Source: Flickr User epSOS
Since the Affordable Care Act hit in 2013, it's true that more than 15 million Americans have enrolled in health insurance that were previously uninsured, but that doesn't mean medical debt is no longer a problem. The New York Times and Kaiser Foundation conducted a survey recently and found that many consumers are still struggling to pay their medical bills, despite the increase in the number of people insured.
Sure the Affordable Care Act has made insurance more widely available and comprehensive, but it came with greater deductibles, copays, and coinsurance. For many, the increase in costs of care far overwhelms what people can afford to pay out of pocket even given their newly insured status. Just having a health insurance policy doesn't mean you can afford to use it.
Survey shows healthcare costs are not declining - or manageable
The survey results show that 26% of those age 18-64 say that they or someone they live with struggles to pay their medical bills. Not surprisingly, 53% of those without insurance struggle with medical costs, but even those with insurance have issues - no matter where the insurance comes from – check out these results:
22% of those who purchase their insurance directly have problems with medical costs
19% of those with insurance through an employer struggle with medical bills
18% of those with Medicaid can't afford medical costs
Among those American households with medical bill issues, 62% were insured. The survey also found – not surprisingly – that high deductibles are a big source of controversy. Also unsurprisingly, those with lower incomes were more likely to struggle, but even among those households bringing in $50-$100k a year, 26% report trouble paying medical costs.
Among those with health insurance who are struggling to pay their share of medical costs, the survey showed these impacts:
63% ran through all (or nearly all) of their savings
42% had to work more hours or take a second job
14% had decreased their living conditions or took in roommates 
11% looked to help from charities
Many of those facing uncontrolled medical costs skip out on critical doctor appointments, don't fill prescriptions and, in general, don't get the care they need.
Other results include:
Women are more likely than men to struggle with medical costs
Those under age 30 are more likely than those age 30-64 to struggle with medical expenses
Households with children are more likely to struggle
A promising finding and how bankruptcy can help
One aspect of the survey that is promising is this – 66% of those that struggle with medical bills attribute their financial problems to a one-time or short-term medical expense "such as a single hospital stay or treatment for an accident." In comparison, 33% of those blame chronic illness such as diabetes or cancer. For many, this part of the survey shows hope.
If you have an adult in your household suffering from chronic illness, you should be careful about how you complete intake forms at a doctor's office or medical bills. Never accept liability or payment responsibility for another's medical costs. As a parent, you have to sign on as financially responsible for your child, but only list one parent as responsible (the one with the least income and fewest assets may be a wise choice).
For another adult, though, you do not have to claim responsibility. Even if you are the wage earner in the home, you should always have the person receiving the care listed as the person solely financially responsible. This keeps your options open and prevents the care provider from pursuing you and the recipient of services BOTH for debt collection. Bear this in mind when taking a spouse or parent for appointments.
This also gives you more options for debt relief and can protect your credit report from medical debt collectors [2]. For instance, if your spouse does not work and experiences a medical crisis such as cancer, they will have more negotiating power with creditors because they don't have an income for the creditor to come after. Plus, if the medical debt is simply overwhelming, the spouse who incurred the debt may be able to pursue bankruptcy relief individually.
Bankruptcy wipes out unsecured debt including medical bills and credit cards. If you or someone you loved survived an accident or illness and are drowning in medical debt from the incident, Chapter 7 bankruptcy can offer a fresh start depending on your income versus debt, taking into account your assets and other factors.
Bankruptcy can give you a clean slate to wipe out old debts, but future debts will not be affected, so it's something to take seriously and ensure it's a solution and not a band-aid for an ongoing problem. To find out more about dealing with medical debt using bankruptcy, contact a reputable bankruptcy attorney for a free consultation.
In NC, contact the Law Offices of John T. Orcutt [3] for a free North Carolina bankruptcy consultation. Call +1-919-646-2654 for a free appointment at one of our locations in Raleigh, Durham, Fayetteville, Wilson, Greensboro, Garner or Wilmington.
Resource: