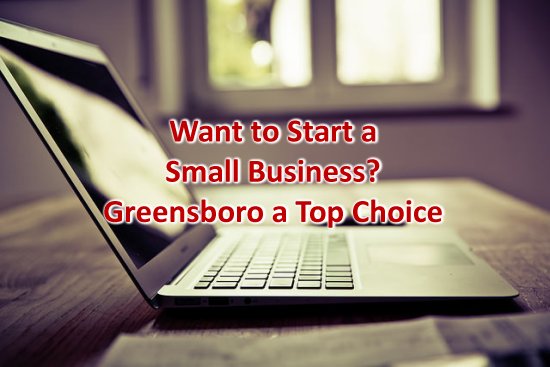 Want to start a small business - Greensboro NC is a top choice
Image Source: Flickr User Markus Spiske
Are you tired of punching the clock for someone else? Have you always dreamed of owning your own business? If this is you and you live in Greensboro, North Carolina, you'll be pleased to know that Greensboro ranked among the top 10 best cities to start a business.
A recent study by WalletHub considered cities based on factors including:
Access to Resources
Financing accessibility – the availability of small business loans
Affordability of office space – assessed by cost per square foot
Employee availability – number of job openings vs. available workers
Median annual income – weighed by cost of hiring labor
Business Environment
Corporate taxes
Cost of living
Length of average workday
Workforce education level
Entrepreneurial activity
Five-year business survival rate
Average number of small businesses
Variety of industry
Small business friendliness
According to WalletHub's study, Greensboro, North Carolina ranked #9 out of the top 10 cities to start a small business. As a matter of interest, Fayetteville, NC was ranked in the study as having the longest average workday. 
Starting a small business
You may have an idea in mind to start a small business based on your interests or passion – and this can be workable, but bear in mind that your small business must meet a need or fill a void. You need a solid idea and a plan to bring that idea into profitable reality.
#1 Write a business plan
To find out if your small business idea is feasible, start by assembling a business plan. You don't need a detailed plan that covers every contingency. You can get lost in the details and bogged down if you try to write a thesis. But a simple, practical plan that outlines what your business will do and how you will do it is a good starting point.
#2 Evaluate the feasibility
With your idea in paper, the next step is to put numbers to the plan to find out if it's possible to make a profit doing what you plan to do. Every business has start-up costs and ongoing operating costs. You need to estimate these (with a cushion built in for the unexpected) and then assess potential sales or service fees you'll generate and see if you can make money at it.
#3 Assess the marketplace
If there's potential to make money with your idea, that's great. But the next thing to consider is the level of competition you'll face. For instance, if you plan to sell items on the internet, but Amazon is a direct competitor, you'll probably struggle. But if you plan on starting a niche food truck to operate locally, and no one else is doing exactly what you plan to do, it could be viable.
#4 Find financing
The Small Business Administration (SBA) offers low-interest loans to entrepreneurs, and this is a great place to look for financing. Bank loans can be another way to get financing to start your business at reasonable interest rates. Some things you should NOT consider as options to finance your start-up include:
Taking out cash advances on your credit cards
Draining your retirement accounts
Using title or pawn loans
These options come with either high interest or stiff tax penalties. That's not the way to go. If you can't get a loan at an affordable interest rate, you may want to consider taking on a second job and socking away the proceeds towards your business and then start it once you've accumulated enough capital.
#5 What to do if things go bad
Many entrepreneurs start a number of businesses only to see them fail before they finally find success. It's a practical reality that your small business could fail. If you find that your small biz is going down the tubes, you'll want to be smart about how you handle this. One of the worst things you can do is to try and save a failing business at all costs.
Maxing out your credit cards, taking money out of retirement, or other high-interest options will make things worse. If things are really bad, you may want to consider Chapter 7 bankruptcy. This form of bankruptcy will wipe out credit card debt and can also eradicate bank loans or SBA loans on your business.
Any assets you've purchased for the business will be used to try and settle the debts but, after that, you should be free and clear. And filing bankruptcy is not a barrier to applying for financing to try again with a small business in a year or two after your Chapter 7. If you're deep in debt, realizing you can't recover and need help is important.
If you're a small business owner struggling with debt and looking for a solution, contact the Law Offices of John T. Orcutt [2]. Call +1-919-646-2654 now for a free Greensboro, North Carolina bankruptcy consultation. We have offices all across North Carolina including Raleigh, Durham, Fayetteville, Wilson, Greensboro, Garner or Wilmington. Call now – get help with your finances today.
Resources: