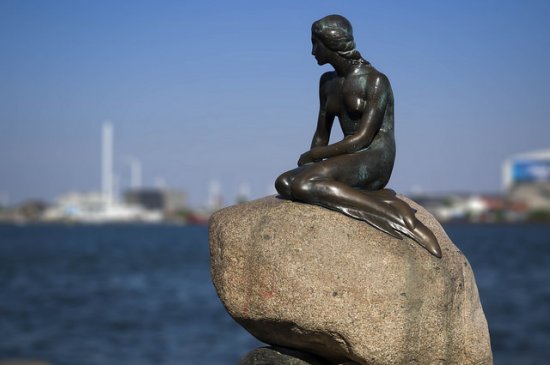 Mermaids in North Carolina!
Image Source: Flickr User brando.n
For those struggling to pay bills, sometimes a second job is worth considering to help deal with the money problems. If you live in Greensboro, North Carolina [2], and are underwater with debt, you may want to consider a sideline opportunity as a professional mermaid. It turns out Greensboro is a hotbed of merfolk activity, and this unusual profession pays well.
North Carolina Mermaid Festival
You might be surprised to know that Greensboro played host this year to the first annual North Carolina Mermania festival, which took place at the Greensboro Aquatic Center. Mermaids, mermen, and mer-enthusiasts came by the hundreds to the event. The family-friendly event featured a Mermedia 101 session that taught new and old mermaids alike how to monetize their aquatic passion.
One mermaid earns $250 for two-hour party appearances and even left her previous full-time job to be a full-time merperson. The first and most obvious requirement for earning money as a mermaid or merman is the ability to swim. The equipment required includes a tail and mer-accessories. Only solid swimmers need apply who can hold their breath for at least a couple of minutes underwater.
But for those that can, the opportunities can be varied and lucrative. Some of the mer-enthusiasts teach mermaid fitness classes for adults, while others offer mermaid swimming classes for kids. Others make appearances at parties and special events as mermaid performers. The opportunities seem to be what you can make them.
The Upside of a Side Job
For those struggling with debt, taking on a spare job can make a huge difference in getting debt under control or creating cash to save up for emergencies or retirement. If swimming is one of your secret talents, then perhaps mermaiding, lifeguarding or offering swimming lessons is a viable sideline. For those that have technical skills, web design may be lucrative.
Mowing lawns, performing car maintenance, handyman services, housesitting, petsitting, and Uber driving are just a few of the other earnings opportunities you could explore. For most people, working one full-time job is hard enough, particularly when you have children at home. But if you can find time to take on a second job for a few hours a week, it could make a dent in you debt.
The important thing to consider is how much you'll net from the spare job to know if it's worth your while. Anything that will cause you to incur significant expenses, such as childcare costs or equipment purchases, should be carefully evaluated. Ideally, you want something that will not increase expenses (or will only increase them minimally) while maximizing your earning potential.
Beware of Easy Income Scams!
However, Greensboro, North Carolina, consumers should be on the lookout for scams when seeking income opportunities. Craigslist, email blasts, Facebook and other venues are rife with scams that seem like job offers but are really just fraudsters looking to take your cash. Any job that doesn't require any standards (education, skills, etc.) could be a hoax.
And any job that requires you to pay a fee to apply, purchase supplies up front, or any other cash outlay should be ignored – these are very likely scams. Perpetrators of fraud like to prey on those already struggling with money troubles, which is horrid. Don't give anyone your money unless they're legitimate – particularly when you're short on it. Be wary of anything that sounds too good to be true, as it likely is.
Free Greensboro, North Carolina, Bankruptcy Consultation
If your debt is out of control and a second job is not enough to help – or isn't an option – perhaps it's time to consider bankruptcy. Chapter 13 can buy you time to catch up on past due mortgage payments and car loans while Chapter 7 offers sweeping debt relief that can unload most of your debts completely. Call us for a free Greensboro bankruptcy consultation [3] today.
Contact the Law Offices of John T. Orcutt [4] for a free North Carolina bankruptcy consultation – we've got offices in Greensboro and other convenient locations. Call +1-919-646-2654 now to schedule at one of our offices in Raleigh, Durham, Fayetteville, Wilson, Greensboro, Garner or Wilmington.
Resources: