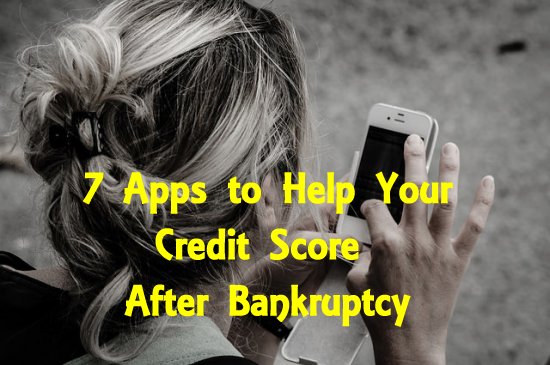 Check out these apps to help improve your credit.
Image Source: Flickr User Christian Hornick
If you filed for bankruptcy and are now trying to rehabilitate your FICO score, you're on the right path. It can be easier to improve your credit score after filing for bankruptcy rather than wallowing in debt you can't afford to pay. Here are seven awesome apps we found to help you on the path to a fabulous FICO score after bankruptcy.
#1 Expensify
This expense tracking app allows you to create spending reports for a personal account, for a business you own or for expense reimbursement reports to your employer. The reports it generates help you see exactly where your money goes, where you're overspending, and where you can cut back to build up savings to shield yourself from future money problems. It can also help you keep organized if you have expenses to submit for your job. Available on all platforms, this is a great free program.
#2 Mint Bills & Money
This free, multi-platform app by Mint is award-winning, and you may have heard of it under its former name, Check. The app monitors most of your financial accounts for you, including bank accounts, credit card accounts and bills. It notifies you in advance if bills are due or if your funds are low. It can help improve your credit score in a big way by ensuring that you pay bills on time and by helping you adjust your spending by sending you alerts when your money is getting low.
#3 Walla.by
This interesting little app can be very helpful once you begin rebuilding your credit by opening up credit card accounts, particularly if you have reward cards. The app tells you which card will be most advantageous for a particular type of spending. Some cards offer more cash back on groceries, some on gas, and some on travel. And some cards – like certain Discover programs – change the cash back and rewards benefits several times a year. This app makes it easy to get the most bang for your credit buck.
#4 Credit Sesame
This app provides you a free credit score [2] each month and is free to buy and use. While it doesn't offer you an actual credit report, it will track changes to your score via credit monitoring. When something changes on your credit report, Credit Sesame notifies you. Credit Sesame can also help you determine which lenders best fit your financial profile when it comes time for an auto or home loan, another plus for this app.
#5 PayPal
Even if you don't buy stuff on eBay, PayPal is still a great app to have set up. Many people signed up for PayPal back when eBay was getting big, because PayPal was an easy way to pay. It still is an easy way to pay. Many online stores now accept PayPal, which means you don't have to share your credit card numbers (or debit card info) with an online vendor that may be hacked. (Even giant retailers have been hacked, so anything is possible). Sign up for the free app, fund the account, and you're good to go.
#6 HomeBudget
This is a premium app that's worth the $5 it costs. The great thing about this money and expenditure tracking app is that you and your partner can each get the app and your spending will sync. It can be hard to budget and track spending with two wage earners bringing in and using the money. The sync feature on this app allows both of you to track and then sync, so you can see where the money has gone. This is a must-have for couples to keep their money management in shape.
#7 Bill Tracker
BillTracker comes in a free lite version and a more robust $3 version. Paying your bills on time every month is key to rebounding your credit score after bankruptcy [3]. Bill paying can be easy at first, since you'll be stripped down from much of your debt thanks to the bankruptcy, but once you begin expanding your credit portfolio by adding in secured cards, then unsecured credit cards, tracking your bills becomes even more important. A tracking app with alerts is essential for keeping on top of your money management.
Look for all of these apps in the Android, Google, or iTunes app store!
If you are deep in debt and looking for a solution, North Carolina bankruptcy may be the way to go. Contact the Law Offices of John T. Orcutt [4] now for a free consultation at one of our convenient locations in Raleigh, Durham, Fayetteville, Wilson, Greensboro, Garner or Wilmington. Call +1-919-646-2654 and get the financial peace of mind you deserve.