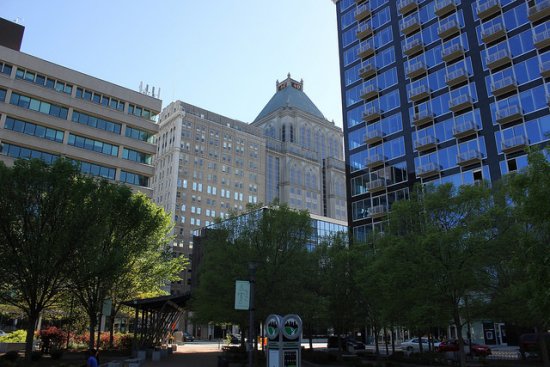 Greensboro is booming with new opportunities
Image Source: Flickr User Nicolas Henderson
Greensboro, North Carolina will see a business boom with some major projects coming soon to the city. This growth is exciting news because these new businesses will bring jobs for construction, then another wave of employment once they open and will bring more visitors and spending to our local economy. Here's a look at some of the new businesses coming to Greensboro and the expanding jobs picture.
Havertys Comes to Greensboro
Atlanta-based Havertys is coming to Greensboro with a giant new showroom that will open in April or May on Wendover Avenue near 73 and close to Academy Sports and Outdoors. Clarence Smith, president, Chairman, and CEO of Havertys Inc., says, "We're really excited about it" and added, "We've been trying to get to Greensboro for decades."
Restaurant Depot to Be Built in Sharps Airpark Court
Wholesaler Restaurant Depot, a firm that sells to restaurants, will break ground on a 55,000 square foot location soon. They plan to open by November to make it the third Restaurant Depot in the state with two others located in Cary and Charlotte. Regional operations manager for Restaurant Depot Christopher Bogutzki shared that the store will open up about 50 jobs that pay "well above the minimum wage."
Aloft Hotel by Starwood Comes to Fisher Park
A new Aloft by Starwood Hotel and Resorts is planned for North Eugene Street in Fisher Park. Groundbreaking is soon, but the 150 room and resort space won't open for three years. Boutique chain Aloft is known for modern décor, high-tech touches, and a sense of adventure. There are three other Aloft locations in the state – Chapel Hill, Asheville, and Charlotte at EpiCentre.
Two More Hotels Coming to Greensboro
Hyatt Place will open an 110 room location late in 2017, and this will be the first new hotel in downtown in the past 32 years. Then, in two years, Westin Hotels will open up a new luxury location on South Elm Street making it the second new hotel to the downtown Greensboro area in many decades. This hotel boom is aimed at attracting conferences to Greensboro by providing ample rooms for visitors.  
Plans for Greensboro's Greenway Loop
These projects complement the Greensboro's Greenway Loop, the planned four-mile urban walking, and biking loop. Downtown Greensboro, Inc CEO, Zack Matheny says, "Bringing folks downtown in a concentrated effort that they'll go out and invest and spend their money in our local merchants... We've got to have more pedestrian activity for retail to survive and be profitable."
What Do These Greensboro Projects Mean for You?
If you own a local business, the influx of visitors thanks to these new projects can benefit your bottom line. For those Greensboro residents that are unemployed or underemployed, these new businesses pouring into the city represent opportunities for a new job or a better job. An influx of businesses brings economic enhancement with it and an improved local economy for everyone.
How to Make the Most of Greensboro's Growth
If you're deep in debt because of an upset like unemployment, accident, illness, or divorce, it can be helpful to get a clean financial slate to start you on a new path. Most of our clients come to us because a significant life event has thrown them into a situation of unaffordable debt. Many are facing debt collector harassment and were threatened with vehicle repossession or foreclosure of their home.
It can be difficult to enjoy the benefits of renewed prosperity in Greensboro when your personal finances are in disarray. Chapter 7 bankruptcy [2] helps you unload unsecured debt within just a few months while Chapter 13 bankruptcy can get you on a repayment plan to catch up past-due balances on secured debt like your mortgage and auto loan while relieving some unsecured debt.
To find out more about debt relief, contact the Law Offices of John T. Orcutt [3] for a free Greensboro bankruptcy consultation. Call +1-919-646-2654 now for a free appointment at one of our locations in Raleigh, Durham, Fayetteville, Wilson, Greensboro, Garner or Wilmington.