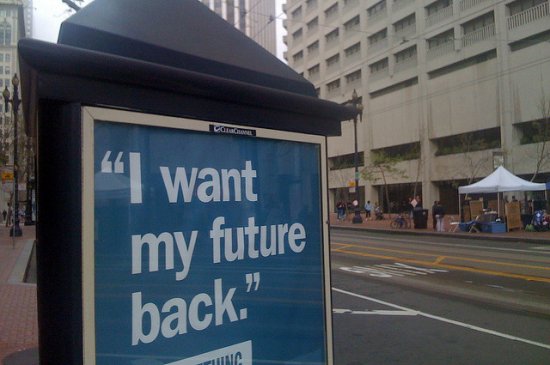 Your retirement accounts are safe during Wilmington bankruptcy
Image Source: Flickr User Jason Tester Guerrilla Futures
When you're dealing with debt you can't afford, one of the options to consider is Wilmington bankruptcy. But when considering bankruptcy, you must also think how it can affect your assets including cash in the bank, equity in your home and auto, and your savings. If you've got money in a 401(k), pension fund, or IRA, here's what you need to know about how they will be treated in bankruptcy.
Retirement Accounts Are Typically Safe from Debt Collectors
When debt collectors come after Wilmington consumers for unpaid bills, they may try extreme tactics to get the money you owe them. In some cases, they may threaten to take everything from you including your retirement money. This is not true. They can't get to it. In fact, in North Carolina, most creditors can't garnish your wages. As a rule, only the IRS, NC tax authority, or authorities collecting family court debt like child support or alimony can garnish your wages, as well as for federal student loans.
However, a debt collector or creditor can sue you in court to gain a judgment that would allow them to try and place a lien on your assets such as your home, auto or another item of value (boat, motorcycle, RV, etc.). Even if a creditor or collector obtains a judgment, they cannot place a lien against your retirement accounts whether you have funds in a 401(k), IRA, or a pension account. These are a social safety net for your golden years and are very difficult (typically impossible) for a creditor to touch.
Retirement Accounts Should Be Safe in Wilmington Bankruptcy
If you're considering bankruptcy as a solution to your debt dilemma, you can breathe a sigh of relief knowing your retirement accounts are protected in the process under federal law. In addition to your IRA, 401(k), and ERISA qualified pension account being safe in bankruptcy, there are North Carolina exemptions to protect a reasonable amount of assets that you need to live your life. As an individual, you can shield $35k in home equity in bankruptcy and if filing jointly with a spouse, up to $70k.
Reasonable amounts for furnishings, clothing, your vehicle, and other normal assets can be protected in Chapter 7 Wilmington bankruptcy which is the most sweeping and fastest type of debt relief. If you have more equity than can be protected, you may need to consider Chapter 13 bankruptcy instead because you can get current on your debts over time while still protecting what you own. But in either type of bankruptcy, your retirement accounts will be safe.
Can Anyone Touch Your Retirement Accounts to Collect a Debt?
The one notable exception to the retirement account shield is for federal taxes that are past due. The IRS may try and levy your retirement account, but they can't touch the money until you withdraw it, but this is not a typical action. Also, if you choose to file Wilmington bankruptcy [2], you might be able to discharge certain tax debts.
For income tax returns filed on time and the tax has been owing for more than two years, it may be eligible for discharge under Chapter 7 bankruptcy and, under Chapter 13, diminishment or discharge. If you failed to file your taxes, filed them late, or the tax debt is more recent, it's not eligible for relief in bankruptcy. Dealing with other debt in bankruptcy may also help with taxes by freeing up money.
One of the benefits of bankruptcy is that retirement assets can be shielded to protect your future while unmanageable debt is discarded giving you a fresh start. To find out more about protecting your financial future, contact the Law Offices of John T. Orcutt [3]. Call +1-919-646-2654 now for a free Wilmington bankruptcy at one of our convenient locations in Raleigh, Durham, Fayetteville, Wilson, Greensboro, Garner or Wilmington.