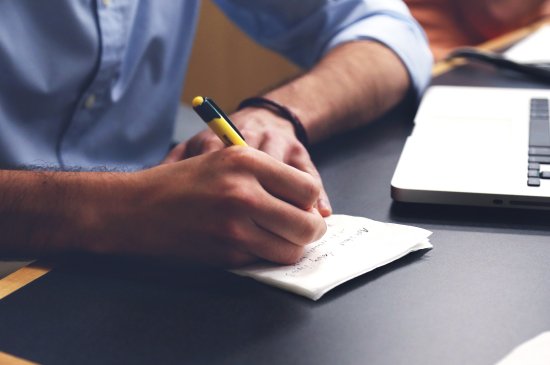 How to get rid of student loans
Image by Startup Stock Photos via Pexels
Student loan forgiveness, discharge, and cancellation all mean one thing: you can finally see an end to debt that's been weighing you down for years, possibly even a decade or more. If you're one of the 44 million Americans currently struggling with student loans or one of the five million now in default, it's worth exploring what these terms mean and how you might be able to ditch your debt.
What's the difference?
Forgiveness, discharge, and cancellation all lead to an outcome of debt relief. In conjunction with your student loans, they mean your debt is done by one means or another, apart from the avenue of paying off the debt in full. However, some nuances differentiate these terms.
Forgiveness
Student loan forgiveness and cancellation may apply to the cessation of your debt as related to your job. If you work in public service [2] full time, you may qualify for forgiveness or cancellation after a period of repayment completed concurrently with qualifying employment such as with the Public Service Loan Forgiveness program.
Cancellation
Cancellation can also refer to dismissing your loans because of problems with your institution, the loan process, or events out of your control that qualify you for partial or total loan relief.
Discharge
Student loan discharge, on the other hand, provides you with debt relief based on specific circumstances. If you have been a victim of fraud, disaster, total and permanent disability, or severe impairment, your student loan may be eligible for a discharge.
No matter which one you're interested in, you need to apply and meet substantial requirements before your student loan can be eligible for forgiveness, cancellation, or discharge.
Here is a list of some types of forgiveness, cancellation, and discharge:
●       Public Service Loan Forgiveness
●       Teacher Loan Forgiveness
●       Perkins Loan Cancellation (includes Teacher Cancellation)
●       Total and Permanent Disability Discharge
●       Death Discharge
●       Bankruptcy Discharge
●       Closed School Discharge
●       False Certification, Unauthorized Signature or Payment Discharge
●       Unpaid Refund Discharge
Closed school discharge
Federal student loans are intended to finance accredited courses at qualified colleges, universities, and technical schools. If your institution closed permanently while you were still enrolled, you could be eligible for a student loan discharge.
If you withdrew from the school within 120 days of its closing, you may still be eligible for a discharge. To claim this relief, you must obtain your academic and financial records from the school. You can get this through the state licensing agency for that school.
False certification, etc.
With direct loans and Federal Family Education Loan (FFEL) programs, you may pursue discharge if your school gave you a loan fraudulently. If the school made false claims, loaned you money for a program for which you were ineligible, or forged your name on a promissory note, you may be able to win a discharge.
Bankruptcy discharge
Student loan discharge is also possible via bankruptcy. There's a myth that bankruptcy can't discharge student loans. In fact, they can be, but there are requirements to be met, and you need representation by a bankruptcy lawyer experienced with student loan relief.
Generally, you must demonstrate that you'd suffer undue hardship if forced to repay the loans which means:
●       You couldn't maintain a minimal standard of living.
●       The hardship will continue for the foreseeable future.
●       You made a good faith effort to repay the loan.
When you file bankruptcy, your attorney must take the extra step of instituting an adversary proceeding to sue your loan issuer and servicer for relief. Fewer than 1/10 of 1% of bankruptcy filers with student loans ask for help. Of those that do, 40% get partial or total debt relief, so it's worth discussing with your bankruptcy attorney.
To find out more about student loan debt relief in bankruptcy, contact the Law Offices of John T. Orcutt [3]. Read reviews from satisfied clients [4], then call +1-919-646-2654 to schedule a free bankruptcy consultation at one of our locations in Raleigh, Durham, Fayetteville, Wilson, Greensboro, Garner or Wilmington.