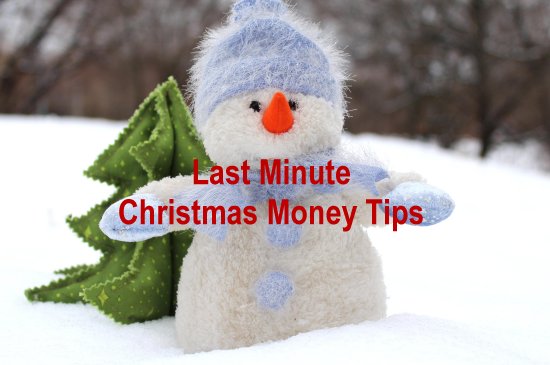 Don't blow your budget this Christmas
Image Source: MorgueFile
With a little more than 10 shopping days left until Christmas, Black Friday has passed but that doesn't mean there aren't sales galore left to come. However, getting into a last-minute panic can mean you'll blow more money than you can afford. Here are 12 days' worth of Christmas tips for the last minute shopping season to keep you from breaking your budget.
#1 Consider gifting after Christmas
This is a sound suggestion for a couple of reasons. First, there will be a ton of post-Christmas sales. Second, the stores will be less crowded. Third, if you're mailing gifts, the Post Office will be less crowded. Fourth, when your gifts arrive, all the others will have been opened so the focus is on your presents.
#2 Consider gift cards
Flashy ads and signage can convince you to make last-minute impulse buys that can throw you off track and end up costing you a bundle. Gift cards are easy, can be bought online so you don't even have to go to a store, ensure you won't overspend and lets the recipient can buy something they like. Some sites even discount them.
#3 Look for free shipping offers
Many retailers offer free shipping through the Christmas season with no minimum purchase. Look for sales on store sites that offer free delivery and take advantage of the fact you won't have to fight the Post Office crowd. Even if the gifts don't make it there quite by the big day since you're shopping late, that's no big deal.
#4 Regifting is NOT a crime
Rather than maxing out your credit cards, why not gift what you have on hand? Do you have an appliance still in the box from your wedding you never used – gift it! Did you get a gift card from your workplace to a store that's not your taste – gift it! If your daughter has long envied your pearl earrings, hand them down to her. This tactic clears out closet space and saves money.
#5 Skip the Christmas cards
Let's face it, society is going paperless, so why not spread the green spirit and skip holiday cards? Postage has gone up in price and good cards can be expensive as well. Instead, take a nice family picture and attach it to an email. You can send the same email to one and all or write custom emails to each recipient to ensure a personal touch.
#6 Don't indulge in décor
Christmas decorations can be really expensive, but then right after Christmas, they get really cheap as stores try to clear out leftover inventory. Make a habit of buying Christmas decorations in the post-holiday weeks then pack them up with this year's décor. Next year, it'll be fun to open up and use all the new stuff.
#7 Get an artificial tree
Sure it's fun to go out and chop down a tree but it's also expensive and not so eco-friendly. Trees are another item to look at post-Christmas this year with a deep discount. You can get a quality artificial tree for less than fresh if you shop after the holiday. And, as an added bonus, it's not a fire hazard like a real tree.
#8 Go potluck for dinner
Putting on a big family holiday dinner can cost hundreds of dollars. Instead, if you're hosting, provide the protein and assign family members to bring sides, rolls, desserts, drinks and paper products. Everyone will save money and you can still enjoy a nice spread with those you love. And for those that imbibe, tell them it's strictly BYOB.
#9 Opt for cheap entertainment
The new Star Wars comes out right before Christmas, but IMAX tickets are $20! Skip the spendy outings and do some Netflix bingeing, play board games, drive around and look at lights, or take a hike at a local park on a crisp, sunny day. There's no need to blow money entertaining this year when you've got so many free options on hand.
#10 Bake in lieu of small gifts
There are so many small gifts you need – for teachers, the postman, hairdresser, etc. Instead of spending cash on something small they may not like, why not bake? Master a recipe for cookies, fudge, or candy and make it your annual holiday signature item. That way everyone will look forward to it each year and you'll save $$$.
#11 Don't overbuy
Most of us are guilty of overdoing it with our kids and, really, they don't need a mountain of presents. Instead, focus on a primary gift they want plus stocking stuffers. Most kids are overwhelmed at Christmas with too much stuff. After the dust settles, if there's something they really want and didn't get, you can shop for it on sale.
#12 Plan ahead for next year
It's easy to let the holidays sneak up on you, so start planning ahead for next year right away. Keep a notepad or list on your smartphone all year long so when your loved ones mention things they like, you can jot it down and then shop for it on sale. They will be amazed at your thoughtfulness and you'll save.
Try these tips to help you save less this holiday season. And remember, if you're struggling financially, dealing with debt collectors and living paycheck to paycheck, there is a better way. If you're a North Carolina consumer that's drowning in debt, contact the Law Offices of John T. Orcutt for a free North Carolina bankruptcy consultation. Call +1-919-646-2654 for a free appointment at one of our locations in +1-919-646-2654 and you can be debt-free by the New Year.