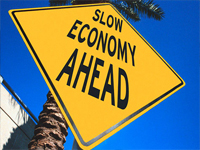 Just as many Americans had begun to believe the worst of the economic downturn had passed, some experts are saying that the nation's economic recovery is the Weakest rebound since The Great Depression. According to a new article from The Huffington Post, "Since World War II, 10 U.S. recessions have been followed by a recovery that lasted at least three years. An Associated Press analysis shows that by just about any measure, the one that began in June 2009 is the weakest. The ugliness goes well beyond unemployment, which at 8.3 percent is the highest this long after a recession ended.
Economic growth has never been weaker in a postwar recovery. Consumer spending has never been so slack. Only once has job growth been slower." This devastating reality has already hit home for millions of Americans as the lingering housing crisis not only evaporated trillions of dollars in families' home equity but also impacted industries like construction, leading to more joblessness amid already high unemployment. Not only has the recent real estate reckoning impacted a large part of the nation—leaving plenty of underwater homeowners still financial reeling and unable to spend—the housing market is also slower to recover than a stock market crash. According to HuffPost, "Investment in housing, which grew an average of nearly 34 percent this far into previous postwar recoveries, is up just 8 percent since the April-June quarter of 2009. That's because the overbuilding of the mid-2000s left a glut of houses. Prices fell and remain depressed.
The housing market has yet to return to anything close to full health even as mortgage rates have plunged to record lows." Underwater home ownership, non-existent equity, and skittish homeowners mean few Americans are spending at pre-recessionary levels to help fuel the economic recovery. And now, with their credit cards cancelled, jobs still in jeopardy, and few or shrinking pay raises on the horizon, there's little money to go around in the weakened economy. Don't YOU be weakened by the weak recovery. If you already find yourself in dire straits as America faces another protracted economic malaise, knowing a qualified bankruptcy attorney is the first best step to help you regain your power, conquer creditors and face your financial fears, yielding—all with the right kinds of support, information and insights—at a low cost— for a viable and secure future. The bankruptcy professionals at the Law Offices of John T. Orcutt offer a totally FREE debt consultation. Just call toll free to +1-919-646-2654, or make your own appointment online at www.billsbills.com. Source: http://www.huffingtonpost.com/2012/08/15/us-economic-recovery-weak_n_178...