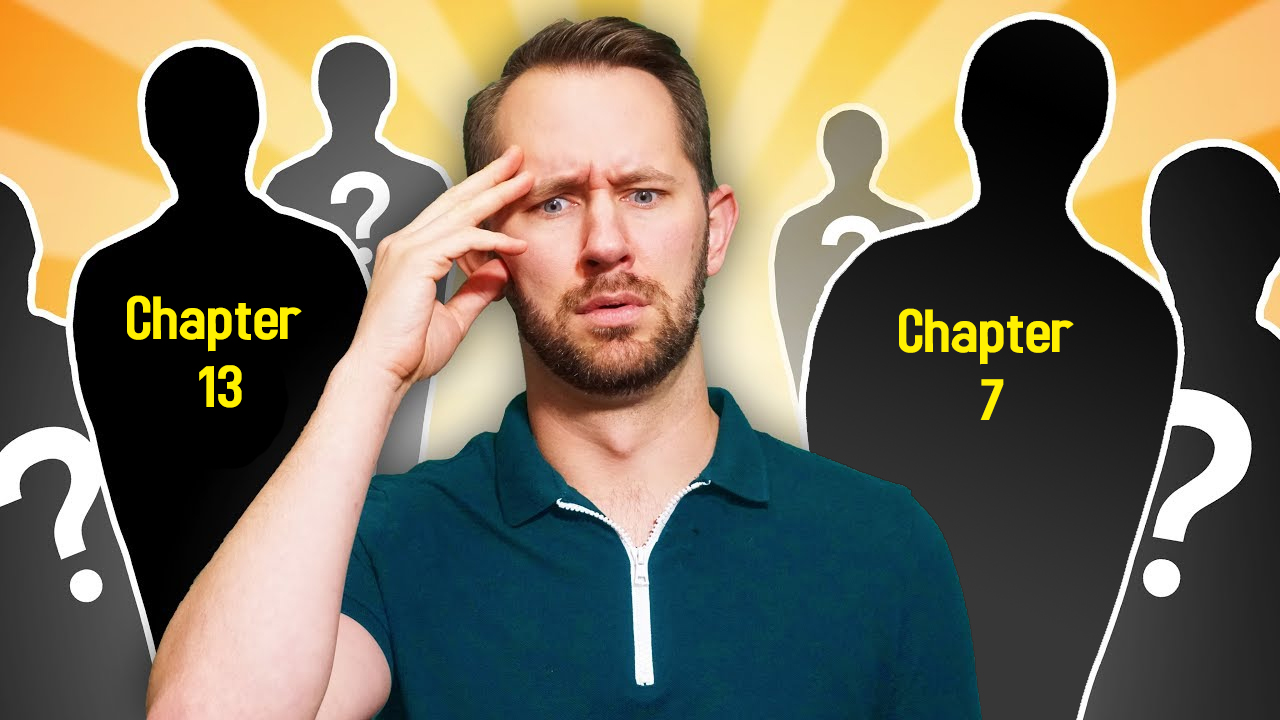 Bankruptcy: Why Chapter 13 and NOT Chapter 7
For some unknown reason, many people come to see us thinking "I only want to file a Chapter 7 bankruptcy".   Now, there is nothing wrong with Chapter 7 when Chapter 7 fits the bill. We file a ton of Chapter 7 cases.  But, apparently, out there in the ether, there is something that gives a lot of people the strongest impression that Chapter 7 is better than Chapter 13.  Nothing can be further from the truth.
But, I get ahead of myself.  For most of the population, for those who need to file bankruptcy, there are 2 avenues to choose from.  There is Chapter 7 and there is Chapter 13. These are chapters of what is known as Title 11 of the United States Bankruptcy Code.  This a federal law. (You may also have heard of Chapter 11, which is for larger corporations or clients with significantly more assets or debts.)
So, for any of you who wonder where "bankruptcy" comes from, now you know.  It is Federal law. When you file bankruptcy...you are claiming your right to "debt relief" as provided by Federal law.
So, you might ask: "What is the difference between Chapter 7 and Chapter 13?".   The way I describe it is that Chapter 7 and Chapter 13 are basically like two ends of the same stick.  Both ends of the stick put creditors under control. Both give you the kind of relief that only filing bankruptcy can provide. Both get rid of stress, worry and sleepless nights.
Of the utmost importance is the fact that both get rid of debt.  This cannot be stressed enough because getting rid of debt...fully, finally, and forever...as if it never existed...is what it's all about.  Getting out of debt is what gives you and your kids the ability to get on with life, liberty and the pursuit of happiness.   You owe => You file bankruptcy => You don't owe. 
And it is the most amazing benefit of filing bankruptcy.  Scammers and others promise...but only bankruptcy delivers.
Getting rid of debt?  That's huge.  That's what filing bankruptcy was primarily designed to do.  Just think of how much your life would be "tomorrow", if you got out of debt "today". 
Those are the similarities between Chapter 7 and Chapter 13, and that's where the similarities end.
Now, let's talk about the differences between these chapters.
Years ago, there was a period of time when certain judges and others questioned why we would put someone into a Chapter 13 rather than a Chapter 7, and whether we were presenting both chapters as options.  In attempting to address these concerns, I sat down and listed out all the reasons "Why Chapter 13 and NOT Chapter 7".
Recently, I got thinking that maybe this list would be useful for you to see. 
Just so you know, assuming that none of these reasons apply to your situation, it may well be best for you to file under Chapter 7.
So, here are 21 different reasons, presented from your point of view, as to why you would choose to file a Chapter 13 case, as opposed to a Chapter 7 case:
 
1.   Attorney Fees: I don't have enough money to pay my attorney's in full before the filing of my case;
and I don't know when, or if, I will be able to come up with it.
Even if I could possibly come up with the money, over time,

 I don't want to worry about what the creditors will do to me until I come up with the money OR
 I'm not sure I can, and don't want to take a chance OR
I just don't want to wait that long to get the help I need OR
I don't want to have to keep dealing with the creditor calls and letters OR
I just don't want to wait.  I want to get filed now OR
I can't stand the stress and just want to get filed so I can sleep at night OR
The creditors keep calling me at work OR
I'm sick of worrying all the time and just want to get filed and get things under control OR
I want to get on with my life now, rather than waiting until later OR
 The Chapter 13 plan payment is less than what I would have to come up each month to get filed under Chapter 7 case in say 6 months.
IMPORTANT TO UNDERSTAND: The reason this issue is important derives from the fact that, with respect to Chapter 7, attorneys are required to collect all their money up-front before the client's case is filed. Under the law, any money not collected up-front before the filing  is forfeited by the attorney.  Why?  Because, under the law, an attorney who, after filing, is still owed money on a Chapter 7 case is looked at as just another unsecured creditor. And generally, debts owed to unsecured creditors are exactly what the bankruptcy law wipes out. Therefore, the reason why this issue is important.  Such is not the case with respect to Chapter 13.  Chapter 13 allows for the collection of unpaid attorney fees AFTER the filing of the case.
2.   Right to discharge: I don't know what the future holds. I don't want to give up my right to get a Ch. 7 discharge
3.   401k: I want to continue to contribute to my 401k and/or repay  401k loans, without interruption.
4.   Reaffirmation: I don't want to reaffirm on my vehicle and risk being left personally liable on substantial debt.
5.   Nest Egg: I don't want to give up what money I have in order to get filed.  It's all the money I have to guard against emergenies and other unanticipated expenses.
6.   To Save Vehicle: I am behind on my car or truck, don't have the money to get it up to date, and don't want to risk losing it.
7.   To Save House: I am behind on my house, can't get it up to date,  and don't want to lose it.
8.   To Stop or Avoid Garnishment: I need to stop a garnishment or threat of garnishment regarding, with respect to:
 Student loans OR             
Taxes OR         
Judgment from another State    
9.   Mortgage Strip Off: I need (or want) to get rid of the 2nd or 3rd mortgage on my house.
10. Taxes: I want to put back taxes under control
11. Child Support and/or Alimony: I want to put overdue child support and/or alimony under control.
12. Not Eligible: I am not eligible to file Chapter 7 because:
I can't pass the Means Test OR
I filed another Chapter 7 less than 8 years ago.
13. Equity Above Available Exemptions: I don't want to lose property not covered by available exemptions.
14. Cram Down: I save money by "cramming down" on a vehicle (or other personal property) loan.
15. Lower Interest Rate: I save money using the Till rate by paying a vehicle debt through my Chapter 13 plan.
16. Want to pay: I would feel better if I paid at least some of my debts in a Chapter 13 case.
17. Student Loans: I can't afford to pay them and I want to put them under control for as long as possible.
18. Less Payments: I like having just less payment to worry about.                     
19. Former Marital Debt: I want to get rid of debt which would be non-dischargable in a Chapter 7 case.
20. Credit Report: I don't want my bankruptcy to show on my credit for 10 years (only 7 years, if Ch. 13)
21. Medical Problems: I have ongoing medical problems and I want to preserve the right to re-file.
Final note: This list was created by attorneys for use by attorneys and paralegals.  It therefore contains some legal terms, as for example "Means Test", but rest assured that any experienced bankruptcy attorney can break down and explain these in easy to understand non-legal terms.
To find out more about North Carolina bankruptcy relief, contact the Law Offices of John T. Orcutt for a free consultation. Call +1-919-646-2654 for a FREE consultation over-the-phone.  We handle cases from all 100 counties of North Carolina.