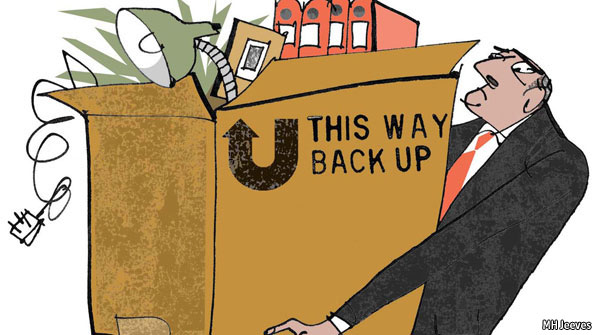 Image source: Economist.com
Can you imagine receiving a letter or legal notice in the mail stating that your struggling company may be forced into bankruptcy? This situation affects small business owners around the US every day. One minute you're working hard to make money to pay off your debts, and the next you learn you might be out of business. Just the thought of it is enough to make you panic. Understanding what you're facing and how to respond effectively can help you achieve the best outcome possible. Here are the four fundamentals to involuntary bankruptcy and what you should do if you're in this situation.
1. What is involuntary bankruptcy?
Most of the time, the decision to file for bankruptcy is one made that's made by you, either as an individual or as the owner of a small business. You're unable to pay your debts, and you realize that it's time to move on. With the help of a qualified bankruptcy attorney, you go through the steps needed to make the filing and have the debts discharged. In situations where the process is started by your creditors, then you enter a process that's known as an involuntary bankruptcy.
Your creditors feel that working through the courts is the only way they might have a chance of collecting their money. The creditors file a petition, and if the petition is accepted, the bankruptcy becomes a legal requirement for your business. Involuntary bankruptcy proceedings are usually against businesses. They're allowed against individuals, but actual filings are extremely rare. If this happens to you, it's important to take immediate action.

Image source: Ticorblog.com
2. Can involuntary bankruptcy happen to me and what can I do?
There are some basic requirements and thresholds that apply to involuntary bankruptcies. You have to owe a minimum amount of money to a certain number of creditors, and all have to agree that this is the best course of action. If your company has 12 or more creditors, three of them must file the petition, and the amount owed must be in excess of $14,425. During the proceedings, the company is allowed to continue to operate as normal.
If you're being forced into bankruptcy, you still have rights that must be respected. You can file objections to the petition within 21 days of receiving notice of the involuntary bankruptcy action. There will be a court hearing where both sides will plead their case. It's important to know that if the petition is dismissed, then the filing creditors may be liable for the costs and attorney fees accumulated by you in preparing a defense. If the court decides the petition was filed in bad faith, the creditors may be liable for both damages caused by the filing and even punitive damages.

Image source: NewYorkTimes.com
3. What will involuntary bankruptcy mean for my business?
Businesses in involuntary bankruptcy are likely to face Chapter 7 liquidation. This means that your available assets are liquidated or sold in order to provide funds that are paid to your creditors. A specific formula is laid out in bankruptcy law that determines who gets what. Any debt still remaining after liquidation is then forgiven or discharged.
If you feel you have a chance to pay off the debts, it's important to speak up. If the debtor and creditors agree that a restructuring could save the company and allow for repayment of the debts, then a Chapter 11 reorganization may be filed. In this sense, the Chapter 11 becomes a forced but voluntary filing on your part, and can save your business assets.

Image source: google.com
4. Are my personal assets – like my house or the kids' college funds – safe?
A major concern for people facing involuntary bankruptcy is whether or not your personal assets are safe. The only way to know is to consult a qualified attorney in your state. But in a majority of cases, yes. The homestead exemption protects the equity you've built up in your house from the bankruptcy process. There are both federal homestead exemptions and state homestead exemptions that vary widely depending on your location and situation.
This short overview is not legal advice, but may help you answer some preliminary questions about involuntary bankruptcy. If you've received notice of an involuntary bankruptcy filing, talking to an experienced bankruptcy attorney can help you explore all of your options and choose the one that's right for your situation. The knowledgeable bankruptcy professionals at the Law Offices of John T. Orcutt are here to help guide you on the path to regaining your financial footing.
Dedicated to helping residents of North Carolina find the best solutions to their debt problems. Don't waste another day worrying about your debt. Call +1-919-646-2654 today to schedule a free initial consultation to discuss your bankruptcy options.