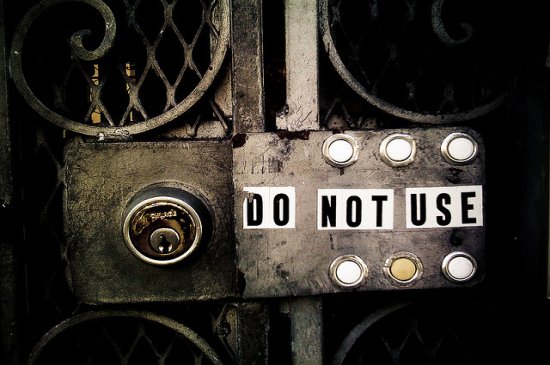 There are things to definitely not do when filing bankruptcy
Image source: jm3 via Flickr Creative Commons
If your finances are out of control and you want a better future, filing bankruptcy may be the best approach to getting a clean slate, back payments caught up and back on the path to financial security. But in order to have your petition approved in either a Chapter 7 or 13, your Chapter 13 repayment plan accepted and not end up in trouble with the court, you must follow the law. With that in mind, here are five bankruptcy don'ts that you need to be mindful of to get the financial fresh start you want.
#1 Don't omit any of your income – even if you think it's "under the table"
Of course you know your wages from your job must be disclosed, but did you know you also need to disclose the earnings of any dependents that are listed on the petition? For instance, if your 16 year old is working part-time at McDonald's to pay their car insurance or save for college, their income must be listed.
It shouldn't impact your outcome so long as they're not raking in big bucks, but can get you in trouble if you neglect to disclose it. If you mow lawns for spare cash, prepare tax returns on the side or any other activity that generates income, you must also include this. If you're unsure of what to include, disclose to your reputable North Carolina attorney and they'll advise you.
#2 Don't leave out any creditors – even if you want to honor the debt after discharge
One of the tenets of bankruptcy is that all creditors must be treated equally. This means that you should list them all so that the Trustee can decide if any should survive your Chapter 7 discharge process or if any should be included or excluded from your Chapter 13 repayment plan. It's simply not up to you to decide whom you think should be repaid and who not when you file.
When you complete a petition for bankruptcy, you open up your financial circumstances for the court to look at, evaluate and decide what should happen. You have to list everything you owe so that the court can make a fair and informed decision that complies with the law. Excluding a credit card to try and keep it is something that's often attempted, but won't work because your creditor will close it once they know you've filed bankruptcy (and trust us, they will find out).
#3 Don't exclude your car or car loan from your bankruptcy petition
In North Carolina, you need a car to get to work, take your kids to school and have a life. Because it's pretty much a necessity, you may be tempted to leave off your car or car loan to try and protect it. As mentioned above, it's up to the court to decide how your assets will be treated, but so long as your car notes are current, your Trustee will leave it alone as long as you don't have a ton of equity in a really expensive vehicle.
In a Chapter 13, you can often catch up past due balances and may be able to get your loan balance and/or interest rate reduced, so leaving it off your petition can actually cost you money. Don't panic about including it – in most cases, you're able to keep your vehicle. Even if you own it free and clear, North Carolina bankruptcy exemptions allow a reasonable amount of car value to be excluded from consideration to be paid to your creditors.
#4 Don't let bankruptcy make you feel bad about yourself
Being deep in debt is depressing – and not just an "I'm so sad" type of thing, but deep clinical depression. When you're behind on bills, money problems can consume your thoughts every waking hour, distracting you from your job, from the simple pleasures in life like spending time with friends and family and can cause destructive marriage problems.
But it's important that you not let debt destroy your peace of mind, your family or your life. Opting for bankruptcy is one way to get a clean slate that will allow you to rebuild your financial future, eliminate unnecessary stress from your life and feel better about yourself. It's important to know that your debt is a number, not who you are.
#5 Don't make a poor choice in your bankruptcy attorney
If you're considering bankruptcy as an option to get your debt under control, one of the most important factors is your choice of attorney. You want a firm with local expertise, not a national chain where you may be pushed into a cookie cutter template. You want attorneys that are highly rated, care about their clients, can demonstrate a track record of client satisfaction, offer affordable fees and guaranteed results.
Contact the law offices of John T Orcutt today for a free consultation on your debt dilemma to find out how we can help. We love our clients and work hard to get you the best results and the financial clean slate you need and deserve.