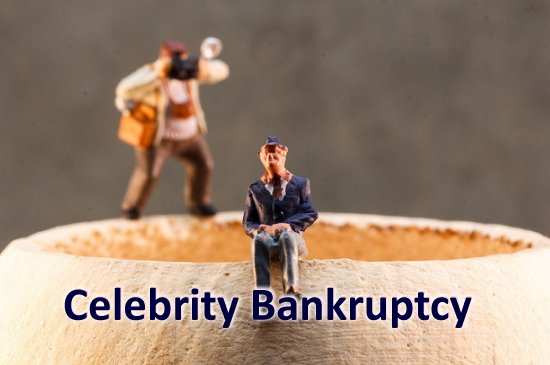 Celebrity bankruptcy - five little-known insolvencies of the famous
Image Source: Flickr User reloeh
Celebrity bankruptcies are interesting to read about because they offer lessons that apply to all consumers, not just the rich and famous. It is often the same circumstances that cause bankruptcy in the wealthy, high earners, middle class, and those struggling to make a living. In today's celebrity bankruptcy alert, we look at five little-known celeb bankruptcies.
#1 Francis Ford Coppola
When you think Francis Ford Coppola, you likely recall The Godfather or Apocalypse Now. The iconic director has made some of the most influential films of the past 50 years, yet he too needed to turn to bankruptcy after a major event put him into crushing debt that was ruining his life and finances.
A flop he made called One From the Heart was the source of a decade-long financial predicament that left him owing nearly $100 million in debt. He filed bankruptcy three times within 10 years, most recently in 1992 to deal with the debt. He's now put that trouble behind him and is back to making hit movies.
#2 Larry King
Larry King is a bona fide success story with a career dating back to the 1950s up until his retirement from Larry King Live in 2010 – he has since gone on to other broadcasting work saying retirement wasn't for him. But in the 1970s, Larry King had a major financial hiccup that caused him to file bankruptcy in 1978.
He was arrested in 1971 on a charge that was ultimately dropped, but the unproven accusation meant lost work, lost income and more than $350k in debt that King could not pay. He used bankruptcy to defeat his debt and went on to phenomenal success.
#3 Tom Petty
Tom Petty's bankruptcy story shows how filing for official insolvency can be a strategic move. Although Petty has sold more than 60 million albums in his long career and is still recording, contract issues and problems with his label meant he was earning less than he should have been.
When his record label sold, he refused to be transferred to the new company under the same bad terms. He filed bankruptcy to force his release from the contract then renegotiated an all-new contract with MCA (the buyer label) and got the terms he wanted to continue making music.
#4 Marvin Gaye
Music legend Marvin Gaye enjoyed major success and a string of chart-topping hits but as with so many people, it was divorce that saddled him with debt he could not manage. Gaye and his wife Anna Gordy (sister of Motown legend Berry Gordy) split in 1976, and the divorce settlement was costly and unusual.
Anna was to get all of the proceeds from his next album instead of alimony and child support. That album ended up being a strange one, and his ex threatened to sue. Marvin Gaye filed for bankruptcy to try and deal with his debt and went on to more commercial and critical success before his death.
#5 Mick Fleetwood
Mick Fleetwood is the drummer and co-founder of band Fleetwood Mac back in 1967. If you're a fan of classic rock, you know the band's work and another famous band member Stevie Nicks. They've sold more than 70 million albums, and so Mick should have been set for life off their chart-topping success.
But drug use, ignoring the advice of financial advisors, and binge buying expensive real estate. In the mid-80s, he filed bankruptcy to get his debt under control and also went straight – giving up booze and drugs and assembling a financial team to protect his money and keep him from disaster.
What can you learn from these little-known bankruptcies?
You can see in each case that it was one major event that led to the financial problems. This is true with most people we see in our North Carolina bankruptcy practice. Whether it's divorce, an arrest, job loss, drop in income, accident or illness, that one event can wreck even the most stable of finances.
If you've had to deal with a chance of circumstances that has left you with more debt than you can afford, contact the Law Offices of John T. Orcutt today for a free North Carolina bankruptcy consultation. Call +1-919-646-2654 for a free no-obligation appointment at one of our offices in Raleigh, Durham, Fayetteville, Wilson, Greensboro, Garner or Wilmington.