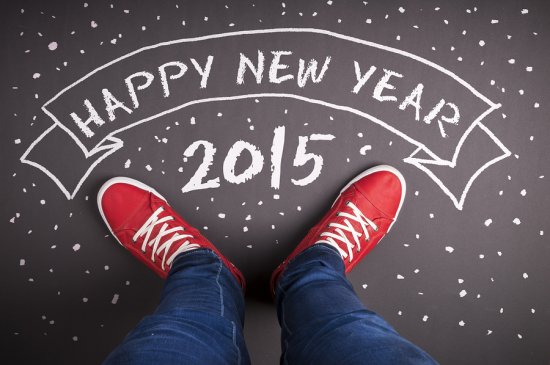 Things you do now can make your 2015 even better
As the year draws to a close, it's inevitable that we start to think about what we've accomplished in 2014 and what we hope to accomplish in 2015. It's also inevitable that we reflect on things we hoped to accomplish this year and fell short on. Often this has to do with finances. Whether it's a new car you wanted to buy but couldn't afford, a down payment on your starter home or a savings account you meant to beef up. Rather than mire yourself down in what you didn't get done, you should focus on what you were able to do and then make some solid plans to have a better 2015.
Consider these 5 money moves to get your 2015 off to a good start in the New Year...
#1 Don't Overdo it at the Holidays
You're likely still spending money now and will be up until your kids go back to school or you head back to work after the holidays. Why not rein this in now? Many Americans suffer a holiday debt "hangover" in the months after Christmas. Of course you want to buy your friends and family gifts, but there's no need to go hog wild. Kids won't remember everything you piled on them gift-wise, but likely will remember that you spent time with them playing board games or watching holiday movie marathons. Give your time and you won't accrue as much debt.
#2 Be Mindful of Your Credit Cards
American consumers are once again getting themselves in over their heads with credit cards. In first quarter, on the whole, we paid off $32.5 billion in debt according to a study by CardHub.com. But in second quarter, we turned around and re-indebted ourselves to the tune of $28.2 billion. This is the biggest leap in more than six years. We had been, as a collective, dealing more effectively with this debt, but now we're spending with plastic and it's a dangerous precedent. Try to pay more than the minimum and don't slide plastic if you can't afford to pay for the item in cash.
#3 Save Whenever You Can
The best defense against financial issues and the greatest tool to preserve your future is savings. It can be hard to save particularly when your money is tight. But you should try. Even if you can only save $5 or $10 a paycheck - do it. It will add up over time to enough to provide you at least a little buffer against unexpected expenses and once you make saving a habit, you'll be more inclined to try and save more. Knowing you have a rainy day fund or nest egg can give you great piece of mind and it's worth little sacrifices to make it happen.
#4 Invest in Your Future
Just half of Americans are saving for retirement and this is scary. One study showed that many low income earners spend around $100 a month on lottery tickets, but don't save for retirement. If that money went into a retirement account rather than to casual gambling, it would accrue to almost $300,000 after 40 years. If your employer offers a 401(k), particularly one with a match, you're really missing out by not using it. And because contributions to a 401(k) are in pre-tax dollars, you won't feel the sting as much. Try to start with just a few dollars a paycheck and build from there.
#5 Budget, budget, budget
According to a recent Gallup poll, roughly 2/3 of Americans do not budget. Budgeting helps you make wiser money choices, avoid financial crises and have peace of mind. If you'd like to budget but aren't sure how, check out this great Learnvest how-to on budgeting. Not budgeting is borrowing trouble. It's hard to know where you stand without a financial plan and makes it harder to set and realize long-term goals. Even if you've tried budgeting before but it flopped - try, try again. Budgeting is a habit that you must learn.
If you're deep in debt and struggling to get by, don't let another year go by without getting the fresh start you deserve. Contact the law offices of John T Orcutt to find out more about how bankruptcy can help you get the financial freedom you deserve. Call +1-919-646-2654 for a free consultation at one of our convenient North Carolina locations.