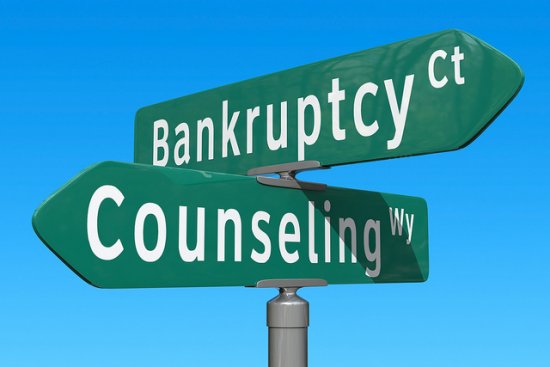 Bankruptcy counseling is required
Image Source: Flickr User Chris Potter
For those deep in debt and unable to stay head above water financially, Chapter 7 or Chapter 13 bankruptcy can be a viable option to address your dilemma. In addition to bringing in all of your financial documents to your attorney consultation, be prepared to take a prebankruptcy counseling course before you are allowed to file your petition. The course has been required by law since 2005 as part of the Bankruptcy Reform Act. Here are five things you should know about this course.
#1 You must take it prior to filing your bankruptcy petition
After you take the course, usually online, you will be provided a certificate of completion. This certificate must be part of the forms that are filed with your petition. If you don't provide this certificate, your petition will be rejected, and you'll have to start over. You can take the course up to six months prior to your filing. But most people take the course on the spot, at their attorney's office, while their lawyer complete their paperwork.
#2 You must take the course from an approved agency
In 48 of the states, the US Trustee program associated with the federal court system approves providers for the prebankruptcy counseling course. In Alabama and North Carolina, though, the US Trustee program isn't part of the system. Instead, Bankruptcy Administrators choose the approved providers for the debtor courses. However, your attorney will have an existing relationship with a course provider and will ensure you are working with an approved provider.
#3 You can take the course in three different ways
Thanks to technology, you can choose to take the prebankruptcy counseling course online, over the phone or in person. Internet-based courses are less costly than phone or in-person courses since you won't be taking up the time of a live human being. Course costs range from $10 up to about $50. If you're cash-strapped and can't afford to pay for the course, you can ask for a fee waiver or to pay a lower fee. Agencies are required to offer sliding scale options for low-income bankruptcy filers.
#4 You will learn about bankruptcy alternatives
The stated purpose of the credit counseling course is to educate you about the alternatives to filing bankruptcy. You will hear about options to filing bankruptcy including making alternative payment arrangements with your creditors. Even if you've already tried to work out payments and failed, the course is non-optional. The course will require you to enter information about your income and debt and to consider your options aside from filing bankruptcy.
#5 You should plan for an hour or more to complete the course
The course will take about 60 to 90 minutes from start to finish. This will include an evaluation of your financial circumstances. The person you speak to – or the online course – will gather information about your income, expenses, and debt. From that information, a repayment plan will be suggested. You do not have to accept this payment plan. You will also be given tips on how to negotiate with creditors. Don't try to speed through the course. Take your time and you may find you learn something.
The intent of the course is not to discourage you from filing bankruptcy – it's just to let you know that you have options. Likely, if you are at the point where you're ready to file Chapter 7 or Chapter 13 bankruptcy, you've exhausted those options. If you have any questions about the prebankruptcy course, you can ask your North Carolina bankruptcy attorney, but the course should be self-explanatory.
To find out more about how bankruptcy can help you get the financial peace of mind you deserve, contact the Law Offices of John T. Orcutt today. Call +1-919-646-2654 to schedule a free consultation in Fayetteville, Raleigh, Garner, Wilson, Durham or Greensboro.