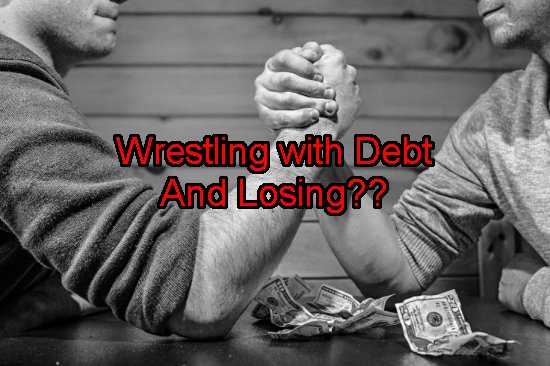 Is your battle with debt out of control?
Image Source: Stacksnap.io
For those deep in debt, dealing with collection calls, and stuck with bills they can't afford to pay, bankruptcy can be a meaningful debt relief option. If you're considering bankruptcy, you might wonder what to expect as part of the process. Here's a look at seven steps to take when preparing to file bankruptcy.
#1 Make Sure Bankruptcy is Your Best Option
You should not file bankruptcy if you can afford your debt. A handy rule of thumb is that if you can pay off your non-mortgage debt within a year or two, you might be able to get out of debt without going the bankruptcy route. But if you're truly overwhelmed with debt, bankruptcy offers a true financial fresh start.
#2 Check if You Pass the Means Test
Chapter 7 bankruptcy is the most complete form of debt relief, but your income has to be below a certain amount, or you must have so much debt that it outweighs your ability to pay. If you're not sure if you qualify, your North Carolina bankruptcy attorney can verify your eligibility to file Chapter 7. Don't decide based on your income alone that you won't qualify for Chapter 7.
#3 Gather Your Financial Documents
When you go in for your North Carolina bankruptcy consultation, you should come prepared. You need verification of your income and expenses including rent/mortgage, utilities, any child support, other court documents, debt documents, and collection notices for bills. It's better to bring more information rather than less. You will also need current wage statements and your last two years of income tax forms.
#4 Choose a Bankruptcy Attorney
Filing bankruptcy without an experienced bankruptcy attorney can mean that you don't get the full debt relief to which you're entitled as part of NC bankruptcy. You want a lawyer that specializes solely in bankruptcy, not a general practice attorney, and a firm that is local to North Carolina. Also, consider a small to mid-sized firm so that you get the personal attention you deserve.
#5 Be Honest on Your Bankruptcy Forms
When providing your bankruptcy information to your attorney, be sure to be 100% honest about your income, expenses, and debt. Only with all the info can your lawyer give you the best advice and work to get you the most complete debt relief possible. Plus, if you fib about something on your forms, your bankruptcy can be thrown out of court and you could even face criminal charges.
#6 Take Care of Your Debtor Education Courses
When you file bankruptcy, there are two counseling courses required. One must be completed before your petition can be filed with the court. This pre-bankruptcy counseling is intended to make sure you know your options when it comes to debt. After you file, there is another course about finances. These courses are designed to get you the information needed to obtain the best post-bankruptcy financial future.
#7 Enjoy Not Having Collections
One of the best things about filing bankruptcy is that it puts an end automatically to debt collections. All of your creditors will be notified that you filed bankruptcy and should stop contacting you. If you're contacted before they get the notice, simply tell them that you filed bankruptcy, and they should end the call immediately. If they persist, the debt collector may face penalties and fees.
North Carolina bankruptcy can be the perfect way to achieve financial freedom. If you're struggling with debt, living paycheck to paycheck, and don't see a way out, our office can help you decide if bankruptcy is the best solution for you. 
To find out more about debt relief, contact the Law Offices of John T. Orcutt today. Call +1-919-646-2654 now for a free North Carolina bankruptcy consultation at one of our offices in Raleigh, Durham, Fayetteville, Wilson, Greensboro, Garner or Wilmington.