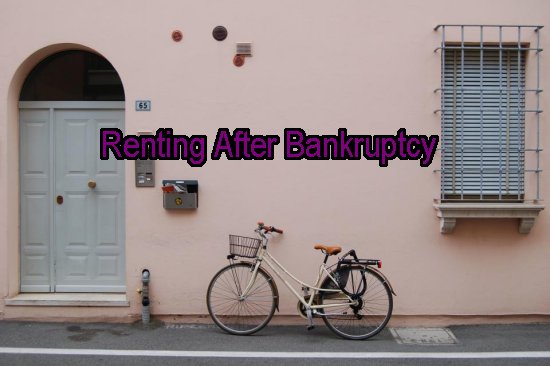 Renting after bankruptcy may require extra steps
Image Source: StockSnap.io
Are you hanging onto a house you can't afford because you're scared you won't be able to rent a house or apartment after you file bankruptcy? The good news is you should be able to rent a place after your bankruptcy filing. You'll just need to make smart choices when it comes to selecting property and approaching the rental process.
#1 Be Prepared With Referrals
If you don't have a rental history because you sold or gave up a home during bankruptcy, that can cause problems in the renting process. However, you can overcome this issue by using referrals. A note from your mom won't suffice, but a reference from your employer, a friend, or someone that can attest to your reliability can help sway a landlord to rent to you.
#2 Save Up A Larger Security Deposit
Landlords renting houses or apartments will often ask for the first and last months' rent as a security deposit. Others might set a flat dollar amount. If you have a lower credit score and no rental history because you're starting over, offering a larger deposit might help persuade a landlord to rent to you. Since you will be coming of bankruptcy with fewer bills and debts to service, it might be easier to build up a bigger deposit.
#3 Have Proof Of Income Ready 
Landlords are most concerned with ensuring you take care of their property and pay your rent on time every month. The security deposit and references help, but proving you earn enough to pay the rent is also important. Paycheck stubs can help and so can allowing your potential landlord to get a confirmation from your employer that the information on the stubs is correct.
#4 Rent From A Private Landlord
Larger corporations will have more inflexible policies. Renting from a chain apartment brand may require you to jump through more hoops and they may have thresholds they can't go below on your credit score and other factors. By choosing a smaller firm or individual landlord, you'll find they have more leeway to work with you and may be willing to take a chance on you if your history is less than perfect.
#5 Find A Co-signer
In some cases, if your credit score is less than desired or you don't have a rental history, you may be asked for a cosigner. Alternately, offering a cosigner may land you the apartment or home you want. In this case, ask if the cosigner can be released from the contract after a year of on-time payments so that you're not asking your cosigner to make a long-term commitment. A parent, family, or close friend may agree to help.
#6 Rent Near A College
Landlords near colleges and universities might be more willing to accept those with lower credit scores and lack of a rental history because they specialize in young and inexperienced renters. On the flip side, you might find yourself around rowdy college students. Before you apply to rent, ask what criteria a landlord asks for so you don't waste your time applying to rent a place that won't work with you.
#7 Tell The Truth
It can also help to explain your situation to a landlord. There's no downside to making a case for yourself. Explain why you went through bankruptcy—usually it's a life event like a divorce, illness, job loss, or injury. Then tell the potential landlord how and why you will now be a good risk as a tenant. It never hurts to ask, and honesty is the best way to go.
To find out more about the debt-relieving benefits of bankruptcy, contact the Law Offices of John T. Orcutt. Call +1-919-646-2654 now for a free North Carolina bankruptcy consultation at one of our convenient locations in Raleigh, Durham, Fayetteville, Wilson, Greensboro, Garner or Wilmington.