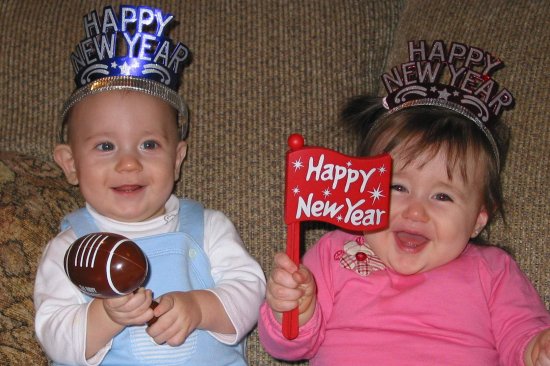 Don't party yourself into the poorhouse - save money on New Year's Eve celebration
Image Source: MorgueFile
New Year's is a time to cut loose and celebrate the year ahead. But often, a New Year's Eve blowout can lead to a debt hangover in coming days. There's no need to rack up hundreds of dollars of expense just to party your way from 2015 to 2016. Even for those that don't party, even a big family get together can cost big bucks. Here are seven ways to keep the cost of ringing in the New Year under control.
#1 Hit the thrift store (or borrow)
For a New Year's bash, you want to look good, but a glitzy party outfit is not something you'll use every day. The same goes for NY décor and tableware. Hit the thrift store to look for used party platters or a punch bowl and also for a snazzy outfit for your party. The dollar store has great deals for disposable décor to hang then toss. And you can also borrow extra chairs, dishes, and even an outfit from a pal. Why waste the money on something you won't think about after that night?
#2 Party at home
Going out to a premium party can cost a hundred bucks or more per ticket plus the cost of drinks. Alcohol at a restaurant or bar can cost you big. By having a get together at your house, you can save money, and there's no risk of driving while intoxicated (that can ruin your life, cost your license, and result in tens of thousands of dollars in fines and legal costs). A home party also allows you to dress casually rather than investing in spendy party gear.
#3 BYOB and BYOF
In addition to partying at your house (or a friend's) for New Years – consider making the event a perfect potluck. Implement a 'bring your own bottle' and 'bring your own food' policy. That way, no one pays for more alcohol than they would drink and no one is paying for a big pile of food for everyone. If you implement BYOB and BYOF, you can offer a buffet of food and drinks. Encourage everyone to participate so no one is consuming if they didn't contribute. This is cost-effective for all.
#4 Keep it family-friendly
As an alternative to a grown-up fete with alcohol and fancy food, consider a kid-friendly get-together or outing to save money and prevent a hangover. Take the kids to a local fireworks show or host a family campout and movie marathon with a tent in the yard. If bad weather is scheduled, set up the tent in the family room and make it an indoor outing. Pick up sparklers to light and celebrate before midnight so the kids can get to bed on time, and the grown-ups can toast at midnight in peace.
#5 Make bubbly punch instead of uncorking bottles
Champagne is one cost that can get out of control at a party or get together. Rather than buying a case (or two) of champagne for your party, make champagne punch instead. This can make a bottle or two of champagne enough to serve a whole crowd. Check AllRecipes.com or MarthaStewart.com for champagne punch recipes. A bit of fruit juice, club soda and fruit garnish can be made ahead, and then pop the cork at midnight, add the champagne and serve in punch cups for a cheap treat.
#6 Skip the travel (local or farther away)
Some people like to travel at New Year's to party somewhere new. However, NY is an expensive time to fly, and hotel rooms are at a premium. If you want to take a holiday trip, save it for later in January and do something at home instead. Then take advantage of post-holiday travel deals to enjoy a trip at bargain basement prices. If you usually stay at a hotel to party safely, consider hosting a home party or stay at a friend's house that lives a short Uber drive of where you're going.
#7 Collect a party fund
If you decide to go ahead and host a big blowout but don't trust that everyone will remember to bring what they promised, set a flat amount for everyone to contribute. Figure out how much you'll spend on food and drink and then use an app like Tilt.com to send out an invite with the dollar amount on it. Your party pals can pay instantly with their debit or credit card using the app and it tracks who has paid and who has not. Then you can move the money to your card to purchase supplies.
It's bad enough to have a champagne hangover on January 1st – you don't want also to deal with a debt hangover. Keep your spending in line for New Year's Eve and you won't have any financial regrets. This is a good way to get your New Year's off to a frugal start for a better 2016 without breaking your budget.
To find out more about getting debt-free for 2016, contact the Law Offices of John T. Orcutt for a free North Carolina bankruptcy consultation at one of our offices in Raleigh, Durham, Fayetteville, Wilson, Greensboro, Garner or Wilmington. Call +1-919-646-2654 now for a free appointment to discuss Chapter 7 and Chapter 13 bankruptcy debt solutions.