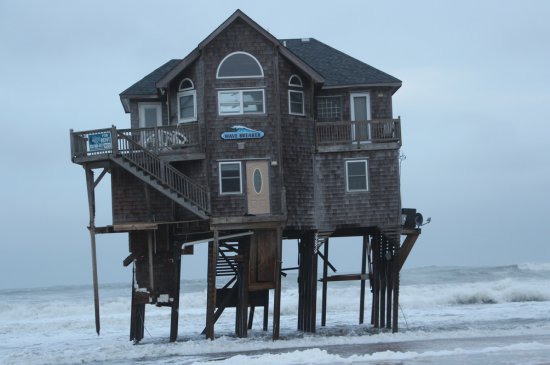 Beware FEMA scams in North Carolina in the wake of recent storms
Image source: Flickr Creative Commons User Don McCullough
In recent months, North Carolina was hit hard by a series of punishing storms and many in our state saw their homes and property damaged by the harshest of these. Unfortunately, it seems wherever natural disaster strikes, fraud follows to take advantage of those already suffering and those who can ill-afford to be scammed out of their hard-earned cash. Today we show you how some fraudsters are masquerading as FEMA representatives to try and cheat you.
The Federal Emergency Management Agency (FEMA) sometimes sends teams into an area hit by catastrophic disaster, such as during Hurricane Katrina, but more often you have to proactively contact them for assistance. It's always smart to beware anyone knocking on your door offering you money, discounts or deals that seem too good to be true, but in the case of this FEMA scam, you may be lulled into a false sense of security by being told that they are "government agents" there to help you.
The most recent iteration of the FEMA scam is that in areas where storm damage is prevalent or obvious, a couple of "representatives" of the agency stop by to check on your home and offer assistance. While one walks around with you outside to assess damage to the property, the other will ask to access your home to use the restroom (or some other excuse).
Once inside, while you're distracted by their partner, the scammer in your house will record personal information that can be used for identity theft or take cash, jewelry and other items of value small enough to be pocketed unnoticed. The scammers leave for another "appointment" and you may not notice for quite some time that you've been robbed.
However, this is not the only FEMA-themed scam that abounds in our state. To be sure that you're not being scammed, ask to see their ID badge and make sure that it looks authentic. There should be a photo that looks like them, either the FEMA or Department of Homeland Security logo, their ID number and the name of the contractor they work for (this is more common than someone who works directly for FEMA).
They should also have a government-issued device such as a laptop or tablet that has a "Property of the US Government" sticker affixed somewhere on it. FEMA representatives will not come with nothing but a smart phone and a clipboard – this is a red flag that you may have a scammer on your property! Also, they will only show up during daylight hours and only after you have contacted them to make a claim. FEMA doesn't beat down doors offering government money, so turn away anyone who tries this.
Even once you've contacted FEMA and had a legitimate inspection of the damage to your property, you still need to be careful with selecting and paying a contractor for repairs. Make sure that they are local, check them out on Yelp to see if they exist, have good reviews or bad and looks for red flags that they may be shady. Also check them out on the Better Business Bureau's local website to see if they have had complaints lodged against them.
Other red flags when having work done on your home is the contractor asking for the money up-front or asking you to sign documentation that has incorrect prices, lists work you haven't requested, contains suspicious terminology or has a different business name on it. If possible, pay for work on a credit card so if there are issues you can lodge a dispute through your card issuer.
To keep an eye out for other scams sweeping North Carolina, check out the North Carolina Department of Justice website. For more information on FEMA assistance after a storm, tornado or other natural disaster that damages your property, check out their website here.
If you need assistance getting your financial footing restored, contact the law offices of John T Orcutt for expert advice on North Carolina bankruptcy and a free consultation on your debts.