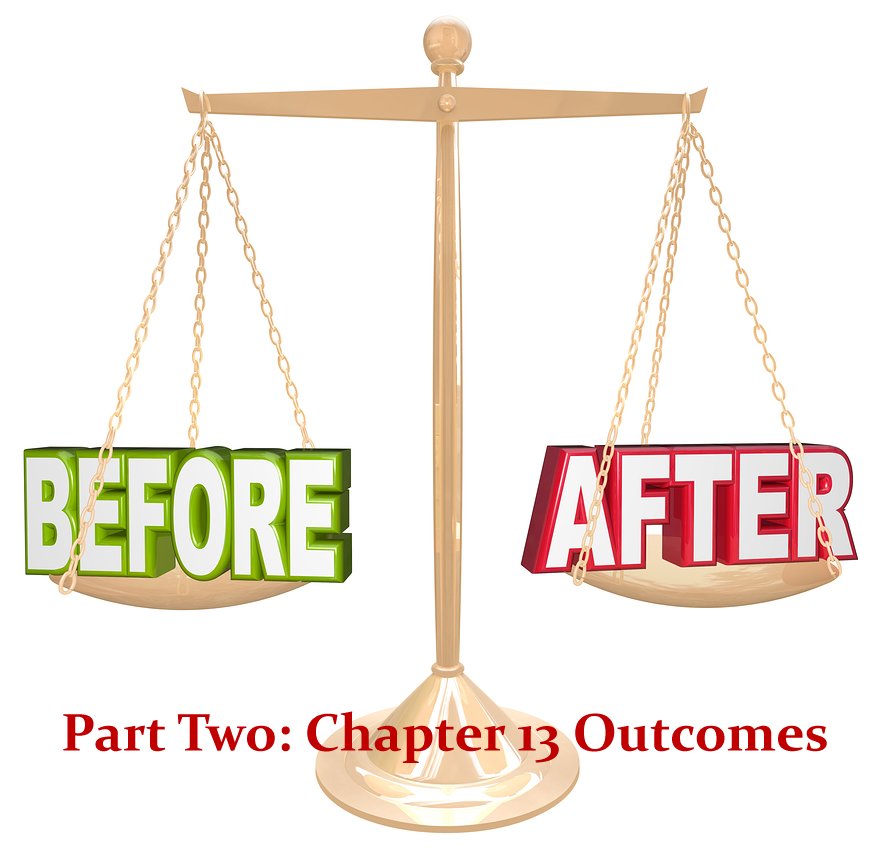 What to expect after your chapter 13 repayment plan is complete
If your debts are too much to handle and you need some breathing room to get caught up, you may want to consider a chapter 13 bankruptcy to allow you to regain control of your finances. Some people that could qualify for chapter 7 instead choose to file chapter 13 because they want the chance to pay down their debts. Others opt for chapter 13 over chapter 7 because they're behind on their mortgage payments and want the opportunity to catch up on these and keep their home. Here's an idea of what you can expect after your chapter 13 repayment:
Here's a sample debt profile prior to filing chapter 13:
Mortgage payment: $1,000
Mortgage arrears: $8,000
Second mortgage balance: $12,000
Equity in home: -$15,000
Car loan payment: $240
Car loan arrears: $480
Car loan balance: $12,000
Fair market value of car loan: $8,000
Credit card debt: $15,000
Medical bills: $9,000
Back taxes: $3,500
Repayment plan details:
Gross wages (annual): $46,000
Take-home pay (monthly): $2,800
Food, utilities, auto insurance, fuel, clothing, etc: $1,300
Regular mortgage payment: $1,000
Plan payment (60 months): $366
Debts after 60 months of repayments:
Mortgage payment: $1,000
Car loan balance: $0
Second mortgage balance: $0
Credit card balance: $0
Medical bills balance: $0
Back tax balance: $0
Mortgage notes:
Every scenario will be different, but just to give you an idea, here's how this one would play out (approximately). Because there is negative equity in the home, it's possible to strip away the second mortgage. What this means is that although your principal balance will remain the same and you'll have to catch up the arrears, you should be able to avoid the onerous second mortgage balance – this is called lien stripping. This is only possible when there is no equity to support the second mortgage.
Car loan notes:
With the car loan, chapter 13 also offers an opportunity to get this financing readjusted to reasonable. In this case, the balance owed was $4,000 more than the fair market value of the vehicle. So long as the car was purchased more than 30 months prior to the chapter 13, you can usually obtain a "cramdown," which pushes the loan balance down to the fair market value and can reduce high interest down to reasonable as well.
Payment plan notes:
The 60 month repayment plan will allow you to catch up the whole $8,000 mortgage arrears, the $3,500 back tax balance and $2,000 in administrative costs. The only payment you will make outside of the plan payment is your regular mortgage payment and living expenses. If you want to get an idea of what your plan payments might look like, you can estimate using this repayment calculator. If you are not able to pay your attorney fees at the time you file, these can usually also be rolled up into your plan payments.
Every situation will be different based on your unique financial circumstances. The best approach is to contact the law offices of John T Orcutt for a free consultation on your debt situation. We can look at your finances, explain what chapter 7 and chapter 13 each offer and then give our expert advice on what will give you the best results.