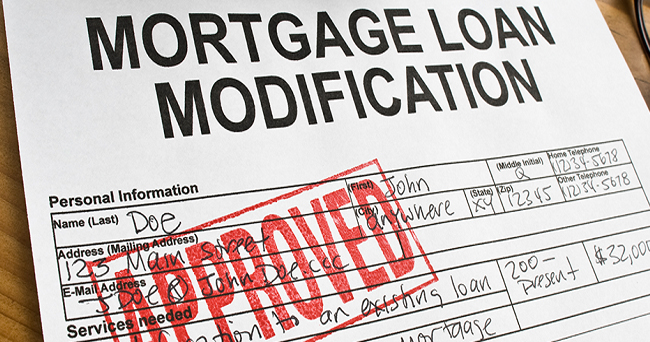 The Covid-19 pandemic and subsequent shutdown has hit U.S. businesses and homeowners hard, but even before the pandemic, many North Carolina homeowners were struggling with mortgage loans and facing foreclosure.
The Law offices of John T. Orcutt are here to help you with a mortgage loan modification that can reduce your interest rate and lower your monthly payments. 
In the third quarter of 2019, 5,432 North Carolina homes were in foreclosure, an increase of 1% since the prior quarter. The federal Coronavirus Aid, Relief, and Economic Security (CARES) Act put a hold on all foreclosures during the pandemic. But even if you received a mortgage forbearance or payment deferral for up to 180 days, you will still be responsible for missed payments, often with that entire amount due immediately at the end of the forbearance.
North Carolina homeowners who were laid off or furloughed as a result of Covid-19 may be facing exceptionally difficult challenges. But a mortgage loan modification could help you keep your home and preserve your credit rating.  
North Carolina homeowners have options when it comes to mortgage loan modification, and the Law Offices of John T. Orcutt can help. But, first, it helps to know the possibilities available that could allow you to stay in your home.
Loan Refinancing Can Help Lower Your Interest Rate
If you are behind in your monthly payments but have a good credit rating and some cash on hand, you may be able to save your home through a mortgage refinance. Refinancing your house at a lower interest rate may extend your loan terms but reduce your monthly payments, making it possible to get caught up and avoid foreclosure.
While it may seem counterintuitive, filing bankruptcy can often make it substantially easier to refinance a mortgage, by eliminating other debts and getting your finances back on track. At the Law Offices of John T. Orcutt, we work with local mortgage lender Victorian Finance to help people both during and after bankruptcy to refinance and even purchase homes, with the primary requirement being that they have 12 months of regular payments (including bankruptcy plan payments). 
Loan Forbearance Can Give You Time to Save or Get Back to Work
Federally backed mortgages issued by Fannie Mae, Freddie Mac, or the VA (amongst others) may have qualified for mortgage forbearance during Covid-19. A mortgage forbearance suspends payments temporarily and waives penalties and late fees.The CARES Act also prohibits lenders from reporting late payments during the pandemic to the credit reporting agencies.
You can request a 180-day forbearance from your lender, but can also extend that forbearance an additional 180 days. If you're unsure where to begin or how to negotiate on your behalf, you may wish to speak to a lawyer who can explain your rights. Keep in mind that interest will accrue – and you will still have to make your payments once the forbearance ends, often with all of the missed payments being due immediately.
If you have options, such as receiving a tax refund or cashing in a 401K, a forbearance could be a temporary solution, but you should consult with an accountant about the tax and investment consequences of taking an early withdrawal. Early withdrawal penalties can be financially devastating for your future retirement plans.
Loan Modifications Change Your Loan Terms to Help You Keep Your House
A loan modification can lower your interest rate dramatically, extend your mortgage term to reduce your monthly payments, and help you avoid foreclosure. If you are filing for bankruptcy, you may qualify for a loan modification through the programs that our attorneys helped develop for the North Carolina bankruptcy courts.
The program is designed to expedite mortgage loan modifications for North Carolina residents filing for Chapter 13 bankruptcy and avoid all of the delays, headaches, and denials that have plagued homeowners trying to get this relief on their own.
A Chapter 13 bankruptcy helps you get control of all of your debts, eliminating many debts for little or no payment. When used with the mortgage loan modification, Chapter 13 bankruptcy can help alleviate your financial struggles by lowering your monthly mortgage payment and getting you caught up on payments missed under a forbearance. Your new mortgage payments will be calculated into your expenses, potentially reducing the amount you pay to the bankruptcy court. 
Seek help from the Law Offices of John T. Orcutt, where we can negotiate a mortgage loan modification that can help you reduce your expenses and help you keep your home.