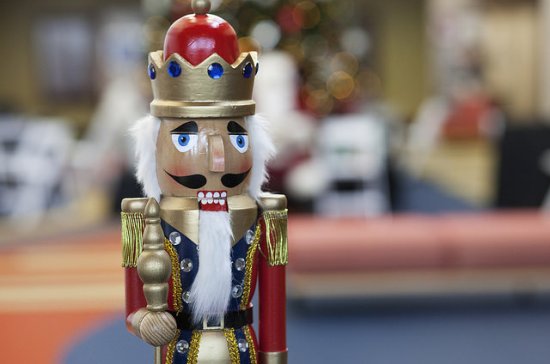 Guard your credit and identity this holiday season
Image Source: Flickr User COD Newsroom
Holidays are peak season not only for happy holiday shoppers but also for scammers. Fraud can strike you at retail stores, restaurants, online or anywhere you used a credit card or share personal data. Scammers hope that in the hectic pace of the holidays, your guard will be down, and they can take advantage. Don't let that happen! Check out these seven tips to protect you now and all year long.
#1 Always keep your credit card in sight
Make sure you can always see your credit card during a transaction. This can be tougher at restaurants, but it's good to engage in visual security. Retail employees involved in fraud can swipe your card on a magnetic reader and then duplicates can be made of your credit card. If you've been sent a new EMV chip credit card, activate it ASAP and shred your old one. These make it harder for scammers to steal your credit card info and reduce the chances you'll be hit by identity theft.
#2 Never shop online while on public WiFi
Shopping online is best done only at home, and your home WiFi should be password protected rather than public so that strangers can't access your home network. You may enjoy hanging out at Starbucks or your favorite bookstore surfing the web on your laptop, but this is a dangerous practice if you enter your credit card information and someone is looking over your shoulder or has digitally piggybacked onto your laptop through the public WiFi and is monitoring your keystrokes.
#3 Beware of holiday charity appeals
The holidays make us want to be more charitable – and that's a great instinct to have, but don't fall for scams. There are bell ringers in front of our favorite stores, solicitation postcards flooding our mailboxes, and emails encouraging donations to holiday charity drives. Before you hand over your hard-earned cash, be sure you're not falling for a scam. Check out the organization on checkthecharity.com before you donate and never make a credit card donation over the phone.
#4 Ensure you have virus protection on your computer
This is also a prime time of the year for phishing scams via email that seek to embed malware on your computer and steal your logins, account data and personal information that can fuel identity theft and fraud. There are some good and free antivirus programs such as AVG Antivirus, Avira, Avast and Panda Security. But you must be sure to download from a secure sit like CNET.com – go to their download page, and you can check professional reviews and feel good about the source.
#5 Set spending alerts
You may not want to keep these active all year long, but you may want to set activity alerts on your credit cards for the holiday season. Depending on your card issuer, you may be able to set a threshold alert where charges over a certain amount trigger an email to alert you, or using up a certain amount of your credit limit sends you a ping, or that any usage of your card signals you via email or text. If you can't set alerts (or don't want to), monitor your accounts regularly for unauthorized activity.
#6 Avoid new online retailers
Our inboxes are crowded with great offers for the holidays. Name brand chain retailers are generally safe for shopping, but stores you've never heard of should be avoided until they grow a reputation you can trust. Also, be cautious buying from places like eBay or Etsy unless the seller has been active for at least six months (but preferably longer) and has a stellar reputation. And if you're buying on sites like Groupon or LivingSocial, you may want to avoid new establishments that may not survive for too long.
#7 Don't mail cash and treat gift cards carefully
This time of year, thieves are known to rifle snail mail looking for holiday cards that may contain cash or gift cards. Unless you can preregister the gift card and lock it down securely, mailing those is the same as sending cash. As an alternative, consider using digital gift cards. Amazon, WalMart, and many other retailers offer eGift cards that are 100% digital. GiftCardMall.com offers an array and, for restaurant gift cards, try OpenTable.com. eGift cards can be a much safer alternative (plus you'll save on postage).
And remember, one gift you can give yourself this holiday season is peace of mind. If you're in over your head with debt, dealing with debt collectors, and surviving paycheck to paycheck, North Carolina bankruptcy may be a solution for you. Contact the Law Offices of John T. Orcutt for a free NC bankruptcy consultation. Call +1-919-646-2654 for a free bankruptcy consultation at one of our offices in Raleigh, Durham, Fayetteville, Wilson, Greensboro, Garner or Wilmington. You can be debt free before the holidays and have a better New Year!