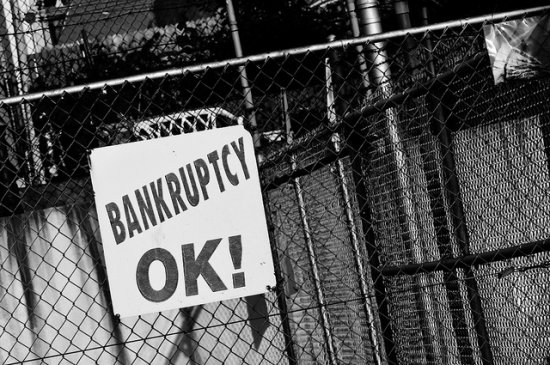 A look at Greensboro business bankruptcy
Image Source: Flickr User Eric
While the economy nationwide and in NC is on the upswing, there were still some significant business bankruptcies in Greensboro, North Carolina last year. Many struggling businesses in the Triad enjoyed a resurgence in 2014 and were able to recover from the brink, enjoy increased stability and even hire more employees. But today we'll take a look at a couple of major businesses that didn't do so well – here are the biggest Greensboro business bankruptcies of 2014.
Cox Motor Express of Greensboro
Cox Motor was a long distance freight and shipping company founded back in 1972. In April of last year, the transportation company filed a Chapter 7 liquidation that cited a little more than $2 million in assets and $1.9 million in debts. The assets are primarily real property and transportation equipment. The liabilities of the company include more than $735k in secured claims.
At the time of the filing, the company listed just over $5,000 in its bank account. The secured claims include mechanic's liens for repairs and equipment leases. And, as with many bankruptcies, taxes were also a factor with withholding, property, highway use, unemployment, income and franchise taxes all due from as far back as 2011.
Spirit and Truth International Church
Although church bankruptcies are relatively rare, they do happen but are often Chapter 11 rather than Chapter 7. The Spirit and Truth Church opted for a liquidated bankruptcy, though, and filed in July of last year. Their primary asset is real property of nearly $1.4 million and $836k in debts, most of which are secured debts (meaning they are tied to an asset). The church building and land it sits on are the real property owned by Spirit and Truth International Church.
The church also had a little more than $800 in the bank and owed more than $63k in loans to Bank of America in addition to the mortgage owed to Bank of North Carolina. The church's pastor and his wife, Donald and Sandra Myrick, also are listed as creditors as having loaned their church nearly $38k. Interestingly, the couple also filed personal bankruptcy the month after the church filing. What's admirable is that they filed a Chapter 13 and seem to be trying to pay off the church's debts on their own.
Greensboro bankruptcy filings
Although there are hundreds of Greensboro business bankruptcies filed each year, these are the two largest within the last year. Most business bankruptcies are smaller and involve far fewer assets and liabilities. But the bulk of Greensboro bankruptcy filings are personal and are a blend of mostly Chapter 13 and Chapter 7 filings with slightly more being Chapter 13. There were less than ten Chapter 11 filings in 2014 as these are the most complex and costly of bankruptcy options.
If you own a business that's struggling, you can file Chapter 7, 11 or 13 bankruptcy depending on how your business is structured, its assets and liabilities. As an individual, Chapter 7 and 13 are the most common bankruptcy options. Chapter 7, in either case, liquidate debts and gets you a fresh start. Chapter 13, on the other hand, allows more time to pay your debts over a three to five-year repayment period.
If you're an individual or business owner living and working in Greensboro, North Carolina or the surrounding areas and struggling with debt, the experts at the law offices of John T Orcutt can help. Call +1-919-646-2654 to schedule a free consultation with an NC bankruptcy expert. In addition to Greensboro, we have locations in Raleigh, Fayetteville, Garner, Wilson and Durham. Be sure to ask about zero down bankruptcy specials.