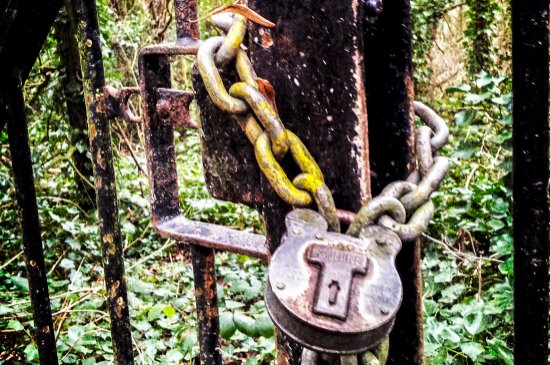 Is a lien chained to your home?
Image Source: Flickr User Garry Knight
North Carolina bankruptcy offers sweeping debt relief for those that are struggling to pay their bills, but not all debts can be extinguished this way. Thankfully, in our state, wage garnishments are not allowed except in the case of overdue taxes, delinquent federal student loans, and a couple of other rare circumstances. One very powerful tool that can be used by some creditors is a statutory lien.
What Is a Statutory Lien?
A statutory lien is a lien "arising solely by force of statute on specified circumstances or conditions." Basically, this means that a statutory lien is created automatically under specific laws without a court's involvement. Statutory liens can be created by the force of either federal or state law. A lien is an interest in property you own, like a home, vehicle, or other asset.
Your mortgage is secured by a lien on your home while an auto loan is secured by the vehicle itself. These are considered "voluntary" liens because you agreed to them as part of the financing documents you signed to obtain the asset. You can also have a lien on your property for a loan that doesn't finance the asset such as if you use the home as collateral for a business loan.
How Are Judgment Liens Different?
A statutory lien is created by law while a judgment lien is one created by a judgment in court. If you owe bills you can't pay and the account goes into collections, the creditor might decide to sue you if you don't pay. In court, a judgment can be issued against you for the amount of the debt plus attorney fees and collection costs.
This is common when the debtor doesn't show up to court and a summary judgment is issued because there is no defense presented. That's why if you are sued, you should show up in court with proof that you can't pay your debt and you might catch a break. Even if there is still a judgment ruled against you, you might be able to lower the lien.
How Are These Liens Treated Differently in Bankruptcy?
One of the most important differences between statutory and judgment liens is how they are treated in bankruptcy. After you file Chapter 7 bankruptcy, most unsecured debts can be discharged such as medical bills and credit cards. Judgment liens may be dischargeable in bankruptcy but statutory liens are not. That's a big deal. The best option is to avoid a statutory lien at all costs.
Creditors that can record a statutory lien on your property include the IRS or North Carolina Department of Revenue, a contractor or mechanic, or a homeowner's association. If you owe back income taxes to the federal or state tax authority, they can place a statutory lien on your home. If you didn't pay a roofer, they can place a contractor's lien on your home that's statutory. HOAs can hit you too.
Liens vs. Debts in Bankruptcy
In many cases, the debt that triggered the statutory lien can be discharged in bankruptcy. For instance, if your tax debt has been outstanding for more than three years and you filed your return on time, the bankruptcy court might discharge the tax debt, but that doesn't extinguish the lien. You have to work with whoever placed the statutory lien to have it removed – and may have to pay the debt anyway.
Homeowner's associations are notoriously aggressive when it comes to collecting past-due funds and might not remove the lien until you pay up – and they don't have to remove it under the law despite your bankruptcy. The same goes for a mechanic or contractor lien. If you have a statutory lien on your assets, be sure to alert your bankruptcy attorney to get the best advice.
To find out more about debt relief offered by bankruptcy, contact the Law Offices of John T. Orcutt. Call +1-919-646-2654 now for a free North Carolina bankruptcy consultation at one of our convenient locations in Raleigh, Durham, Fayetteville, Wilson, Greensboro, Garner or Wilmington.