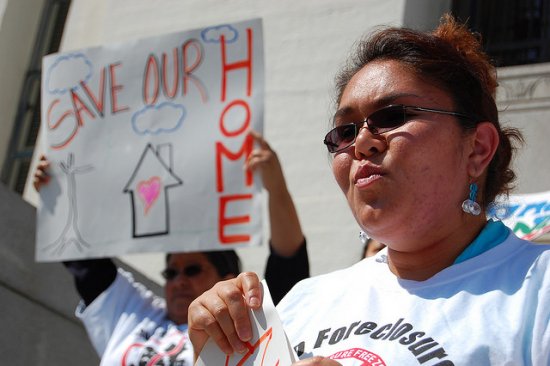 Can you surrender your home to foreclosure in a Chapter 13?
Image Source: Flickr User JacobRuff
Often, many consumers opt for Chapter 13 to try and save their home but, in the long run, it doesn't work out. Repayment plans can fail for many reasons. For some, meeting their repayment plan obligations is too hard on their budget. Or they realize that they truly can't afford their house or trying to climb out of a negative equity situation doesn't make sense. Whatever the reason, even if you go into the Chapter 13 repayment plan intent on catching up your mortgage payments, you should know you're not stuck. You can change course mid-stream and surrender a property you can't afford. Here's what you need to know.
Reasons to avoid a mortgage reaffirmation in bankruptcy
As part of your bankruptcy filing – either a Chapter 7 or Chapter 13 – your mortgage lender may ask you to reaffirm the mortgage. What this does, essentially, is it carves it out of the debts that the bankruptcy can relieve and ensures that they can pursue you for the obligation no matter what. Most reputable bankruptcy attorneys will discourage you from reaffirming a mortgage (or any other debt) as part of your bankruptcy filing.
If you reaffirm, then can't keep up with payments and the home goes into foreclosure, the lender can pursue you for any deficiency. For instance, if you owe $200,000 on the home and it sells at auction for $150,000, even if it's the lender itself that buys the property, they could potentially pursue you to collect the $50k shortfall. That's not good for you. Avoiding a reaffirmation can also help you avoid this possible outcome. Better safe than sorry.
Why you should stay in the home until foreclosure (and maybe after)
If you do decide to surrender the home during your Chapter 13 repayment plan, you simply need to notify your attorney. They will notify the Trustee, who will let the mortgage lender know what's going on. Then you immediately stop making mortgage payments and the Trustee should adjust your repayment plan to take out the back mortgage balance amount you were paying. Once this happens, the lender will, eventually, take steps to foreclose.
However, this can take months (or even years). In the meantime, you can get your finances in order and save up money to put a down payment on a rental place and save up money to cover your moving expenses. But you shouldn't leave the home until it sells at a foreclosure auction, and the buyer takes possession. Here's why. If you have a homeowner's association, you're still responsible for the upkeep on the property and HOA fees until the new owner takes possession.
Converting Chapter 13 to Chapter 7 after surrender
Finally, if the primary reason you chose Chapter 13 over Chapter 7 was to try and keep your home, you may want to consider a conversion. If you qualify for a Chapter 7 bankruptcy, you can convert. And don't assume you won't qualify – even high-income consumers can pass the Means Test if they have enough debt versus income and assets. By converting your Chapter 13 to a Chapter 7, you can unload most of your unsecured debts (student loans and some tax debts aside) as well as secured debt.
Converting to a Chapter 7 should also shield you from a mortgage deficiency collection. If possible, you should wait until the property is foreclosed on before converting to a Chapter 7. If this doesn't work out, you can stop making your Chapter 13 repayments, wait out the lender until they foreclose and take the property and then file a new Chapter 7 to wipe out any remaining debts. If you had unpaid HOA fees accumulate, the Chapter 7 would wipe these out too!
If you also negotiated a car loan cramdown in your Chapter 13, you'll have options with a Chapter 7 to preserve the deal you got. Read this recent article we wrote on the subject for more information.
To find out more about surrendering an unaffordable home in bankruptcy or find out more about the debt relief options available in bankruptcy, call +1-919-646-2654. Contact the law offices of John T Orcutt to speak to a North Carolina bankruptcy expert. We have offices in Greensboro, Raleigh, Wilson, Garner, Durham and Fayetteville. Your consultation is free, and we offer affordable bankruptcy plans for every budget.