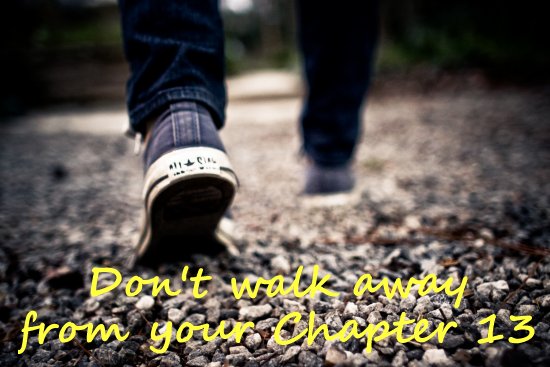 Don't walk away from a Chapter 13 without exploring the options
Image Source: Unsplash.com
There's no getting around it – a Chapter 13 repayment plan is usually tough to stick to – it's no picnic. The Trustee assigned to your case will typically only accept a plan that eats up all of your disposable income. In fact, that's what bankruptcy laws require. This means that you will not have much spare cash on hand for the three to five years (usually five) that your Chapter 13 plan takes to complete. For many people, finishing a Chapter 13 plan is unmanageable and many plans fail. But if you are struggling to make your Chapter 13 plan payments, you may qualify for a hardship discharge to help you out.
What's a hardship discharge?
Normally with a Chapter 13, you don't get a discharge until you complete all of your plan payments and it takes years to earn one. But a hardship discharge fast-forwards you to the end of your Chapter 13 and gives you a discharge without you having to make all of your plan payments. A hardship discharge is only possible for those who have had a drastic change in circumstances after their Chapter 13 repayment plan was approved.
How do you qualify for a hardship discharge?
Three conditions must be met for your to receive a hardship discharge in your Chapter 13. These are:
You can't continue to make plan payments because of circumstances beyond your control. You need to show a significant and long-lasting (or permanent) reason why you can't pay up. Some examples include serious injury, permanent medical attention, non-recoverable job loss, etc.
Your unsecured creditors have been paid what they would have received under a Chapter 7 bankruptcy. If you have little equity in assets, this is easier to show. But if you have assets beyond what the law exempts, this may be a bigger challenge to overcome.
You can't modify your plan to make it workable. Your lawyer will have to show that even submitting a plan modification will not solve the dilemma based on your reduced financial circumstances.
All three circumstances must be met and you will have to provide documentation to substantiate your claims of inability to continue to meet plan requirements.
What does a hardship discharge cover?
A Chapter 13 hardship discharge offers similar debt relief to a Chapter 7. It will wipe out unsecured debts such as credit cards and medical bills. However, if you owe back balances on your mortgage or car payment, you will still be stuck with those. And if you will face foreclosure or repossession of these assets, plus the potential for the creditor to come after you for past-due balances, pursuing a Chapter 13 hardship discharge may not be the best approach.
Also, even if the three circumstances are met, the Trustee assigned to your case may fight against a hardship discharge. This does not mean that you have to simply be stuck with the debts that will become delinquent and due as soon as your Chapter 13 case is dismissed. In fact, it may be beneficial to convert your Chapter 13 to a Chapter 7 rather than allowing your initial bankruptcy filing to linger and then be dismissed by the court.
Consult your attorney
As soon as you know that your Chapter 13 repayments are unmanageable and you can't afford to pay them, you should speak to your attorney. The more heads-up time you allow, the more options you will have available to you whether it's pursuing a hardship discharge, converting your Chapter 13 to a Chapter 7, or allowing the Chapter 13 to fail and then filing a subsequent Chapter 7. Your unique circumstances will determine the best course of action, but you need your attorney's advice.
To find out more about how Chapter 13 or Chapter 7 bankruptcy can get you the debt relief you deserve, contact the Law Offices of John T. Orcutt. Call +1-919-646-2654 for a free consultation with a North Carolina bankruptcy expert in Greensboro, Fayetteville, Raleigh, Garner, Wilson, or Durham.