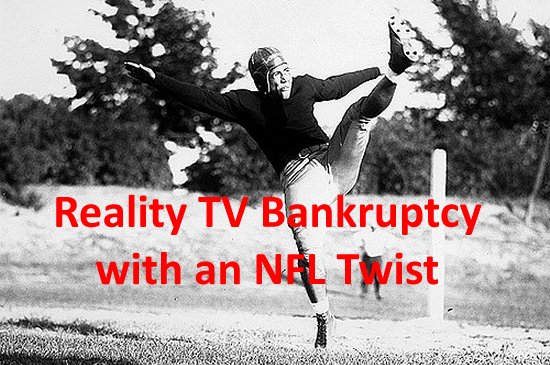 Reality TV bankruptcy
Image Source: Flickr User uwdigitalcollections.com
If you watch The Real Housewives of Atlanta, you know the name Sheree Whitfield. She's been plagued by financial problems throughout her run on the Bravo reality show including nearly $300k in IRS debts that included two liens. And it looks like Sheree's split from ex-NFL player Bob Whitfield is a major part of her financial issues. But today's celebrity bankruptcy alert focus on her ex Bob Whitfield.
Divorce and Debt
Sheree and Bob Whitfield divorced in 2007, and he filed Chapter 13 bankruptcy in 2011. We've written before about athlete bankruptcies, so an NFL player ending their pro career and struggling financially is no surprise. Often, divorces impact finances severely, particularly if the ex is demanding a lot of money.
At the time Whitfield filed Chapter 13, he claimed he had less than $3,500 income per month from disability payments compared to more than $7k in monthly expenses. His debts included:
$48,000 in income taxes
$38,700 in child support to ex Sheree
$414,493 to Wells Fargo for a mortgage
$142,222 to other unsecured creditors
His assets were pretty modest, and he listed in the Chapter 13 petition:
$10k Rolex
$366k NFL retirement fund
$292k NFL profit-share fund
$347k home secured by $415k mortgage
With a Chapter 13 bankruptcy, Bob Whitfield would have the chance to catch up on any past-due mortgage payments although he was significantly upside down on his primary mortgage. Whitfield earned his bankruptcy discharge in January 2016.
Converting Chapter 13 to Chapter 7
Although it took five years to get to discharge, it looks like Whitfield had a satisfactory ending to his case. At some point in the Chapter 13 repayment plan, the former NFLer converted his case to Chapter 7 which can be a wise move to get the maximum debt relief.
Because Chapter 7 considers your last six months of income, Whitfield may have had to wait to qualify for Chapter 7 until his income dropped because of the disability so he could pass the Means Test. Whatever the rationale, the conversion worked, and he obtained a debt discharge.
Whitfield told Radar Online, "I filed that case so long ago during that whole real estate crisis. I just needed to unload this property." That would make sense if he owed nearly $30k more than the home was worth and wanted out from under the mortgage.
What We Learn from Celebrity Bankruptcies
Although celebrities' financial crises are on a much grander scale than that of everyday North Carolina consumers, the underlying causes are often the same. Most financial breakdowns can be attributed to one key event (or two) such as:
Divorce
Job loss
Reduction in income
Drastic increase in expenses
Accident or illness
These are all circumstances that can strike anyone – from doctors to lawyers to NFL players to blue collar workers. But the bankruptcy system is there to protect every consumer that finds themselves over their head in debt they just can't pay.
If you have gone through a major life event that has slashed your income, increased your expenses – or both – you may find it impossible to dig yourself out of debt. Bankruptcy may be the answer you need.
The Benefits of Bankruptcy
Both Chapter 7 and Chapter 13 can stop an imminent foreclosure on your home or repossession of your vehicle. With Chapter 13, you are set up with a repayment plan to catch up on past-due vehicle and mortgage payments and may be able to remove a second mortgage from your home or reduce the principal owed on your vehicle.
With Chapter 7, you get instant relief from unsecured debt including medical bills and credit cards. With Chapter 13, once you complete the plan, you will usually see a portion of your unsecured debt discharged as well. There are a number of options to consider with bankruptcy – whether it's filing Chapter 13 then converting to Chapter 7 as Whitfield did.
Speak to a reputable North Carolina bankruptcy attorney today to discuss your options. Call +1-919-646-2654 now for a free North Carolina bankruptcy consultation at the Law Offices of John T Orcutt. Contact us now and set up a no-obligation appointment at one of our locations in +1-919-646-2654.
Resources: