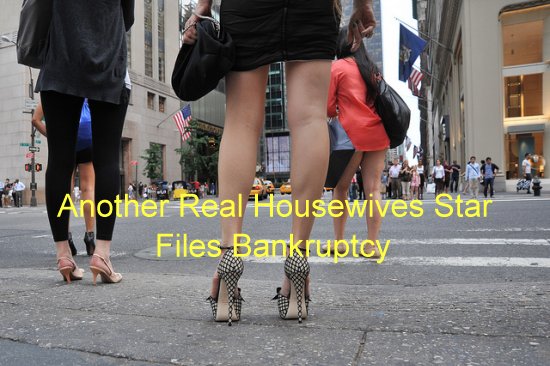 The Real Housewives of Potomac star Robyn Dixon filed Chapter 7 bankruptcy
Image Source: Flickr User Emilio Labrador
There's something about bankruptcy and the stars of the Bravo franchise of Real Housewives reality shows. Teresa Giudice of The Real Housewives of New Jersey is serving time right now for bankruptcy and mortgage fraud. Giudice is an extreme example – most of the stars of the show used bankruptcy as it is – intended to dig them out of a mountain of debt. And news just broke that Robyn Dixon, one of the stars of the newest spinoff titled The Real Housewives of Potomac, filed for Chapter 7 bankruptcy a couple of years ago.
Who is Robyn Dixon?
#RHOP, as it is known in social media, kicks off in January and centers on wives in the DC suburb of Potomac, Maryland where country clubs and gated communities are the norms in this wealthy enclave. Robyn Dixon is a single mom and publicist who was once married to NBA star Juan Dixon, who played seven seasons for teams including the Washington Wizards near their hometown all the way to the Toronto Raptors. But the duo divorced in 2012, a year before Robyn filed Chapter 7 bankruptcy.
In late 2013, she filed for bankruptcy protection in Maryland and listed around $2,000 per month in income but a whopping $217k in debt. Of this, about $30k was in credit card debt. She had to give up her car in the process (likely because she was very delinquent in payments) and walked out with just $16k in tax debts left owing – a far cry from the six digits of debt she owed when she headed into the courtroom. Her other debts were formally discharged in early 2014. And now, a couple of years later, and Robyn will soon start collecting Real Housewives paychecks that can mean big money if the franchise is a success.
Real Housewives real big paydays
NeNe Leakes of The Real Housewives of Atlanta franchise pulled down a whopping $1.5 million for her most recent season and had also parlayed her higher profile from the show into a legitimate acting career. Bethany Frankel is rumored to be the second highest-paid Real Housewife – she raked in more than $1 million for the most recent season of The Real Housewives of New York. The now incarcerated Teresa Giudice was the record-holding Real Housewife from New Jersey raking in $700k per season. She even continued to shoot the program from behind bars via phone calls and video of her family.
Across the country in California, soap star Eileen Davidson (she portrays Ashley Abbott on The Young and the Restless) scored $750k for her real life soap opera antics on The Real Housewives of Beverly Hills. And restaurateur Lisa Vanderpump, also of RHOBH, scored big bucks plus a spinoff show about her restaurant staff called Vanderpump Rules. Plus there are more housewives to come – 2016 will usher in The Real Housewives of Dallas. It will be interesting to see if any of those housewives has also had money struggles.
What we can agree on is that while these Real Housewives appear as less "real" than mortal humans on their reality TV programs, their debt struggles are as real as it gets. If you're drowning in debt and have no reality TV paycheck to fall back on, Chapter 7 or Chapter 13 consumer bankruptcy may be the answer for you to get out of debt and back to your life.
Contact the Law Offices of John T. Orcutt for a free North Carolina bankruptcy consultation today. Call +1-919-646-2654 for a free appointment at one of our offices in Raleigh, Durham, Fayetteville, Wilson, Greensboro, Garner or Wilmington.