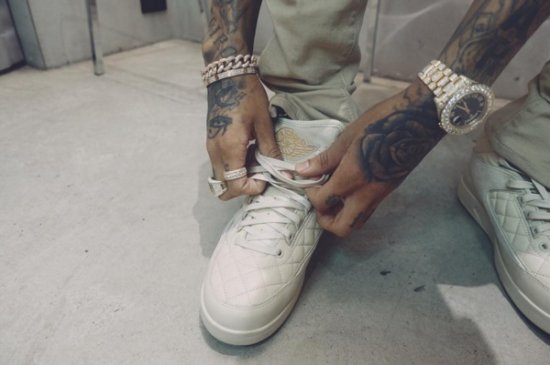 Rapper Tyga filed bankruptcy - find out why.
Image Source: Instagram.com
It appears that Keeping Up With the Kardashians is a costly proposition. The Kardashian family may be flush with cash, but some of the people surrounding them are struggling financially. Family pal Joe Francis of Girls Gone Wild notoriety filed corporate bankruptcy in 2013, and now news has broken that Kylie Jenner's boyfriend, Tyga, also filed bankruptcy. Check out the details in today's celebrity bankruptcy alert.
Tyga and his expensive habits
If you spend any time on social media or watching the E! network, you've likely seen pictures of Tyga flashing cash, or showing off his gold chains, spendy sportscars and diamond-studded grill. But now it looks like the 26-year-old rapper may be living beyond his means. Is he in financial trouble because he's trying to keep up with his Kardashian girlfriend?
Tyga's bankruptcy
Tyga's real name is Michael Nguyen-Stevenson, and he filed for Chapter 13 bankruptcy relief back in 2010. Chapter 13 bankruptcy require a three- to five-year repayment plan, but it appears he did not meet the obligations of the plan because the bankruptcy was dismissed by the court six weeks after filing.
In fact, court documents reveal that no required payments were made on the Chapter 13 plan at all. The documents further reveal that Tyga claimed in the case that he had assets of less than $50k and liabilities between $100-$500k.
The filing shows that Tyga was behind on his mortgage when the mortgage lender, HSBC, filed a complaint attached to the bankruptcy case, accusing him of filing "in bad faith to delay, hinder or defraud" their company.
The mortgage company requested that the automatic stay in the case be dropped so they could proceed with foreclosure, stating in the filing that Tyga had transferred property without the approval of the court in order to defraud them and avoid the debt.
Lessons to be learned from this bankruptcy
Tyga's bankruptcy was filed when he was just 21, and it looks like it may have been a case of too much, too fast. It also looks like he may not have learned his financial lesson yet. Often when people begin to make more money than they're accustomed to having in a short window of time, they quickly increase their spending as well.
Then if the money stops rolling in, they're strapped for cash because they took on debt under the assumption that their earning potentials would continue to rise. This is common with entertainers – look at MC Hammer's case, for instance, or myriad other celebrities – but also common with regular consumers, too.
When people get their first big raise, or a major promotion, or achieve a new benchmark in their career that comes with a salary hike, they adjust their spending and lifestyle upwards. But if there's a hiccup of any sort and income drops, the results can be financially catastrophic.
The other big mistake that's obvious in Tyga's financial history is not showing up to court when he was sued by his landlord. We've written here before that if you are sued by a creditor, you should always respond and come to court, no matter what - otherwise the creditor will get a default judgment that may not reflect your true debt.
Get help with your financial problems
Bankruptcy can help if you're deep in debt and owe more than you can afford to pay. Even though Tyga's Chapter 13 didn't run to completion, it may have served the purpose it intended – to keep home foreclosure at bay while he made other arrangements.
Chapter 7 and Chapter 13 can be helpful tools when used individually or in combination to combat debt, stop the threat of foreclosure or repossession, and allow you to get your finances back on track. Call +1-919-646-2654 for the Law Offices of John T. Orcutt today and schedule a free North Carolina bankruptcy consultation at one of our locations in Raleigh, Durham, Fayetteville, Wilson, Greensboro, Garner or Wilmington.