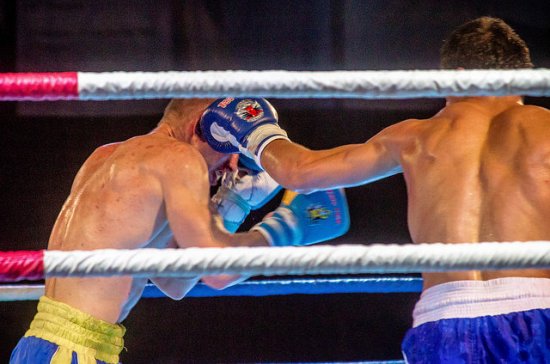 50 Cent Files Boxing Business Bankruptcy
Image Source: Flickr User WorldSeriesBoxing
Curtis James Jackson III, better known by his stage name 50 Cent, has a boxing promotion firm called SMS Promotions and Jackson just filed business bankruptcy. We'll take a look at what happened, why Fiddy's company is struggling, his plans for the future of this enterprise and more in today's celebrity bankruptcy update.
How the Business Started
This isn't Fiddy's first foray into the world of boxing. In fact, it's his second and both times his companies have struggled. Back in 2012, Jackson started TMT (The Money Team) with his friend and business partner Floyd Mayweather Jr. Unfortunately, they parted ways after less than six months into their deal reportedly due to a disagreement over money. Then, in December 2012, Jackson converted the company to SMS Promotions.
SMS was the name he used to promote his audio products including blinged out headphones. When Jackson founded SMS Promotions in late 2012, he was able to gain a promoter's license from the Nevada State Athletic Commission and already held a New York state license. He landed four top fighters: featherweight Yuriorkis Gamboa, super middleweight and Olympian Andre Dirrell, IBF featherweight Billy Dib and featherweight Celestino Caballero. Gamboa and Dib were both former titlists and Dirrell, a contender.
In his announcement launching SMS Promotions, Jackson said, "I love boxing and have always been a big fan of the sport, so it feels especially great for me to be involved with the game at this level. My goal is to build SMS Promotions into one of boxing's  most respected promoters and bring the best fights to audiences nationwide." Jackson's first promoted fight with the new firm was Gamboa's fight that preceded the Pacquiao-Marquez fight in December 2012.
How the Business Went South
But despite this auspicious beginning, Jackson filed Chapter 11 a few weeks ago in Connecticut but pledges that his SMS Promotions isn't going under, just going through a reorganization. His lawyer made this statement: "Under the direction of Mr. Jackson, SMS Promotions looks forward to reorganizing as a new corporate entity and becoming one of the leading promotion companies in the world of professional boxing."
Since the promising start with a roster of top boxers, Jackson's roster of athletes isn't what is once was and that may be part of the problem with SMS Promotions. Former champ Dirrell left Jackson's firm, and Dib has not had a great fight record while with Fiddy's company. Court documents listed the company debts as between $100,000 and $500,000 which is not a terribly high amount of debt for the successful rap mogul.
Lessons Learned from This Celebrity Bankruptcy
The good news is, Jackson seems to have kept his personal and business assets separate which is the best approach for business owners. This means that the business bankruptcy should not impact his credit score so long as he was not personally liable for any of the debt. Likely the rapper was careful about his incorporation so that his credit score and assets were not at risk in case of trouble with the company.
That's the lesson to learn here – as much as you can, keep your business credit, assets, and debt separate from your personal credit and assets. To find out more about filing business bankruptcy to help your struggling small business, contact the law offices of John T Orcutt for a free consultation. Call +1-919-646-2654 to speak to a North Carolina bankruptcy expert at one of our offices in Greensboro, Raleigh, Garner, Wilson, Durham or Fayetteville.