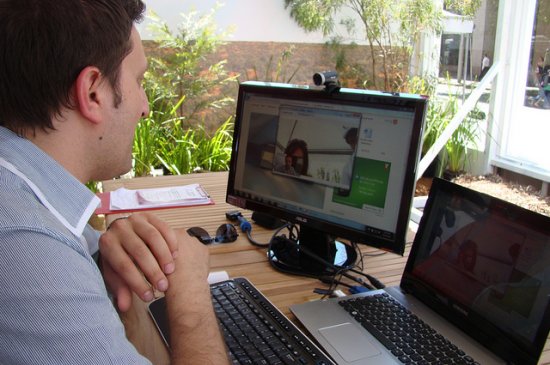 Beware the online job interview scam
Image Source: Flickr User windowsau
Scams tend to prey on those who can least afford it – those living on a fixed income, those already in debt, seniors, and those earning low to middle-income wages. The scam we're warning about in today's consumer alert preys on another consumer segment that cannot afford to be defrauded of their money – those who are unemployed and seeking a job. Here's how the online job interview scam works and how to protect yourself – and your money.
How the scam starts
The job interview scam begins with an online posting about a job – or an email sent to you that says it's from a recruiter interested in considering you as a candidate for a position. The scammers use real company names for the job opportunity or spoof a legitimate recruiting firm's name so if you Google it, the opportunity seems legitimate. The ad or email requests that you send your resume to the hiring manager. You are then invited to interview for the job. Seems legitimate. It's not and this is where the real trouble starts.
How the scam works
Rather than scheduling you for a face-to-face interview, they set up an interview via Instant Messenger. In today's digital age, this likely won't raise any red flags. They ask you to download the program needed for the interview and to answer questions for information they need prior to, or even after, the interview. The interview itself will go well and you'll be offered the job. From here, the scam is carried out in a number of different ways depending on the intent of the fraudster perpetrating the scam. Here are some of the outcomes:
The employment questionnaire or forms are designed to steal your personal information so the scammer can conduct identity theft and take out credit in your name.
The new hire forms may include direct deposit forms so the scammers can get your bank information to steal money or set up identity theft.
The job may be real, but it may be a criminal job. You may be engaging in activities that help launder money or move stolen goods, leaving you open to arrest and prosecution.
How to spot shady job interview scams
In addition to online job interview scams, there are some that occur face to face. Some will ask you to pay a fee to interview or offer you a sales job where you have to pay for "samples" then the fraudster takes your money and you find out there's no job at all. Here are some of red flags that you may be involved in a job interview or hiring scam:
Unreasonably high pay offered – Good paying jobs are hard to come by. Be vary way or anything offering an extraordinary wage for the work that's described.
Work from home – There are some legitimate jobs that allow you to work from home, but anything that promises big bucks working from your sofa should be approached with caution.
You were contacted – In most job searches, you have to go searching for the job. If the hiring manager/recruiter/company contacts you, be wary that they're phishing.
No job requirements listed – If there are scant requirements and the job is open to anyone breathing with an internet connection, it's likely not a legitimate opportunity.
Instant job offer – If the interview is very short, or you're offered the job after a quick call or after you send your resume, be on the lookout for a scam.
Strangely worded emails – Because many scams come from outside of the US, one red flag is grammar, spelling or word use errors in the email communications.
Email not from business account – If the "hiring manager" contacts you from an account that doesn't jive with the company's website URL, proceed with caution.
The bottom line is that good jobs are hard to come by, and you'll likely need to interview face-to-face and more than once to land a quality opportunity. If the job interview and offer process seems too easy, don't write this off to your awesome resume or winning personality – you may have both – but may also be the victim of a scam. Trust your gut – if it seems too easy, dig in and research. Call the company listed using the number on their website and ask to speak to HR and ask about the "hiring manager" and position. Also, check the company name on the Better Business Bureau site. You can even Google the company name along with the word scam to see what turns up. Better safe than sorry…
If your job search is taking longer than you expected, and you're falling behind on your bills, this can wreck your finances. Once you land your next job, one way to make a clean break from the debt-filled past is to choose a North Carolina bankruptcy to get the financial fresh start you deserve. Call +1-919-646-2654 today to reach the Law Offices of John T. Orcutt. We offer free North Carolina bankruptcy consultations at our locations in Raleigh, Durham, Fayetteville, Wilson, Greensboro, Garner or Wilmington. Be sure to ask about zero-down bankruptcy filing.