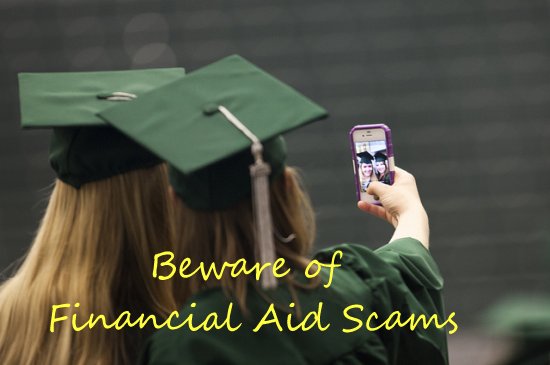 CFPB sues alleged financial aid scam perpetrator
Image Source: Flickr User COD Newsroom
Paying for college is costly and student loans are an increasingly burdensome and common way for parents and students to finance the cost of higher education. Finding grants and scholarships can be a helpful way to reduce out of pocket costs for college as well as the need to borrow to finance schooling. But a new scam targeting parents and prospective college students has grown so pervasive that the Consumer Financial Protection Bureau (CFPB) is cracking down on perpetrators. Here's what you need to know to protect yourself from this financial aid scam.
CFPB files lawsuit again Armond Aria
The Consumer Financial Protection Bureau recently filed a lawsuit against a man named Armond Aria who operates companies called Global Financial Support, Student Financial Resource Center, and College Financial Advisory. The suit alleges that since 2011, Aria and his companies have "run a deceptive scheme to persuade consumers to pay a fee for student financial aid assistance… in reality, [the] defendants do not provide these consumers with the promised student financial aid assistance." The lawsuit further alleges that Aria "registered the fictitious business name[s]" of all three in 2005.
CFPB fraud allegations against Aria's companies
The suit says, "Defendants promise to match students with targeted financial aid opportunities and apply for financial aid for students." The lawsuit accuses Aria of using these tools to convince consumers that he's offering a legitimate service:
Official looking seal
Artificial filing deadlines
References to specific universities
Student Aid "profile" form
Strategically worded letter
Together, these deceptions prey on "consumers' unfamiliarity, anxiety, and confusion about the Free Application for Federal Student Aid ("FAFSA") and the financial aid application process" according to the lawsuit.
How to protect yourself from financial aid scams and fraud
First, always know that when something sounds too good to be true – such as offers of tens of thousands of dollars in "secret" or "untapped" financial aid – you should be wary. Second, if a company uses fear tactics to drive you, they are likely untrustworthy. The CFPB lawsuit specifically mentioned the pressure applied by establishing fake deadlines to create urgency – this is a hallmark of scammers because they don't want you to stop and consider your actions. They just want your money ASAP. Third, don't assume the legitimacy of a letter, call or other communication just because it looks "official." It always pays to confirm legitimacy by contacting your student's high school college advisor, the college you're considering, or other resource referenced in the communication. Many parents who have been unable to save for college are the ones most likely to fall for these scams - and the least likely to be able to afford the loss.
When it comes to government resources, access is typically free
There are a lot of scams centered around college finance – starting with scholarship and financial aid fraud and ranging all the way to student loan collections and refinance scams. With college finance, the whole process starts with the totally free FAFSA – Free Application for Student Aid. There are no fees to apply for federal aid and this form is a prerequisite for state, federal, and other sources of aid. You don't need to pay someone to complete the form for you (this is another common scam). The directions for the form are straightforward and if you have questions, you can ask for help from free resources. And if you borrow for college (or borrow on behalf of your student) from federal sources, access to information and repayment modification programs is also free from the government and does not require a private intermediary. If you receive any "official looking" letters about your student's financial aid opportunities, you should Google the company name to check them out and/or contact your student's college counselor at their high school. Don't get scammed – college is expensive enough without also footing the cost of fraud.
If you're struggling to pay for your student's college because you're buried in credit cards, medical bills or other debt, you may want to consider clearing your financial slate to free up money to cover these expenses. Contact the Law Offices of John T. Orcutt to find out how a North Carolina bankruptcy can benefit you if you're maxed out on debt, only paying the minimums and struggling with debt collection. Call +1-919-646-2654 now to find out more – we'll set you up with a free bankruptcy consultation at one of our offices in Raleigh, Durham, Fayetteville, Wilson, Greensboro, Garner or Wilmington today.
Sources: