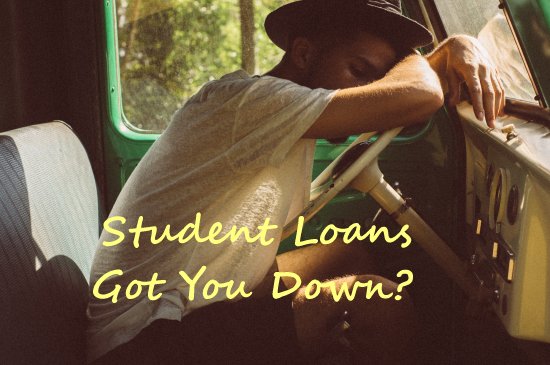 Student loan debt relief firms are not needed - you can do it yourself!
Image Source: Unsplash.com
Ads continue to play daily on TV and radio and pop up in your email and while you're web browsing promising to eradicate your student loans full stop - or get you a drastically cheaper monthly payment. They imply that they have a system or some inside knowledge that is unknown to you or special contacts that can cut a better deal than you would get without them. These claims are very likely untrue - but there are options to reduce your payments that you can get for yourself. Read on!
What student loan debt relief companies promise
A shady debt relief company that pledges to help you with your student loan debt – or any other debt dilemma – will usually always make extravagant promises - and will also ask for money up-front to settle your debts. In North Carolina, it is illegal for a debt relief agency to ask for fees before they produce any results – the only exception is if it's an attorney. Anything a debt relief firm can do with your student loans, you can do for yourself in most cases.
Student loan debt relief is available
There are government programs that can lower the payments on your federal student loans, but you do not need an intermediary to help you access these - and a middle-man cannot get you a better deal, no matter what they say because the rules are set by law and there's no negotiating with legislation. There are currently two major plans to help you lower your student loan payments: Income Based Repayment (IBR) and Pay as You Earn (PAYE).
IBR lowers your monthly payments to 15% of your disposable income which is roughly the difference between your Adjusted Gross Income from your tax return less 150% of the federal poverty line for a household of your size. If your AGI is $35,000 and you have a household size of three, the 150% line is $30,135. That means your disposable income is $4,865 and 15% of that is $730 which would give you monthly payments of around $60.
PAYE works the same way but lowers your payments to 10% of your disposable income. In this scenario, your annual disposable income would be $4,865 and 10% of that is $486 which would give you monthly payments of around $40.
Both plans come with forgiveness of the remaining debt after a certain number of years in repayment. With IBR, it's 25 years and with PAYE it's 20 years of continual payments at the discounted amount. This is usually much cheaper than paying the standard student loan payment amount. However, there will be a tax hit with the forgiven balance, but it's usually much cheaper than if you had paid the loan off in full. And if you work for the government or in a public service capacity, you may be able to combine these with Public Service Loan Forgiveness (PSLF) to get balances discharged in 10 years with no tax consequences.
How do you get the student loan debt relief you need?
Do not call a number from a TV or radio ad or click on an enticing ad online. Instead, you need to call your student loan servicer. Even if you are behind on your payments, you can usually rehabilitate your loans using one of these programs without paying any up-front costs. In fact, many student loan services now allow you to apply for IBR or PAYE on their web portal. If you're confused, you can call and apply over the phone. You will need to have on hand: your loan account numbers, recent pay stub, and most recent tax return. The agent will walk you through the process. If you're not sure who your loan servicers are, you can see all of your loans – usually there will be several – on the National Student Loan Data System for Students (www.NSLDS.ed.gov) website.
How bankruptcy can help
In some cases, your student loans might be eligible for discharge in bankruptcy. This requires a separate set of paperwork and an additional fee to file an adversary proceeding. You may able to get a student loan bankruptcy discharge if...
You are retired, on a limited income, and your student loans have been outstanding for years
You are permanently disabled
You are unable to use your degree because of an error the school made
You are earning a very low (or no) income and this is not likely to change
Your attorney will have to demonstrate that you have made a good-faith effort to pay your loans and that paying the loans represents "undue hardship." At one time, it was virtually impossible to get federal student loans discharged in bankruptcy, but standards have relaxed somewhat in recent months. And even if your student loans can't be shed in bankruptcy, unloading other debts and then applying for IBR or PAYE will usually result in a more workable solution.
To find out more about the debt relief offered by Chapter 7 or Chapter 13 bankruptcy in North Carolina, contact the Law Offices of John T. Orcutt. Call +1-919-646-2654 for a free consultation in Raleigh, Greensboro, Fayetteville, Garner, Wilson or Durham.