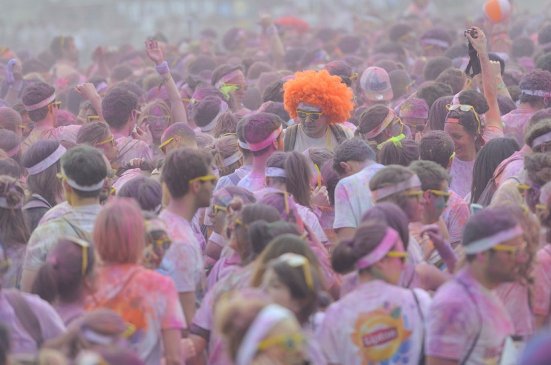 Beware new color run and other race scams
Image Source: Flickr User Rog01
There's a whole new consumer scam spreading across the US and North Carolina. If you're a runner, either casual or avid, you may occasionally participate in an organized run. Unfortunately, this is the subject of the latest scam we want to bring to the attention of NC consumers. The color run scam is all new, insidious and spreading. Here's what you need to know to protect yourself.
What is a color run and how is it involved in a scam?
Color runs are a type of fun run where participating racers wear white shirts and are bombed with wet or powdered paint on the course. The end result is a messy race but a fun outcome – but only if the race is legitimate! That's the bad part. A number of websites have apparently been set up to collect fees for fake color runs that are never held – but your money is taken.
Which color run sites have been accused of running a scam?
There are apparently a number of fake race sites, but the biggest offender identified by the Better Business Bureau (BBB) is the Color 5 Mile race. Their web site lists events in Charlotte, Fayetteville, and Jacksonville, North Carolina. The site looks legitimate, like any other race website, but BBB and law enforcement have discovered that the site makes off with the money then never holds the race?
Aside from the Color 5 Mile, law enforcement and the BBB have identified Color in Motion and Run or Dye as possible scam operations as well. While these last two race "organizers" have held a few races, but have canceled menu and refused to refund entry fees, the Color 5 Mile has yet to put on even a single event.
How much money have the scammers stolen?
Race registration ranges from about $20 per person for a team of racers and $50 or more for an individual entrant. On their website, Color 5 Mile displays this caveat: "Color 5 adheres to the standard running industry policy: All entry fees are non-refundable and non-transferable. The entry fee for this year's event will NOT transfer to next year's event, without exception." However, the company doesn't seem to bother setting up the events and just takes the money and, ironically, runs away with it.
Money is taken, no events held
But just because an entry fee for a race is non-refundable doesn't mean that a race organization can legally take and keep your money – particularly when they have no intention of putting on the event. For instance, the recent Color 5 Mile in Fayetteville, North Carolina, slated for May 2, 2015 never occurred. Interestingly, the starting line was Fayetteville City Hall but, when we contacted City Hall, they confirmed that the race did not take place and that the event organizers never even applied for permits to hold the place. This is outright fraud.
How to protect yourself from race scams
What's disturbing about these scam races is that they may use legitimate registration platforms like EventBee.com and Active.com. But it's important to not to trust that any event is legitimate unless you personally know the sponsor – like your child's school or your church that's sponsoring a run. Otherwise, take these steps before you sign up for a race to make sure you're not cheated out of your hard-earned cash:
#1 Contact the race venue directly to make sure the event is on their calendar and scheduled
#2 Read the terms and conditions to understand their refund and cancelation policy
#3 Check with the Better Business Bureau to see if there are any complaints against the organizer
#4 Pay with a credit card so you can file a dispute if the race is not held
#5 If the race says it's working with a charity, contact the charity to verify
#6 Consider skipping pre-registration and pay at the event to avoid being scammed
If you were taken advantage of by a scam, report it to the North Carolina Department of Justice or the Consumer Financial Protection Bureau. And, if you paid for a race via credit card that was never held, be sure to file a complaint with your card issuer.
Deep in debt, living paycheck to paycheck and unsure how to get out of your financial predicament? Contact the law offices of John T Orcutt to speak to a North Carolina bankruptcy expert. Call +1-919-646-2654 for a free consultation at one of our locations in Greensboro, Fayetteville, Raleigh, Durham, Wilson or Garner.