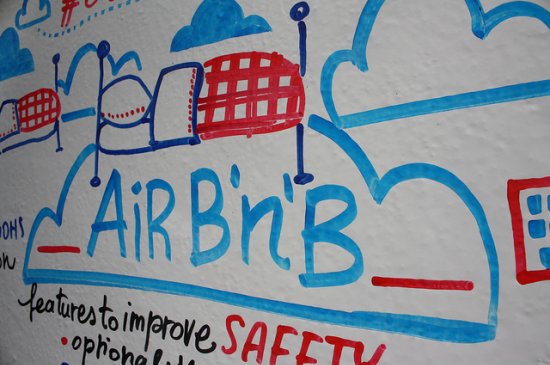 Airbnb can help you raise money to deal with financial problems
Image source: Flickr user OuiShare
If you're deep in debt and facing foreclosure, have you considered some creative solutions that will allow you to keep your home? Canadian actor and filmmaker Dany Papineau swears by Airbnb as the solution that allowed him to avoid foreclosure, keep his home and even profit. He was on the verge of bankruptcy and was considering selling his home to pay off his debts. He's now making big bucks using Airbnb to rent out his home and has even bought more properties to rent out on the popular hotel-alternative website.
How Airbnb works
Airbnb is pretty straight forward. You can rent out just a room or two in your house – or even a fold-out couch in your den – or your entire house to people looking for a short-term stay. If you live in an area where hotel rates are astronomical, near a touristy area or a seasonal attraction like a beach or ski slope, you may do even better. But even out of the way places may produce enough rental revenue to make a difference in your finances.
You list your space on the Airbnb site then potential renters contact you with questions and to check availability. They pay when they reserve, but you don't get the money until 24 hours after check-in to make sure there are no issues. You pay 3% of your rental fee to Airbnb for the cost of processing the transaction and they also charge 6-12% from the guest, but that part isn't your concern. Even if your house isn't fancy schmancy, you can still find guests as long as it's clean, in a good location and offered at a competitive rate.
Airbnb strategies
If you do decide to explore becoming an Airbnb "rentrepreneur" (the term the website uses for property renters), there are some savvy tips that can help you earn more. For instance, if you live near a seasonal tourist mecca, instead of renting out just one room, why not rent out your whole house? If you can crash with your in-laws during prime beach season, you may be able to earn enough to pay your rent all year long.
Here are some tips if you want to try and rent out some or all of your home to generate some much-needed revenue:
#1 Safeguard your valuables and check your insurance
Airbnb provides up to $1 million of insurance in case of theft of your property or vandalism by a guest. But also be sure that your insurance is up-to-date in case a renter gets hurt during their stay or another circumstance occurs that's not covered by Airbnb's coverage. If you own valuables like expensive jewelry, be sure those are locked away safely when you have guests.
#2 Describe your property accurately
Provide plenty of pictures (and don't Photoshop out stains on your carpet) that clearly show what the renter can expect. Even if your place isn't perfect, delivering what is shown will go a long way to scoring positive reviews. Don't fib about how close you are to the beach or other areas of interest. Don't try to sell yourself as a luxe rental if you're middle class.
#3 Let your neighbors know
One thing that won't thrill your Airbnb guest is if your next door neighbor calls the cops on them as a trespasser. Be sure to let your neighbors know that you'll have guests, and they shouldn't be alarmed. If your neighborhood has a homeowner's association, check the policies to make sure you won't get fined or in trouble if you rent out space through Airbnb.
#4 Make up an info sheet or notebook
Instead of having to repeat yourself over and over to your guests, make up a notebook of sheets in plastic sleeves. Include directions on how to use the TV remote, your alarm code, where to find the coffee maker and your contact info in case they need to reach you. Other nice touches are directions to nearby restaurants and places of interest. You can also offer a local coupon book or tourist brochures (get these free from your closest interstate rest-stop travel center).
Even if your finances are a-okay, you may want to consider giving Airbnb a try to save up cash for a vacation, pay off your credit cards or build an emergency fund. To see some North Carolina rentals and check out local rent rates, click here.
And if you're struggling to save your home, remember that bankruptcy can help postpone or permanently stop foreclosure depending on your circumstances. Contact the law offices of John T Orcutt to find out more about how a North Carolina bankruptcy can help you keep your home. We have offices in Raleigh, Durham, Garner, Wilson, Fayetteville, and Greensboro.