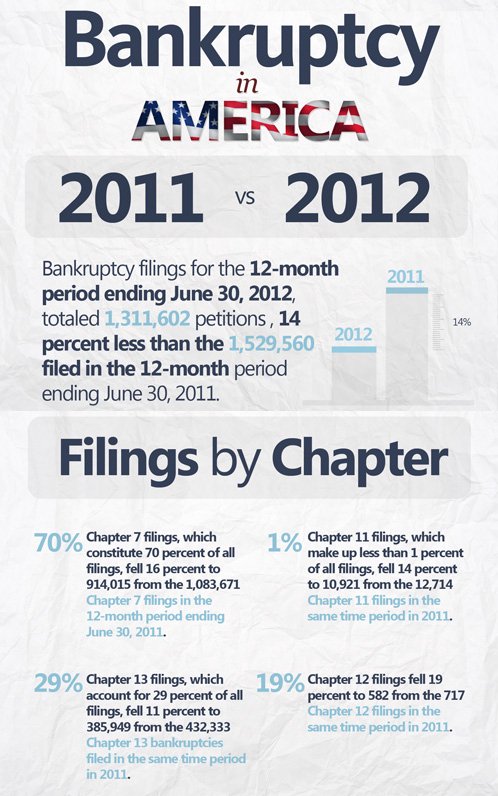 Image source: InfographicsMania.com
North Carolina bankruptcy statistics for February are in and Chapter 13 bankruptcy filings are trending down over the last three months. Chapter 7 bankruptcy filings, though, are on the rise. What does this mean for our state and how is your county faring for personal insolvency? Check out the charts below to find out!
Last year, nationwide bankruptcy filings decreased by roughly 14%. But is this a trend that bodes well for our economy and personal finances? I wrote recently that many people may need the fresh start that bankruptcy affords, but simply cannot afford to file. If household incomes are dropping so low that even bankruptcy is out of reach, this is not a good sign.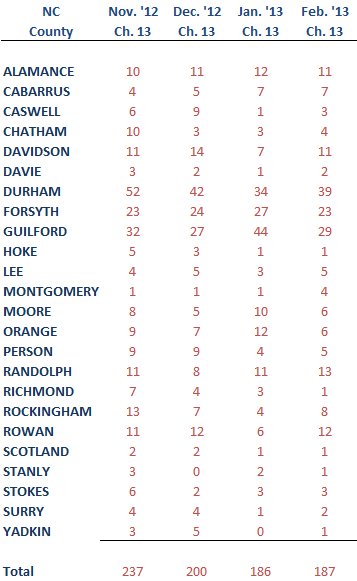 Image source: BillsBills.com
But some experts, including Judge Julia Gibbons, Chair of the Judicial Committee on Budgets, believe that we are due for an increase in bankruptcy filings. She testified before Congress that they anticipate filings to increase by at least 8% in 2013. Gibbons also predicted an even greater increase if foreclosures continue to trend upward.
Trustees (those that handle payments from debtors and distribute funds to creditors in bankruptcy cases), also predict a rise in filings. In their budget request to Congress, they state: "The Program anticipates that filings during FY 2013 could trend upward again, surpassing the FY 2012 revised estimate of 1.2 million filings."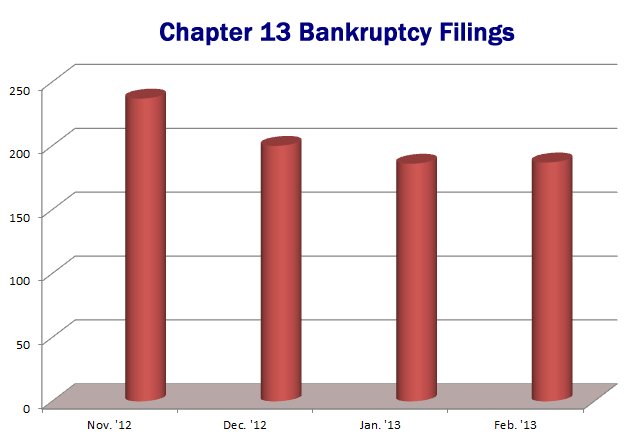 Image source: BillsBills.com
Another source of increased bankruptcy filings may be second time filers. In 2005, the Bankruptcy Abuse Prevention and Consumer Protection Act (BAPCPA) changed the waiting period between Chapter 7 filings from six years to eight years. With this change in bankruptcy laws in play, many who filed bankruptcy in 2005 would be eligible to file again in 2013.
Since 2005, we've seen a drastic economic slump, the housing market mega-slide, continued unemployment and rising expenses in the form of gas, food and utility costs. All of these factors may have many seeking to file a second bankruptcy once they become eligible this year which could drive the predicted increase in filings into double digits!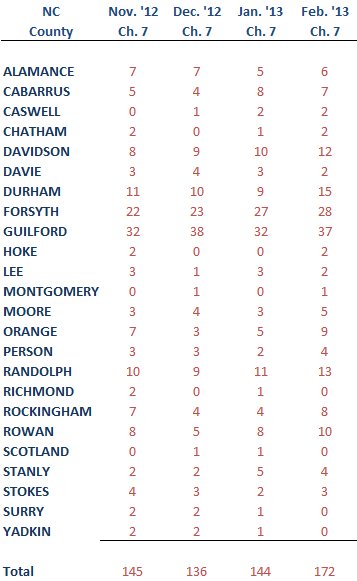 Image source: BillsBills.com
And when it comes to North Carolina Chapter 7 filings, we've seen an increase in recent months. Although December 2012 filings were down from the prior month, that's normal – many people abandon concern about finances over the holidays. January brings a new resolve to sort finances out and saw a 5% increase in NC filings. From January to February saw an even larger spike, with 20% more filings.
Also interesting to note in NC is that Chapter 13 filings have been on the wane for months. What does this mean to consumers and North Carolina bankruptcy attorneys? For this type of bankruptcy, Chapter 13, it requires that you have the cash flow to meet many of your obligations but often need help getting creditors to accept a payment plan to allow you to get back on track.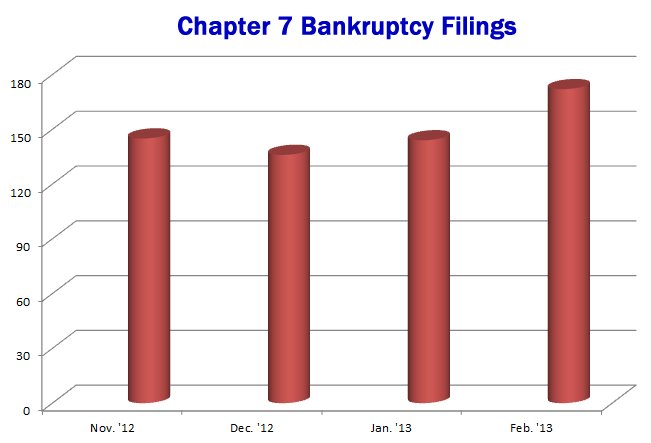 Image source: BillsBills.com
A decrease in this type of filing could simply mean that people are no longer able to meet obligations and don't have the cash flow to continue servicing their debts at all! Remember, some types of unsecured debts are not automatically relieved by bankruptcy – including student loans and taxes – but your attorney can request they be included. Be sure you're filing your taxes each year come tax day (this can be made easier by using excel and pdf tools to track your expenses) so that any accumulated tax debt can be considered for relief. If you've not filed, there's no chance of inclusion.
Whatever your debt situation, if you're considering a Chapter 13 or Chapter 7 filing, consult a reputable bankruptcy attorney to see which is best for you. If you want to see detailed information for prior months and years of Chapel Hill, Durham, Greensboro or Raleigh bankruptcy statistics, click here to see years' worth of data listed by county. 
Dedicated to helping residents of North Carolina find the best solutions to their debt problems. Don't waste another day worrying about your debt. Call +1-919-646-2654 today to schedule a free initial consultation to discuss your bankruptcy options.