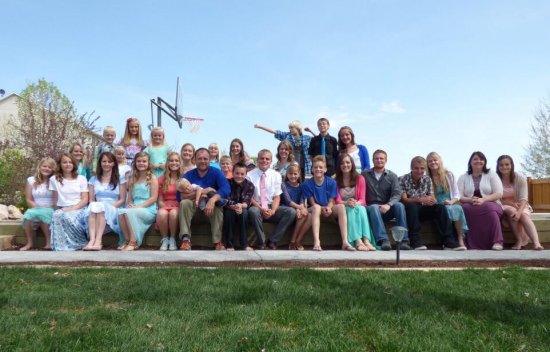 Brady Williams, his fives wives and twenty-four children
Image source: Twitter.com
What we see in our office is that many who come in looking for financial solutions have fallen behind on their bills because of a major life event like divorce. But today in quasi-celebrity bankruptcy news, we're covering the story of Brady Williams who got into financial problems not because his marriage split up but because he kept on getting married – a whopping five times with no divorces in between.
Williams is the star of My Fives Wives, a reality show that began last year and that airs on The Learning Channel (TLC). The family lives in Utah, outside of Salt Late City, and is made up of Williams and wives Paulie, Robyn, Rosemary, Nonie and Rhonda as well as their combined 24 children. Late last year, a few months into season one of their show, Hubby of five Brady filed for Chapter 7 bankruptcy. Let's look at what happened with their finances (although it seems obvious).
Bigger family = bigger budget
It can be hard for a man to support his family but when you multiply that family by five, the responsibility can become untenable. Although a couple of the wives work, along with Brady himself, it's not enough to support their family. With food costs alone running $4,000 a month to feed the army of kids he's spawned, it's no wonder their finances are in shambles.
Income dips cause major problems
In his bankruptcy filing, Williams listed his monthly income as $5,384 and his wife's (the only wife he's legally married to) income at $1,726 for her dental assistant job. In years prior to the start of their reality show, he earned a decent living – around $78,000 per year for 2011 and 2012 – but not enough to support the brood. Last year, as of September, he'd made only $30,000. That's a big drop in income.
The filing also shows he owned a construction and carpentry business that is now dissolute and a couple of other investment-type businesses begun in 2008 that almost immediately went belly up. And judging by the wages he's counting now, it looks like the reality show is his sole source of income. That's good while it lasts, but there's no telling how long that will be.
Credit card spending and few assets
If you think it's scary not having a decent nest egg saved up, imagine the stress of having 24 kids, 5 wives, $22 in your wallet and less than $3,000 in the bank. His debts are mostly credit card-related although Williams also has a $98,000 small business loan that he says he can't pay. $63,000 worth of personal cards are also included in the filing and $117,000 in business credit cards. Aside from a couple of cars with loans on them and household items, the only asset listed in Williams' filing is a time share. Kind of ironic since he's pretty much a time share husband.
Personal choices can lead to financial troubles
While many take issue with polygamy, that's an aside to this discussion. Anyone can make life choices that get them in over their heads financially. For instance, you may want to have a big bunch of kids, but if you can't afford to feed and clothe them all, this isn't a financially responsible choice. You may realistically only be able to afford one or two kids and stay afloat money-wise.
The same goes for the price of house you choose, the car you drive and how you spend your money. The bottom line is if you can't afford something, you can't afford it, no matter how much you want it. Borrowing beyond your means to pay back and debt spending with credit cards is a bad idea. For Williams, his only hope to stay solvent may be a long run of his reality show.
For the rest of us, reality TV stardom isn't a likely scenario. If you're struggling with debt you can't pay and your situation doesn't look like it will improve, a well-timed Chapter 7 bankruptcy may be the solution you need. Contact the law office of John T Orcutt for a free consultation on how a North Carolina bankruptcy may offer the financial fresh start you need.