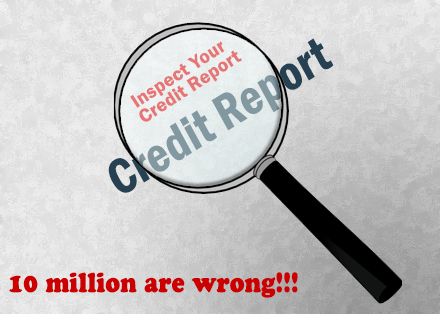 Negative errors
For rebuilding credit I place a lot of emphasis on adding positives to your credit reports (new, "paid on time" entries).  There are negatives on your reports too, but over time they have less and less effect on your score.  This is assuming all of the negative items on your report are correct, or even yours.  Yes, there is a very real possibility of mistakes.
Errors are not supposed to happen, but they do.  A creditor could forget to update your information or could send the wrong information.  Personal data could be incorrect.  A hard inquiry could be on there that you did not authorize, or worse,  your report could be merged with someone else's.
Your federal law
The Fair Credit Reporting Act ("FCRA") sometimes called "fick-rah" is a federal law that requires your credit information to be accurate.  FCRA was put in place because inaccurate, negative information harms peoples' credit scores.  It costs consumers money because of higher interest rates or being denied credit they should have otherwise qualified for.  According to a study by the FTC, the Federal Trade Commission, as many as 40 million Americans have errors on their report which could hurt their chances of getting credit.
It is time to look inside
Does your report have errors?  You must pull all 3 bureau reports to check.  If it is a few months after a Discharge then it should have been more than enough time for your creditors and the bureaus to update your information so it is correct.  For example, those unsecured debts like credit cards should have a zero balance.  The bankruptcy discharge is the Judge's Order that the debt is no longer owed.
The real, free credit reports
Normally, you could expect to pay $10 per credit bureau report.  But, thanks to FCRA you have the right to get a copy of each bureau's report once per year per person.  The website to do this is annualcreditreport.com.
You will have to prove your identity with information such as name, current address, previous address if you have not lived in your current residence for 2 years, social security number, birthdate, and then a couple multiple choice questions about specific debts.  For example, it may ask you, "Which of the following banks did you have a mortgage with? A) Wells Fargo, B) Bank of America, C) Chase, or D) None of the above.
Once you successfully login then you can go to your Equifax, Experian, and Transunion reports one at a time.  You may have more multiple choice questions but then you have access to your full report.  You can save/export a copy to your computer as a .pdf (which every computer can open and use) or print a copy, but remember this could be a dozen of pages per report.
Flag the errors
If you printed your reports, then grab a highlighter so you can mark errors.  If you saved them as .pdf files then grab 3 pieces of paper and a pen.  Write Equifax, Experian, or Transunion at the top and then start with that report.
Let's start with the easy things.  The balances, if you are discharged from bankruptcy then make sure every debt that should be gone has a zero balance.  The line of text under each debt should say something like "Included in a Bankruptcy" or "Discharged in a Bankruptcy."
100% accurate
Each page of your credit report could have a hundred pieces of data.  Every monthly payment is entered separately.  Each one needs to be correct.  Is there a late payment from a few years back but you paid on time?  Mark it to be corrected.
Was that your high balance?  Is the limit right?  Was it charged-off?  Was that the date you opened it?  Does it say included or discharged in a bankruptcy or not?  Did you live at all of those addresses?  Is that other name listed a real alias you used?  Is that account yours or someone else's?
FCRA provides a solution
It would be a shame if your score was being held back by an error if you've been putting work into building your credit.  Thankfully there is a process for correcting errors.  It is called disputing.  The dispute process is another right given to you through FCRA.  The rules are well defined, but it can still be a bumpy road and time consuming.  It is worth it though.
When you dispute it means you give notice to the credit bureau of a problem they need to investigate and correct.  They carry the burden of proving the information is correct or it must be removed.  The good news is that when something is corrected on your report your score would show an immediate effect if that item was altering your score.