Image source: CrestCommercialRealEstate.com
We've seen good news about the economy lately and you may assume that this means household finances will recover and bankruptcy filings will decrease. But some experts say the opposite will happen. When the economy expands, banks ease up and give more access to credit and then consumer confidence rises and people begin spending more. But for households already in debt, this only makes things worse and can lead to more, rather than less, bankruptcies.
Economic improvement doesn't mean a decline in bankruptcy
One California bankruptcy lawyer says, "We actually could see more bankruptcy filings as the economy improves. As banks begin lending again, people may get into more trouble with credit cards and other debt." I agree that we may see bankruptcy filings trending up in North Carolina even as the economy gets better, in part because we've had such long running unemployment issues – among the highest in the nation.
Other factors I see that can lead to an increase in bankruptcies despite a strong economy is the still depressed housing market and the increase in student loans that shows no signs of abating. Most of our clients come in seeking a Chapter 7 bankruptcy which wipes out almost all debts – except for student loans. But even Chapter 13 bankruptcies are likely to be on the rise if consumer confidence drives overzealous spending.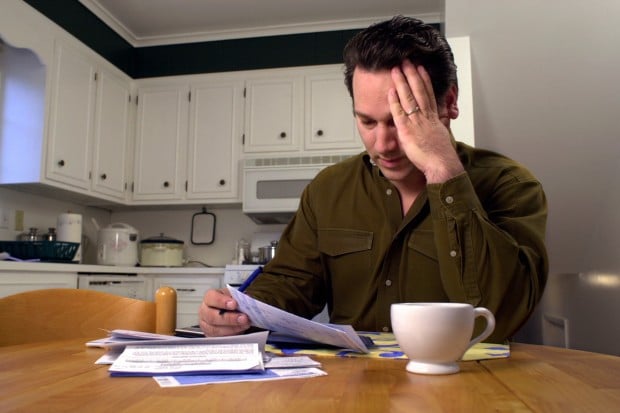 Image source: NWITimes.com
Economic improvement won't protect you from the stress of debt
Owing debt you can't pay can be stressful and unethical debt collectors make the situation worse. I hear from clients all the time the terrible things collection agents say to debtors. They threaten to take their home (which they can't do unless it's the mortgage holder), threaten them with jail (which they can't do) and threaten to get them fired from their job (which may be possible only if their repeated calls get you in trouble).
The stress of being in debt can also take a toll on your marriage. In roughly 40% of bankruptcy cases involving married couples, divorce seems to be inevitable. If those in debt would come to us before they were desperate, perhaps this outcome wouldn't be so prevalent. By the time most debtors come to see us, they feel desperate, stressed and are losing sleep worrying about bills. If this is what you're dealing with, don't hesitate any longer. Come see a reputable North Carolina bankruptcy attorney about debt relief.
Image source: TaxDebtGuide.org
Economic improvement may help a little – bankruptcy can help even more
If you're feeling crushed by debt – if your phone is ringing constantly with creditor calls – if every letter in your mailbox is a collection notice for past due debts that are escalating – you must know that you don't have to live like this. What we see is that many people are scared of the idea of bankruptcy - think opting for it makes them a bad person for shirking their debts or think it carries a social stigma. Choosing bankruptcy is the more responsible financial option because wallowing in debt you can't pay doesn't help you or the economy.
Some of the warning signs that you may want to consider filing bankruptcy are: if your credit cards are maxed out and if you can afford to pay them at all, you're only making minimum payments; your bills are routinely late; your utilities have been cut off or are always on the brink; if you miss payments on your mortgage or auto loans; or if you've taken out a payday loan. If this is what you're going through, please call the offices of North Carolina bankruptcy attorney John T Orcutt for a free consultation about your debt situation and to find out if a Chapter 7 or Chapter 13 bankruptcy can help you. Call now!