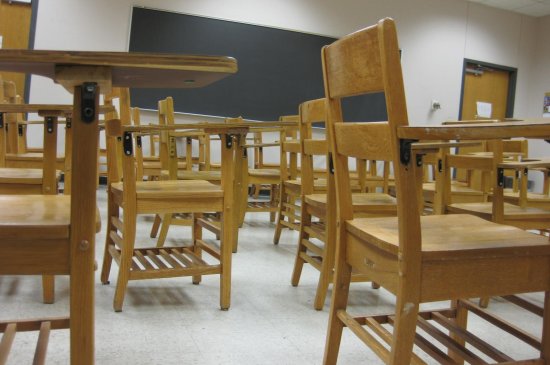 Doing back to school on a budget
Image Source: Flickr User alamosbasement
School starts soon all across North Carolina and that means school supplies, clothes and gear that could total to hundreds of dollars if you don't spend wisely. This year, the average family will spend more than $600 on school needs but, for many, this is just too much on their budget. Don't rack up credit card debt this Fall to get what your kids need for school. Check out these five tips to get back to school without breaking the bank - plus some we've got advice from a local school teacher on school supply secrets.
#1 Don't buy what you already have
If your child, tween or teen already has a serviceable backpack, lunch sack and pencil box left from last year, reuse it. If they've outgrown an item, pass it down to the next child. It's a good lesson for your kids that not everything needs to be brand spanking new. Generations have survived on hand-me-downs, it's character building – and FREE! Go through last year's markers, colored pencils, binders and other school supplies to see what's in good enough shape to be used again.
Teacher tip - Kids lose things so you may have to replace anyway plus after a day or two of being dragged around the halls and school bus, a gently used backpack will look just like the others.
#2 Swap around
When it comes to clothes, backpacks, assigned reading books and other items, chat with your friends and neighbors to see if you can rotate things between you. Seek out friends with children a year or two older than yours for books, calculators, and other items they may have left over from that grade. To make it easier, you can set up a Facebook group to swap things around and form a network of parents that are committed to saving money as a community.
Teacher tip - As long as your kids have clothes that fit and are clean, it doesn't have to be Abercrombie. Most of the kids in class wear average, affordable clothes and shoes - not designer stuff.
#3 Figure out the minimum you can buy
Starting from the supply list, see what you have on hand, can swap for and then see what's left that you absolutely must buy. Pull your Sunday sale flyers to see what's cheapest where. Walmart matches prices and other stores may as well – this will cut down on gas costs of running around. For any wish-list items that teachers want, hold off on these until a couple of weeks, then check in with the teacher to see what's still needed and look for sales or coupons on those items.
Teacher tip - For anything that's for all year long like multiple packs of paper, pencils and glue sticks, don't send all at once - they'll get used by others who ran out and you'll be asked to replace.
#4 Check out consignment shops and garage sales
There are loads of garage sales this time of year and consignment shops are usually loaded up for back to school. These are cheaper resources for quality clothing, shoes, backpacks and other school gear and check for sales days or coupons to save even more. For things like band instruments and upscale calculators, check Craigslist, but be careful to only meet in public places and don't hand over any money in advance so you don't fall prey to a scam.
Teacher tip - In the long run, renting an instrument is usually more costly than buying a used quality one. Also, ask family to see if they have an instrument collecting dust and let your child try that.
#5 Avoid trendy things
While your kiddo may really want a Guardians of the Galaxy lunch box, they will likely outgrow it by next year. Instead, invest in a durable lunchbox with no characters on it – the same goes for the backpack and pencil box. By opting for things that don't go out of style, you won't have to keep buying to replace things that are not worn out but have just fallen out of favor with your child. They may fuss a little, but will forget it in the excitement of school starting.
Teacher tip - Every year, the trends change and kids don't want to be seen with something that's "so last year" - this can be a source of teasing, so just stick to plain stuff for peace of mind.
For costlier things like a laptop or printer, consider buying just one and having your kids time share it – this reinforces cooperation and will force them to manage their homework time efficiently. It makes sense to spend as little as you can to adequately equip your child for the new school year because the school usually also wants money from you to cover fees, field trips and other costs.
Teacher tip - If you're really short on money, know that there is usually assistance to subsidize field trips and other fees for families short on cash. Ask the school social worker for information.
If you're living paycheck to paycheck, are routinely late paying your bills, and use your credit cards for necessities, you've got financial problems. Contact the Law Offices of John T. Orcutt to find out if bankruptcy is a good solution to shed your debts and get a financial fresh start. Call +1-919-646-2654 for a free consultation in Greensboro, Raleigh, Fayetteville, Garner, Wilson or Durham.