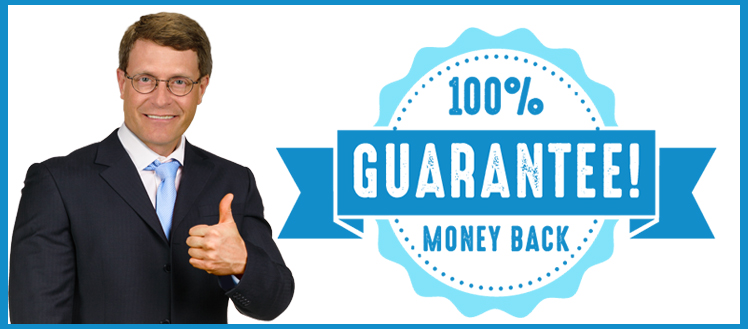 Question:  Need to file bankruptcy or think you might?
How about a MONEY-BACK GUARANTEE?
File with us, do your part, and here's our guarantee.
You will have less debt, GUARANTEED, or YOUR MONEY BACK.
That's right, file with us, do your part and you will have less debt*, GUARANTEED or YOUR MONEY BACK*.
Most of the time, a lot less debt. 
The truth is that many clients without home mortgages and car loans end up with NO DEBT LEFT.
Who would have thought a bankruptcy attorney…or any attorney for that matter…would offer a money-back guarantee?
WE'LL EVEN PUT IT IN WRITING.
And…as they say on tv…"there's more", a lot more.
With us…the consultation is FREE.
And with us...there is no need to come in.
With us…you can get started…and do it all… right OVER-THE-PHONE.
If you qualify…and lots of people do…you can even get filed for $0 MONEY DOWN.
That's right…$0 MONEY DOWN.  No upfront costs.  No upfront fees.  $0 MONEY DOWN.
Seem too good to be true.  I understand.  So, check us out on Google. There's a reason we have over 2,500 5-star Google Reviews (across our 6 main offices).
But, don't wait.
Call us today and find out how much less debt you could have.  And, in the process, how much better your life would be with all that debt gone…for good, finally and forever.
Want IMMEDIATE information and answers?
No problem.  We offer that too.
When you call, there's no wait.
If you want…we will connect you…IMMEDIATELY…with one of our paralegals to answer all your questions, to show you how much less debt you can have, and to show you how all this bankruptcy stuff really works.
It's all part of the FREE Consultation.
When that's done, it's up to you.   If bankruptcy is right for you, we will walk you through the process.  If not, we'll thank you for your time and wish you well..no strings attached.
We have helped over 70,343 families.  So chances are…we can help you too.
And we know how to make the process fast and easy.
Truth is…the results can be amazing.
Next thing you know… hopefully…you'll be back to sleeping like a baby and looking forward with excitement to each new day.
Disclaimer: * Debt = Present 'dischargable' debt. Money-Back = The attorney fee you paid us.