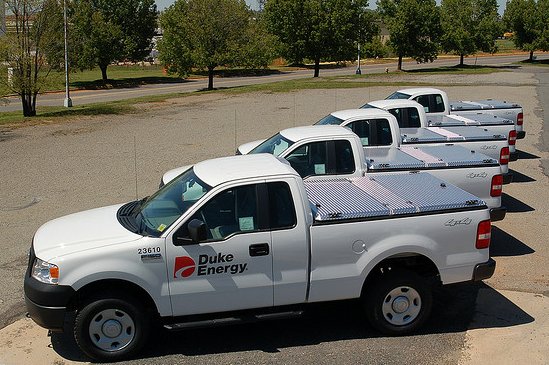 New scam tied to Duke Energy
Image source: Flickr user Diamondback Truck Covers
We like to keep our readers current on scams that are circulating so you can be on guard and protect your personal information and your money. There's a new fraud operation making the rounds in North Carolina for you to be on the lookout for that centers around Duke Energy, or rather scammers pretending to be with Duke Energy. Because they're using a trusted name, it can be easier for fraudsters to gain the access they need to commit their crime.
How the scam works
Would-be scammers call consumers posing as Duke Energy account representatives or third party collection agents working for the NC electrical cooperatives. They tell them they handle disconnection activities and say that this is a courtesy or warning call prior to their electricity being disconnected. They warn that an immediate payment must be made to avoid service shut-off.
But rather than accepting a check over the phone or standard credit or debit card payment, the callers instruct their target to purchase a Green Dot MoneyPak card and provide the card information to prevent termination of electrical services. Once the scammer has this information, they take the money and your electric bill is the same as it was before.
Many that have been contacted don't have a past-due balance at all or may have but aren't up for disconnection. The bottom line is this scam, like so many other successful ones, operates on fear. If you're told that your electricity is about to be cut off, you may panic and do whatever is asked to keep your power on, but this is a classic scam that preys on decent people and should be ignored.
How you know you're being scammed
First, if Duke Energy is not your provider, that's a huge warning sign. Second, Duke doesn't handle disconnections for cooperatives, so that's another tell-tale sign you're being lied to if you get a call like this. Third, while some utility providers may call to try and collect prior to cut off – Comcast is known to do this – many others simply send billing statements, then mail a cut off notice, then cut you off.
Fourth, no utility provider will ask you to pay with a Green Dot card. They will use standard modes of bill pay like check by phone or debit or credit card and they should allow you to pay online rather than trying to force an instant payment. If you know for sure your bill is current, ignore the call. If you're unsure, hang up and call your electric provider to check your payment and bill status to make sure you're not past due.
Don't let yourself be pressured into accepting the terms of a scam. If you ever think you're being scammed, make an excuse to get off the phone and ask for a number to call them back. A sign of a problem is if they refuse to give you a phone number. In this case, hang up. You can Google the number from your phone's caller ID or that they gave you and see if there are scam alerts. Also contact the North Carolina Department of Justice to tell them you think a scammer tried to take advantage.
Contact the law offices of John T Orcutt today for more information on getting out of debt in North Carolina through bankruptcy debt relief solutions.