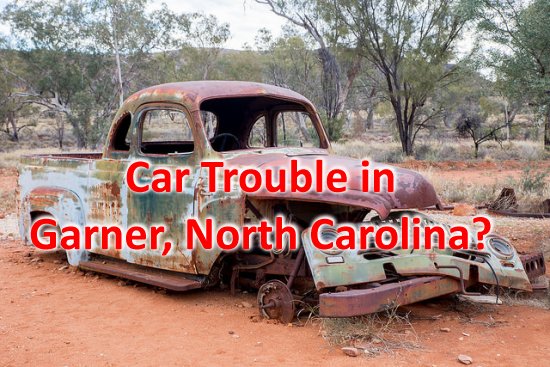 Car trouble in Garner? Consider these tips
Image Source: Flickr User Robyn Jay
Let's face it – getting anywhere in Garner, North Carolina – requires a vehicle. Public transportation anywhere in the south is a challenge to use since there are so many rural areas, and buses and trains are typically only viable in densely populated cities. If your car is on its last leg but you're in debt up to your ears, what can you do? Here are some tips for Garner consumers on bankruptcy and car buying.
#1 The Catch-22 of car loans
If you're so deep in debt that you are struggling to pay your bills, that means you can't afford a car loan. But if you don't have a car, you can't get to work to earn money to pay bills including a car loan. Quite the Catch-22, right? Consider first unloading your other bills then going for a car loan. If you're in over your head with debt, bankruptcy can get you out of it particularly if it's mostly credit card bills, medical debt and other unsecured obligations. And so long as you're current on your mortgage, the bankruptcy shouldn't touch your house loan as long as you don't have excessive equity in the property.
#2 Bankruptcy can help with out of control car loans
Do you have a Garner car loan that has high interest in the form of a subprime loan? Or do you owe far more than your vehicle is worth? Bankruptcy can help you get an out of control car loan back in line. In a Chapter 13 bankruptcy, your interest rate can be lowered as part of your petition to a reasonable rate – a bit more than the prevailing prime rate. Also, if your loan balance is far greater than the fair market value of the vehicle, that can also be lowered in a Chapter 13 – this is called a cramdown. If you need to file Chapter 7 to unload debt, you can usually cash out the car loan for less than you owe.
#3 Bankruptcy can clear the slate and prepare you for a new car loan
Typically, you can't file bankruptcy then turn around the next week and get a car loan. However, you can get one within a year or so if you take strategic steps after your bankruptcy discharge to make yourself a promising credit risk. If your car is ailing and your debt is high, filing a Garner bankruptcy can pave the way to a better financial future including a new car loan. Chapter 7 can clear out your unsecured debts and sets the stage for you to clean up your credit report, re-establish credit starting with a secured credit card then an unsecured card so you can rebuild your credit to get a car loan within a year or so.
#4 Doing nothing about your debt is the worst thing you can do
At our Garner, NC bankruptcy office, what we often see is that consumers come to us far later than they should have. Most people see bankruptcy as an absolute last resort when all other attempts to deal with debt have failed. In fact, using bankruptcy strategically can help you get your finances back on track faster. When you are at the point that you're living paycheck to paycheck, dealing with debt collections threats, creditor lawsuits, and maxed out credit cards, you're ready for a debt intervention. Bankruptcy can put a stop to all of this and get you back on the path to financial security. 
If your car is on its last leg or you have a car loan you can't afford, bankruptcy can help you get back on track so you can finance a vehicle again sooner than you may think. Of course, you'll need to re-establish your credit after bankruptcy and will need to save up a down payment, but it's better than wallowing in debt you simply can't afford. 
To find out more, contact the Law Offices of John T. Orcutt for a free Garner, North Carolina bankruptcy consultation today. Call +1-919-646-2654 now for a free consultation at one of our convenient locations in Raleigh, Durham, Fayetteville, Wilson, Greensboro, Garner or Wilmington.